Sometimes, you already have an outline for the essay and know what you want to write about. But often, the most challenging part of writing an essay is getting started.
Don't worry! You're certainly not the first to struggle with essay introductions, nor the last. This article covers some simple yet practical steps on how to effectively start an essay.
The introduction is the most important part of your essay. This is your chance to make a strong first impression on the reader. Whether you want to cut to the chase or grab attention with a creative hook depends on the subject matter of your essay.
But you definitely need to spend some time writing introductions that engage the readers.
Why Is an Essay Introduction Important?
The introduction is vital to lure the reader in to continue reading the rest of your essay. It is your opportunity to set up the essay to convince the reader that it's worth their time to read the whole thing. It's also a place where you can establish yourself as a writer. This is where the main idea of your essay is revealed to the reader.
Whether writing an essay for a school assignment or college admission, you must hook the reader's attention in the first few lines. You must create a compelling opening line for the essay and give readers a few relevant reasons to read on.
If you're struggling to come up with unique introduction ideas for your essay, check out INK's essay intro generator for a good start.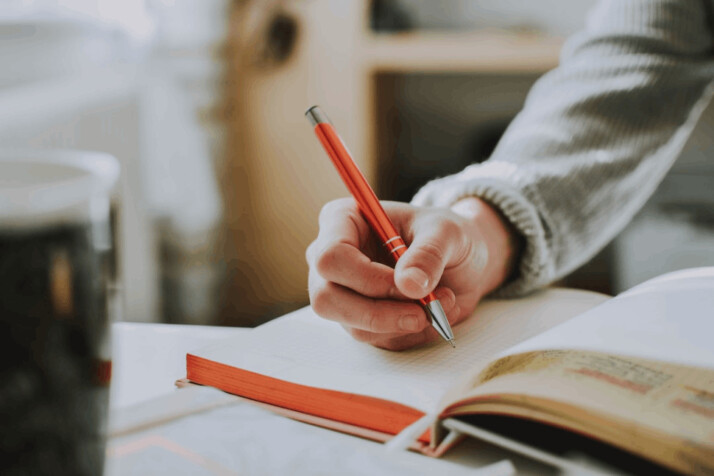 How to Effectively Start an Essay: 5 Easy Tips
An essay opening can be written in a variety of ways. Each one is different from the others and suits specific types of essays.
Although these essay introductions engage the reader in different ways, they all succeed in grabbing the reader's attention and compelling them to continue reading. Let's look at how to effectively start an essay introduction in a few different ways:
Start With an Amusing or Startling Fact
Start your essay by stating a startling, unexpected, or amusing fact regarding the subject you're writing about. It draws the reader in and entices them to keep reading in the hopes of receiving an explanation. They also expect some background information or greater elaboration on the fact you just presented.
However, make sure the fact you present directly relates to your topic. Otherwise, it will seem random, unclear, or, at worst, crammed into the essay. In any event, it will weaken your essay as a whole by giving the impression that you don't fully understand your subject matter.
Ask a Question Directly
You can invite the reader to engage with your work directly by posing a question in the introduction of your essay. It helps the reader to actively take part in the discussion. This is an excellent way to start your essay and captivate the readers.
Asking a question works well in persuasive essays because it allows the reader to weigh in on the subject or even take a side. This technique can be used in various types of essays. But it really shines in those that speak to the reader directly and encourage them to consider what you're asking.
Depict a Scene Related to Your Essay
An effective way to start your essay opening is to depict a scene related to your essay. This approach is most suitable for creative writing, like literary essays or personal statements.
This start can be effective in persuasive and creative essays when you're employing an emotional appeal to support your position. It's also a great way to write a dramatic essay, and it might only be the first of many dramatized episodes in a composition.
Begin Your Essay With a Quote
One of the powerful ways to start your essay introduction is by employing meaningful quotes relevant to your topic. Sometimes, quoting words from authors makes it easy to begin writing your essay.
Similar to using facts or statistics to commence your essay, any quote you choose must be relevant to the topic of your essay. Your quote isn't relevant enough if your reader has to look it up on the internet to understand how it connects to your essay. Therefore, always pick common quotes that can explain the idea clearly.
Directly Write Your Thesis Statement
Whether you're writing an introduction to a fictional work, biography, autobiography, or essay, the thesis is the first thing a reader sees. The body of the essay comes afterward and will show how the thesis has been pulled off in the essay.
This makes it important to pick up on the thesis as soon as possible. State the thesis as soon as you can without giving anything away. An introduction that explains your thesis upfront can be an excellent approach for analytical essays.
Conclusion
It's essential to lead the reader into the essay and inspire them to read the rest of the paragraph or even the whole essay. A strong essay introduction establishes the tone, which may be done in various ways.
The strategies in this article can be used to properly begin writing an essay opening. It will leave a good impression on the reader and pique their curiosity about reading the whole thing.
Explore All
Essay Intro Generator Articles