Like you, several others are applying to the scholarship program you're interested in. There's a lot of scholarship competition, and this is why you need to stand out and gain the upper hand.
Amongst other scholarship requirements, scholarship essays impact your chances of being selected. The scholarship essay introduction sample in this guide will let you structure your essay introduction in the best way possible.
Since there are several applicants for a scholarship, the admission committee may not have the time to read the entire essay you've submitted. The first sentence of your essay is your best chance to convince the reviewer to continue reading.
This guide discusses how to write a scholarship essay introduction.
Scholarship Essay Introduction
If you're applying for a scholarship, you'll need to write an essay. Most scholarship programs aren't based only on an application form or transcript. The essay is an essential part of the application. It gives the scholarship committee a sense of who you are and your dedication to your goals.
You'll want to ensure that your essay gives your reader a good impression of you. The introductory paragraph of your essay is your first chance to impart this impression. With a good introduction, you'll be able to convince the admissions' committee of your merit and encourage them to read on.
How to Write a Great Scholarship Essay Introduction
A well-written essay introduction will grab the attention of scholarship evaluators and encourage them to read your essay till the end. Your introduction must catch the eyes and interest of the reader by establishing a clear purpose with a clear tone. It should also be confident, articulate, and concise.
Here is how to write a great scholarship essay introduction.
1. Begin With a Hook
The introduction to your scholarship essay should begin with a hook – an attention-grabbing sentence that lures the reader in and keeps them interested.
Your hook could be a quote, an anecdote about your life, or a thoughtful question that the reader will find intriguing. The hook must be captivating, create a personal connection with the reader, grab the reader's attention on the first read and spur their curiosity.
2. Provide Background
Briefly explain what you'll discuss in your essay in two to three sentences. Provide background and establish what you'll be discussing in the rest of the essay. This will give the readers a glimpse into the topic of discussion. Provide enough information to let the reader know what you're about to present.
3. Present Your Thesis
The thesis statement summarizes the essay's main points and focus. It gives the reader a sense of what the paper will explore or present.
A typical scholarship essay introduction ends with a thesis statement that concisely summarizes the essay's themes. Avoid revealing too much so as not to lose the readers' interest.
Tips for Writing the Perfect Scholarship Essay Introduction Paragraph
The introduction paragraph is one of the most important aspects of a scholarship essay. It can make or break the scholarship process and determine your likelihood of getting a scholarship.
Here are some tips to note when writing your scholarship essay introduction.
Maintain a unique voice in your introduction. Several other accomplished students are fighting for the same scholarship, so you must stand out and make an impression.
Use simple, straightforward structure and language. Avoid complex vocabulary, misleading sentences, and long, complex sentences. You want the reader to understand what you're saying without any trouble.
Avoid obvious statements like "I'm interested in this." You're writing the essay because you're interested in the scholarship; you don't have to state that. Always begin with an exciting hook.
Let your personality shine in your introduction. Avoid copying from other essays; instead, learn from them and write something even better.
Understand the values of the school you're writing to, and write for the audience. Express yourself in a way they'll appreciate, but be yourself.
Scholarship Essay Introduction Sample
Prompt: Give the scholarship committee an idea of who you are and why you're the perfect candidate for the scholarship.
"I'm going to be a doctor and find the cure for AIDS and cancer!" This was my response whenever anyone asked me what I wanted to be when I grew up. My mother died of cancer when I was eight years old. And I've watched my family suffer through the slow, torturous deaths of their friends and relatives. At that tender age, I decided to be a doctor. I pictured myself on the sidelines of some massive cancer or AIDS cure, saving the world in some big, heroic way. I yearned to help those suffering and to make them whole again. Now it's time to make my childhood dreams a reality."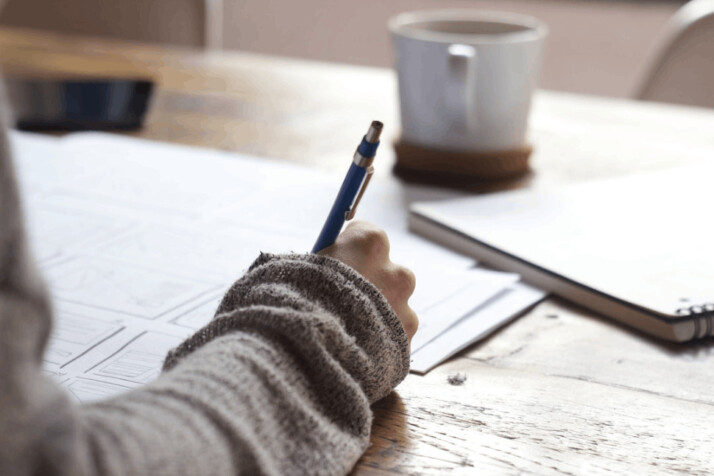 Wrapping Up
Scholarships are competitive, and many people work very hard toward receiving one. The scholarship essay serves as the first point of contact with the scholarship committee.
This first impression can make all the difference, reason why you need to write a great essay. The introduction is the first thing the reviewers of your application will read. It should grab the readers' attention and leave them wanting to learn more about you.
The tips and scholarship essay introduction sample above will help you get a great start.
Explore All
Essay Intro Generator Articles