Songwriting can be pretty challenging. Knowing where to begin and how to navigate through the entire process isn't easy. But, it doesn't have to be complicated–it should be fun! With the use of songwriter online tools, the process can be much easier.
This article lists excellent songwriting tools that can spur your creativity and inspire you to write that unique song.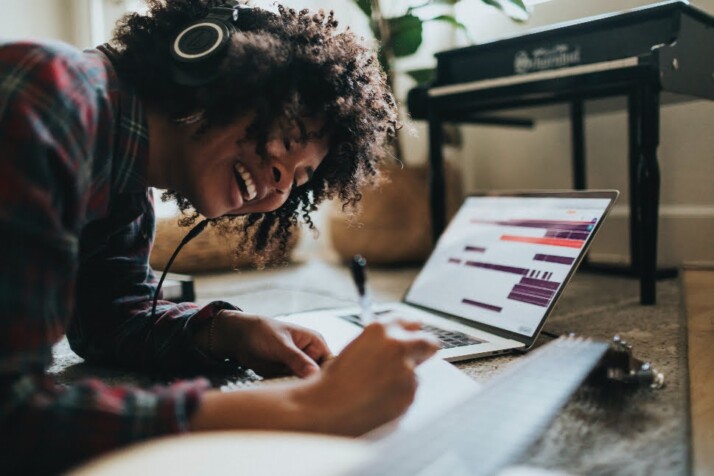 Top 8 Songwriter Online Tools
Whether you are looking for inspiration to write your song, or looking to record a demo, these online tools will help you.
1. LANDR Collaboration
This tool lets you share private links to your demo or mastered track. With LANDR collaboration, you can get feedback from your friends and collaborate on a work in progress. Then, start a project and record all your versions with critiques collected.
2. Rhyme Zone
Rhyme Zone is a rhyming dictionary with features for finding synonyms, antonyms, and words with similar sounds. For songwriters, it's a dream to hit the last missing word in a lyric. The rhyming section outlines all rhymes with different syllable counts and near rhymes. This tool is perfect for writing or reviewing lyrics to discover that perfect word.
3. Hook Theory Trends
Hook Theory Trends shows chord progressions for over 12,000 songs. With this tool, clips can be listened to, and you can see which songs use the same chords. The tool lets you see an in-depth breakdown of all the chords used in different choruses, verses, and bridges.
Hook Theory Trends is an encyclopedia of chord progressions that will help you find your favorites and learn how they work. It is perfect for anyone looking for chord progression inspiration for their songwriting.
4. HumOn
HumOn is an Android and iOS songwriting app that creates a song and scores around a hummed melody. The algorithm generates R&B, classical, and more unique styles – taking a brief sung vocal and turning it into a full-blown song.
With the tool, you can share your songs on social media. HumOn offers an easy way to hammer out a simple melody anytime and anywhere.
5. Audiotool
Audiotool is a free full-scale production suite. The tool emulates analog-style production, so you must patch your instruments and pedals along with virtual input and output cables. Just drag a few virtual instruments and effects pedals over the screen, and you're close to making your next hip-hop track.
You can save, record, and export your projects with Audiotool. The tool is excellent for composing real hip-hop or electronic tracks to play along to.
6. Autochords
Autochords is ideal for anyone developing their music theory that need quick ideas to start. This simple and easy-to-use chord generator works in various moods and keys. Four different chord progressions are generated in any given key by the browser tool.
7. The Method Behind the Music Dictionary
This tool lists all the frequently used terms in a classical music store. No worries if you don't know your glissandi from your crescendi. The dictionary describes everything from a coda to a triad in a glossary-like fashion. The tool is excellent for learning music theory terms, so you can better understand and communicate your musical ideas.
8. Chordbot Lite
This tool is an Android and IOS app ideal for creating and sampling varying chord progressions in various modes and keys. It shares some similarities with Autochords but is a bit more detailed and hands-on. It displays different chord progressions and effects.
Chordbot Lite is perfect for combining chord progression and song ideas with different keys and instruments.
To Wrap Up
Songwriting tools are online resources designed to improve songwriting skills. Whether you just started writing songs or are a pro, the tools are handy. Aspiring musicians and songwriters can choose any of these songwriting tools.
The tools are organized, so even if you are practicing as a newbie, you will know what you need to do to excel. It is easy to use yet very helpful.
Explore All
Generate Songwriting Starter Articles