Online customer acquisition can be complex, but you can improve your search results with careful planning.
People use Google, Bing, and Yahoo daily to search for information. One of them might be you. There are various ways to make sure the right people see your artwork online, but you must first understand how search engines operate.
Let's begin by learning about keywords and how they can support online art sales for artists. It will be simpler for people to find you online if you use keywords for art business and the artistic style you develop in your blog posts, social media updates, and artist websites.
So, without further ado, let's look at the top keywords people are searching for in the art market!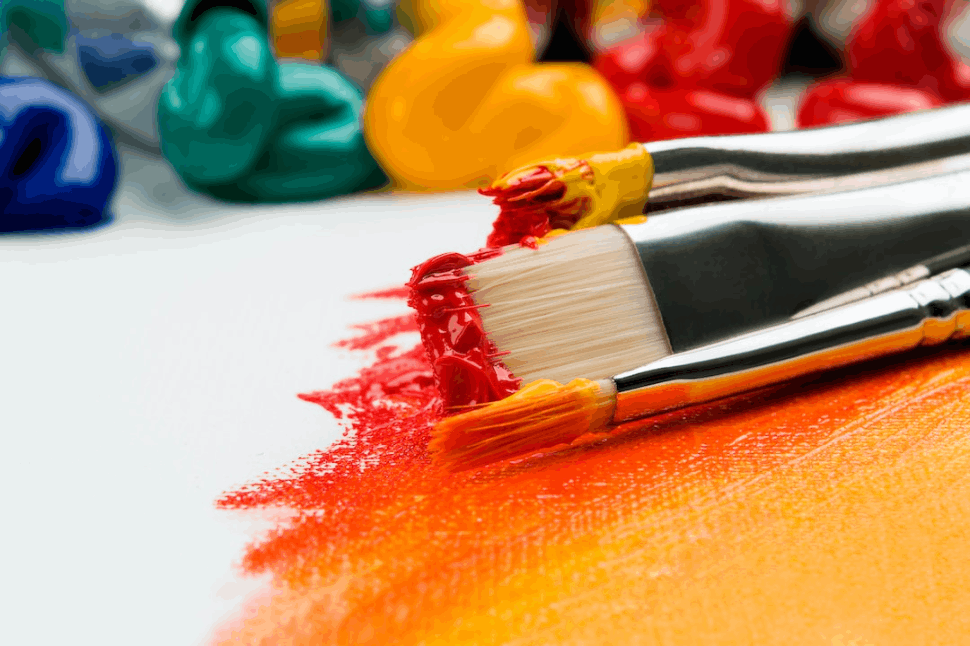 Why Is SEO-Friendly Keywords for Art Important for Artists?
We're willing to wager that ten out of ten artists would always choose to work in their studio if they had to choose between doing SEO and working in their studio.
However, because SEO accounts for a large portion of what we access and use on the internet, it's crucial to avoid consistently putting it last on your list of priorities. It doesn't matter how excellent your artwork is or how lovely your website is if suitable collectors can't find it.
Your likelihood of ranking for a topic or term decreases as competition for that topic or period increases. Start broad, but then focus on particular subjects, like "abstract mural painter in Mexico City."
To find out what people are looking for, how many people are looking for these terms, and how competitive they are, you should use these tools. You can find new keyword suggestions and concentrate on those relevant to your artistic practice, with a high search volume but little competition.
Everyone is aware that your website will appear in Google's search results if someone types in a word or phrase that closely matches that website's content.
Simply put, keyword targeting is finding specific words or phrases that you would like to rank well for in Google, then adding them to your website.
The most challenging aspect is choosing the right keywords to target. As an illustration, attempting to target the keyword "Art" as one of your keywords will cause you a great deal of frustration and very little traffic because that keyword has a ton of competition from millions and millions of websites.
This is a great way to increase traffic to your website because not everyone will search for the same keyword, ensuring that everyone who wants to find your art does so.
Tips for Artists Looking To Rank Higher For Their Niche
What is the subject of your art? In a few brief sentences or phrases, describe your artwork by referencing the subject matter you work with or the style you employ. Keep in mind your medium as well.
Consider how others might characterize your artwork or how they might look for it online if they couldn't use your name to do so. Ask a few of your friends to confirm, just to be safe.
The phrases and descriptions you've listed should ideally correspond with the search terms your friends come up with because it doesn't matter how you would describe your art; what matters is how other people would look it up on the internet. There are probably at least a few keywords already driving traffic to your site, whether you intended to target them or not.
Suppose you don't already use a traffic statistics program. In that case, you can install Google Analytics and wait a week or two while it gathers information about your visitors to find out what keywords and phrases are practical for you.
Make a list of all the keywords driving traffic to your website once the data is available or if you already have Google Analytics.
The fact that some of your keywords may have nothing to do with your art is perfectly normal, and you can remove them from your list. When none of your keywords are relevant, you can be sure that keyword targeting is what you require.
Now that you have this list and the descriptions you and your friends created in the first step, it's time to conduct more in-depth keyword research.
Top Keywords For Art
You can aim for any of these keywords for art for free. However, keep in mind that we gathered the results below for the United States. To get the best results you need to know whether these results also work in your location.
That's why, we highly recommend a good keyword research tool that can help you with your locale and local language.
Frida Kahlo
metropolitan museum of art
van Gogh
Banksy
vincent van Gogh
Pablo Picasso
diamond painting
the metropolitan museum of art
Michelangelo
calligraphy
more
pop art
artstation
Jackson pollock
Caravaggio
mandala art
Claude monet
canvas prints
dada
wall art
Basquiat
art deco
Kandinsky
doodle art
abstract art
marina Abramovic
artist
Gustav Klimt
pencil drawing
art nouveau
sculpture
word art
wall painting
David Hockney
Henri Matisse
Takashi Murakami
kintsugi
Klimt
paintings
surrealism
paul Klee
Botticelli
crafts
watercolor painting
Roy Lichtenstein
digital art
Final Words
If you're an artist, whether you dabble in paintings or you're a musician, SEO-friendly keywords can help you reach a larger audience. It's essential to do your research and choose keywords that are relevant to your art.
Our guide provides some great tips on how to choose the right keywords. If you found our guide on keywords for art helpful, please consider sharing it with your friends.
Frequently asked questions
What is SEO art?
SEO isn't too complex for artists. Google and Google Images are common sources of search engines for artist names and artwork types. Optimizing your website, YouTube channel, and social media profiles so that they can rank highly.
What is the most searched word on Google?
Most Searched Words on Google
Rank
Keyword
Search Volume
1
Facebook
2,147,483,647
2
Youtube
1,680,000,000
3
Google
923,000,000
What are keywords for art?
composition
Colour/Colour
Form & Shape
Mood
Tone/Value
Line
Texture
How do artists write SEO?
Identify your keywords, targets, and audience.
Keywords such as keyword tags, image labels, etc. need to be capitalized.
Publish high-quality content and host your portfolio on a credible platform.
Share your content and link to your page to showcase its value.
Keep it consistent and patient.
How many keywords should I use for SEO?
The chances are that you'll want to target two or three keywords per page, even if they're just close variations. There are only four pages, so it's a bit crowded; after all, each page only has one title tag and meta description. Once we have determined the range of keywords per page, we can estimate how many keywords we will track.
Which space is the actual object S within an artwork *?
Positive space is the actual objects within an artwork, and negative space is between and around them.
What do you call digital art?
A new media art, or digital art, is art made through software, computers, or other electronic devices. Digital art includes anything made on or produced through digital media, such as animations, photographs, illustrations, videos, digital paintings and others.
How do you find keywords for ideas?
Brainstorm "seed" keywords. Keyword research is started by planting seeds.
Search for keywords your competitors rank for.
The keyword research tool.
Study your niche
How do I find my youtube channel keywords?
You can choose from dozens of masterpieces to transfer onto your image. Click the Camera menu in the bottom bar of the Google Arts & Culture app to try it.
How do artists rank on Google?
You should ensure your site is accessible to all visitors.
Titles for pages are relevant.
Good-quality content is generally found on the site.
Links to other websites can be found on the internet (see below for more information about search engine optimization).
What is the best keyword tool?
SECockpit
Soovle
Ahrefs Keywords Explorer
Google Search Console
Semrush
Jaaxy
Google Keyword Planner
KeywordToolio
What is the meaning of DeviantArt?
DeviantArt (historically described as deviantART) is a community of American online art that features artwork, videography, and photography. It was launched on August 7, 2000 by Angelo Sotira, Scott J. DeviantArt.
How does principle element affect the visual imagery of an art?
A principle can be thought of as something that can be repeated and dependably applied with elements for some kind of visual effect in a composition. To understand the principles, we have to consider sensory responses to visual input: elements appear to possess visual weight, movement, etc.
How do I generate keywords for SEO?
The way you create a list manually is to write down all the topics, identifying keywords that are related to those topics, and then look them up on Google Trends or a similar tool to see what the search volume is. Keywords can also be generated with a keyword generator.