Marketing resume keywords are terms and skills recruiters and hiring managers look out for when filling a marketing job posting. It's essential to include these keywords in your resume to create an excellent first impression and increase your chances of being interviewed.
Using the wrong terms in your resume can hurt your chances of making it to the top of the company's preferred candidate list. Here is a handy guide on the top marketing resume keywords, along with tips for incorporating them into your resume.
What Are Marketing Resume Keywords?
Marketing resume keywords are terms that define your skill set and emphasize your experience that aligns with specific duties outlined in a role. For example, if you were applying for a marketing executive role, you might include terms like "marketing research" on your resume.
There are typically two keywords to keep in mind when creating a resume. The first is general marketing words, which are words or phrases relevant to most marketing positions. The second is job-specific words that are particular to a job posting. These keywords allow you to display qualifications that are specific to the position.
The two categories of keywords are essential, but it's best to include more job-specific than general ones. Look through the job description, identify the skills the company seeks, and customize your resume to fit these skills. By doing so, you position yourself as a suitable candidate for the role.
Top Marketing Resume Keywords
Every job is unique, and so are the key phrases and terms to include in your resume. The keywords you choose must be relevant to the job you're applying to.
The keyword "social media" has nothing to do with a job posting of a Nurse. Including the wrong keyword in your resume is an easy way to get your resume thrown out. The more relevant keywords you include in your resume, the more likely you will impress the hiring manager.
Here are some marketing keywords to include on your resume.
Advertising campaign management
Marketing
Marketing Strategy
Digital Marketing
Social Media Marketing
Online Marketing
Marketing Management
Social Media
Product Marketing
Advertising
Business Strategy
Project Management
Strategy
Advertising Strategy
B2B, B2C, and B2G
Brand Management
Client Acquisition
Copywriting
Critical Analysis
Data Analysis
Decision-making
Direct Mail Marketing
Email Campaigns
Keyword Targeting
Logo Design
New Product Marketing
Market Research & Analysis
Market Segmentation
Pitching
Public Relations
Relevant Demographic Specialization
Search Engine Optimization
Social Media Marketing
Vendor Management
Video Marketing
Tips for Adding Keywords to Your Marketing Resume
1. Create a Long Base Resume
Every job is different. It's not advisable to use a single resume for every job application. Each resume you send out should be tailored to match the job posting.
Create a general resume that includes all your relevant skills, traits, and work experience. Then use this resume as a framework for creating job-specific resumes.
2. Review the Job Posting Carefully
Even though many of the core elements of a marketing role are similar to most marketing jobs, no two jobs are the same. Two different marketing job listings won't focus on the same skills and responsibilities.
So you need to carefully review each job posting and understand the essential elements of the job. Read and understand the qualifications and skills listed in the job posting, and identify a unique angle you could use to sell yourself.
3. Customize With Keywords
Once you've identified the skills, experience, and qualifications the employer is looking for, you can edit your base resume to match the job posting.
Incorporate job-specific keywords and remove elements that don't fit in. The goal is to present yourself as the perfect candidate for the job. So tailoring your resume to fit what the employer is looking for improves your chances of getting a callback.
4. Diversify Your Keywords
Your base resume likely has qualifications and skills covering a range of expertise. It's vital to tailor your resume to the job role you're applying for, but also essential to show a diverse skill set.
Highlight skills and abilities you know will be added advantage to you, even if they're not spelled out in the job posting. This will portray you as a valuable asset to the company. However, don't overdo it.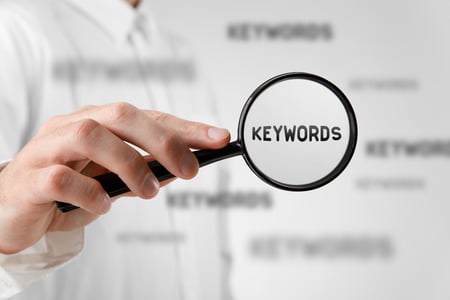 To Wrap Up
Keywords are a significant source of information on your marketing resume. They're a great way to highlight specific skills you possess to help the potential employer uncover what you have to offer.
Job-specific keywords are more appropriate as they allow you to present yourself as a perfect fit for the job. If you're unsure what keywords to use in your marketing resume, this guide will come in handy!
Explore All
Keyword Generator Articles