You're a songwriter, singer, or band searching for your next big break in your music career. A great musician bio can help you convert your page visitors into fans and give the media a good sense of you.
Your bio is the first impression your audience will get of you, so make it a good one. With the bio examples for musicians in this guide, you'll learn how to write the perfect musician bio.
Amidst the competition in the music industry, a musician must seek to set himself or herself apart from the crowd. Building a solid background and engaging the attention of the masses can be done by building your reputation.
This guide highlights some bio examples for musicians to inspire you.
Why Is the Bio Important?
When you've found your passion, your new intent is to turn your skill into a career. You can do this if you have a strong bio, that states who you are, what you do, and your goals. You'll likely create a business website and need a great bio to promote your services to your potential clients.
An engaging biography can take your music band from good to amazing! Your biography is your introduction to potential listeners.
It should offer insights about your music including details like where you come from, and what makes you passionate about your music. It's also a chance to frame your story and set your musical identity in a way that is true to your artistic vision.
Musician Bio Template
People who want to work with you will want to know a little about you before deciding to hire you. Your bio is one such place they'll check for information about you.
It should give the essential details your audience needs to know about your personality. Your bio should include your background information, values and principles, and achievements.
A bio goes a long way in telling your audience that you are qualified. If you're clueless about writing a biography, here's a template for a typical musician bio.
1. Engaging introduction
Give your bio a human touch! Think about how you'll introduce yourself to someone you just met who has never heard about your music before.
Provide your audience with a brief introduction, including your name and where you're from. Describe your passions and interests. Talk about all the different aspects of the music you create.
Write your introduction in 1-2 sentences and make it engaging. The tone of your writing should be conversational and friendly; you might want to include humor, energy, and emotion.
2. Background information
Your music career is a central focus of your bio, but there are a few other things you may want to include.
Describe why you decided to pursue a career in music, including a description of your education and early life. You might also include personal stories about the people who have impacted your music the most.
Write simple, short, and engaging paragraphs that will be easy to read. Also, write in the third person, allowing bloggers and the media to copy and paste your bio if needed.
3. Description of your music
Describe the genre of music, why it matters to you, and the cultural impact of your music. Use powerful and creative words that evoke emotion and get your point across.
Talk about what you're currently doing with your music. Have you released a single, recorded an album, or performed on a stage? Choose the most recent and relevant things you've done with your music and include them in your bio.
Remember, the best bios stick to what's important, be concise, and don't include details that don't make sense. You can write the band bio at the top of your page if you're in a band. Then write short texts about each band member. Include a visual image in every musician's bio.
4. Career achievements
Write about your achievements in the music industry. Be specific about the success you've recorded.
Did you perform at a big event? Did a famous musician feature you? Have you been nominated for an award? Make a list of your achievements and include the most impressive two or three on your bio.
Include your most recent accomplishments to show that you're an active musician that is still growing and putting his best foot forward. Stick to the facts and present them professionally and positively.
5. Reviews and Media Quotes
Include a review you got that you feel best represents your music. Showing others are talking about your music will lend you more credibility and authority.
The statement might be an album review from a fan, a quote from a musician you've worked with, or the media. Use it to prove what you've been doing and your progress in the industry.
Bio Examples for Musicians
1. Carly Pearce
Carly Pearce is an American classical music artist who mixes traditional classical music with pop-classical music. Her Spotify bio starts with a strong point. She describes how she began her music career, including social proof (singers she has worked with and awards she has won). Here's what her bio looks like.
"Fiercely rooted in the classics, the girl who left her Kentucky home and high school to take a job at Dollywood has grown. She embraces the genre's forward progression and is confident in what she wants to say. Lighting a fire with her debut album EVERY LITTLE THING and the PLATINUM-certified history-making title track. Carly has since become "Country's 'it' girl" (ABC Radio), touring alongside Blake Shelton, Rascal Flatts, and Luke Bryan."
2. Amy Grant
Amy Grant is a famous Christian singer from Nashville. She uses powerful words in her bio and mentions her awards and philanthropy. Her bio looks like this:
"Amy Grant has built a long, successful career on music that matters. Ever since she burst on the scene as a fresh-faced teenager bringing contemporary Christian music to the forefront of American culture. The Nashville native gained a reputation for creating potent songs that examined life's complexities with an open heart and keen eye. She became the first artist in Christian music to have a platinum record and went on to become a crossover sensation. Her musical gifts transcending genre boundaries to make her a household name."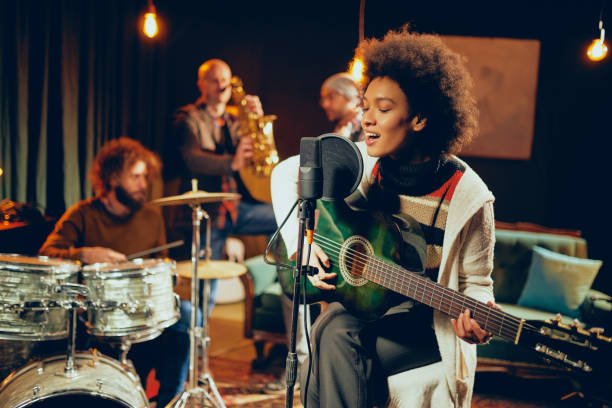 To Wrap Up
Your bio can help promote your music and connect with readers. Ensure your biography is compelling and engaging to keep readers loyal and make them travel with you on your musical journey.
It's essential that your writing style is professional and that you elaborate on details related to your music while using exciting and relevant examples.
Explore All
Personal Bio Generator Articles