The About Me page is one of the most important pages on your website. It tells your potential clients and employers who you are and what you do. Writing an "About Me" page can be challenging. The good news is that you can learn how to write an about me statement by following the tips in this guide.
The About Me page is an opportunity to connect with your audience and promote your brand, so create a positive first impression. It should uniquely tell your potential customers about you and what you offer. Let's see how you can craft the perfect one.
Why Is an About Me Page Important?
When employers or prospective clients visit your website, the first thing they look out for is the "About Me" page. This is why it's important to showcase yourself and your business positively.
Your "About Me" page should be well-written and provide your prospective customers with relevant information at a glance. It should also capture their attention and entice them to read on to find more details about your offerings.
The "About Me" page should reflect professionalism. Don't just write about yourself; this could be a little boring. Instead, tell a story about your business, how you got to where you are, and where you're looking to go next. Describe your expertise, goals, and credentials.
What Makes a Good About Me Page?
It's important to set a tone before you start writing. Begin by picturing who you are and what your audience wants to know about you. For example, if you want readers to purchase your products, you might want them to understand why your products are worth the purchase.
Your "About Me" page should contain the following information.
Who you are and what you do.
What your values and principles are.
Why the product or service you're offering is important to you.
How you got to where you are.
Where you're looking to go next.
Write in engaging, interesting, and simple language. An 'About Me' statement that is too complex may not be read by the people who would be interested in what you're selling.
Avoid exaggerations and stick to facts about your business. A brilliant statement will help you establish trust with your audience and form a strong connection with them.
Also, write for your audience. Visualize who your potential customer is and what they would like to know. This will give you an idea of what you should write and the writing style to incorporate. Use a conversational and friendly tone, making each sentence easy and readable.
How to Write an About Me: Template
An "About Me" page is where you capture information about yourself and what you're passionate about. If you have difficulty writing the perfect "About Me" statement, here's an outline to follow.
Introduction
Your introduction should include an opening statement and a couple of sentences about who you are, what you do, and your main qualifications. This is typically about 2-3 sentences long, so make it count.
It should hook the reader in and make them want to read the rest of the description. It's a good idea to keep the information short, straightforward, and easy to understand.
Mission statement
Clearly state your business's values, purpose, and goals in a single sentence. Keep it to the point but interesting enough to get your readers intrigued. A compelling mission statement will get your target audience to buy.
Your story
This is where you share the story of how you got to where you are. Focus on how you started your business, what your passions are, and how you hope your story will inspire others.
This part of the "About Me" page is an opportunity to connect with your readers on a deeper level. When your customers know your story and your struggles, they'll feel more connected to you.
Your niche or competitive advantage
This section is your chance to show what makes you different from the others in your industry. Explain what makes your business stand out from the rest and what you offer.
Include essential qualifications, previous experiences, specifics about your background, and other things that give you a competitive edge. However, don't over-sell the point—state only facts with a strong sense of your unique qualities.
Positive feedback or awards
Include positive feedbacks or awards you've received for business excellence.
You could also include links to the certifications you have achieved and professional memberships awards. This will create a sense of credibility for your business and establish trust in your visitor's eyes.
The value you provide
Explain to your audience the value your business can bring to their lives. Take a genuine approach and emphasize your intention to help them. Find examples of tangible benefits that you've provided someone and use these examples to express the value you'll offer.
Show off your personality, your perspective, and how you can make an impact on any company that decides to hire you. End things memorably to make your visitors want to follow up on your offer.
How to Write An About Me: 4 Expert Tips
Here are some tips on how to write an about me statement.
1. Include a call to action
A call to action tells the reader what you want them to do, whether ordering your products or signing up for your newsletter.
These calls should be between 1-2 sentences and should not be cheesy. If the call to action does not entice the reader, the reader will leave your page and forget about you.
2. Add visual
An eye-catchy graphic is a great way to grab readers' attention and make them want to learn more. Adding an image that shows your interests is a helpful tip for making the page more personable and inviting.
3. Make it concise
Keep your "About Me" page to no more than one page to avoid being tedious. Too long, and it becomes a boring read that'll annoy your readers. Write short but enticing sentences and paragraphs.
4. Keep it real
Avoid exaggerations and stick to what is true. Don't include any claims you can't back up, nor should you make any claims that don't reflect your personal or brand identity. Keep it real, and the right customers will find you.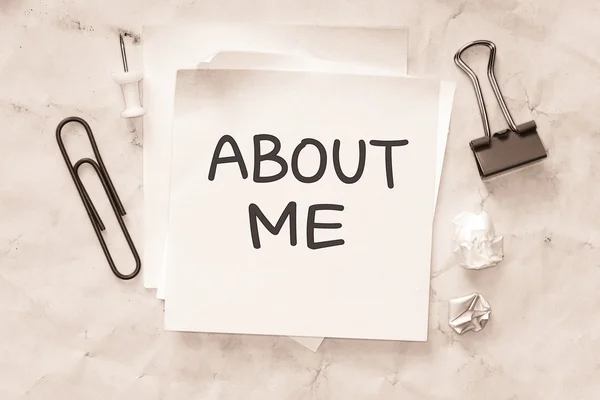 Wrapping Up
An "About Me" page is integral to any social media marketing campaign. It's essential to your brand image and helps people connect with you. Your "About Me" Page tells your audience what you do and how you plan to bring your knowledge, and expertise to any position.
An About Me page is a great way to create a strong brand and strengthen your online presence. Take your time planning one, and remember to use the tips in this guide to write a compelling one.
Explore All
Personal Bio Generator Articles