Having a stellar Instagram bio is a must if you want to attract more followers and increase your online visibility. Your Instagram bio is the first impression you'll make on potential new followers, so it should be creative and informative.
Since it's not easy to develop a catchy profile for Instagram, we've compiled a list of the most excellent biographies for food bloggers.
Want to write your bio but don't know how? You can use ours for free.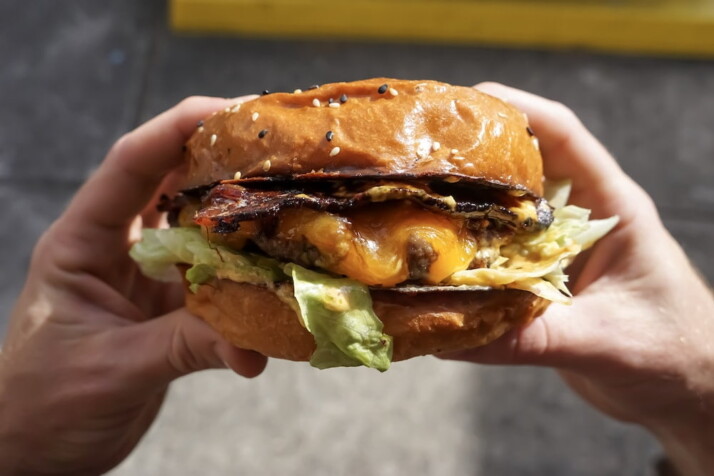 Who is a Foodie?
A foodie is an ardent connoisseur of food and drink. Usually, the term refers to someone who is a lover of food. One who typically collects recipes and savors preparing their food and eating out, as well as snacking mindfully.
Definitely not a dieter, foodies often use these food blogs to document their culinary investigative and share their findings with the world.
With that sorted, let's reveal Instagram foodie bios that perfectly capture the essence of foodie lingo!
Creative Food Blogger Instagram Bios
To create a perfect image, shape your bio in a way that best flatters your personality and blog. Here is a list of food blogger bio ideas for creative inspiration.
The most essential part of a well-balanced diet is—food!
Chocolate makes everything better.
Made with love.
Food makes a lot of gloomy days seem brighter! #food
I feel like stripping whenever I see good food.
My life may be falling apart, but as long as I have a pizza in my hand, I do not even care! #pizzalove
I love you to the fridge and back.
Hi people, I want to share my experiences with food with you! Follow me!
They told me to follow my heart. Guess where it led me? To the fridge.
Life is uncertain. Eat dessert first.
Interesting Instagram Bio for Foodie
With social media, there is now the potential to connect with the entire world. And one way you can do this is with your Instagram bio. If you want to explore interesting food bio for your account, try these options.
I'm soy into you.
I can eat, sleep, drink biriyani!
It's essential for every party to have cake. If there's no cake, then it's only a meeting.
If my plate is full, I'm happy.
When you eat food with your family and friends, it always tastes better!
Skinny people are easier to kidnap. Stay safe, eat cake.
Grill and chill!
This is a festival of flavors.
Cute Instagram Bio for Foodie
You don't need to be a professional writer or social media expert to make a cute Instagram bio for your food blog. Here's what we dug out for you!
Your diet is a bank account. A good option is a good investment.
Calories don't count during the weekends.
Food is my number 1 priority.
Do not dare to interrupt me when I am enjoying my meal!
Where there is good food, there is happiness.
Let's eat some diet food while we wait for the steak to cook.
I can never give up food, no matter how much I try! #foodislife
If you do not eat well, then you won't be able to think well, love well, and sleep well.
In order to achieve a balanced diet, one must hold a cookie in each hand.
There's nothing more romantic than Italian food.
Great Food Instagram Bios
Great food bios can be about the food, recipes, how to cook with the ingredients, or even how the food makes you feel. Replicate one or more of our favorite great bio content on your page.
Food is really and truly the most effective medicine.
A little slice of heaven.
Any bad day can be cured with a hug and a pizza!
All I want for Christmas is food.
Take food as your medicine before you take medicine as your food.
Donut worry. Be happy.
9 out of 10 people love chocolate. And the 10th person is always lying.
Cupcakes are muffins that believe in miracles.
Dinner is one of life's greatest pleasures.
I am on a seafood diet. I see food; I eat it.
Unique Foodie Bios that Stand out on Instagram
Foodies tend to be into food as well as a lot of other things. And to find other people who are also interested in food, Instagram is a great tool.
Instagram's bios for food bloggers and fans of food can be customized to personalize their tastes and interests. Check for your favs here!
I'm the best when it comes to eating meat.
I will never understand people who do not love to explore food! #foodexplorer
Sugar, spice, and everything nice.
Food is the ultimate pacifier. I feel like I can forgive anyone after a scrumptious meal.
Sorry, if it's not on the plate, then it can wait.
If you're hungry, and you want thousands of something, then eat rice!
Donut kill my vibe.
There is no "we" in fries. Remember that!
Magic happens in the kitchen during lunchtime and dinner time.
The chief ingredient in yummy food is love.
Exciting Instagram Bios to Explore
The Instagram bio is a case where less is more. Your story, image, life, and goals can be conveyed in fewer characters than you might think. Here are exciting Instagram bios for your food blogs.
I could stare at good food all day long! #goodfood!
A day is best started on a full stomach.
Good food is the foundation of happiness.
There is no better reward for hard work than good food.
I'm so eggcited to eat!
Everything you see, I owe to spaghetti.
Fancy food makes my day! Does it make yours too? #fancyfood
What diet?
I'm on a 30-day diet. So far, I've lost 15 days.
Who needs love when you can eat all the chocolate in the world.
To Wrap Up
A foodie is a person who is fascinated by food and its preparation. Foodies might be anyone from a table attendant to an author to an Instagram celebrity.
The foodie's Instagram bio should be interesting enough to capture followers' attention and usually include images from the foodie's personal life and followers.
Explore All
Personal Bio Generator Articles