Instagram is more than a platform for sharing snapshots. Businesses use the platform to promote their brand and build stronger customer relationships.
As a makeup artist, you can use this powerhouse social media platform to showcase your artistic skills and build your fan base. In addition to eye-catching visual and captivating content, you need an intriguing makeup artist bio for Instagram.
The Instagram bio is one of the most accessible and fast-paced places to get potential customers' attention. They might not know about your business yet and now is your chance to give them a mini-profile on your miniature world of Instagram.
Ensure to include a few things that will excite and intrigue them and provide them with something to click on. This guide lists some creative Instagram makeup artist bios, including tips for writing the perfect bio.
Why Is Instagram Bio Important?
The Instagram bio is an area on your profile where you can leave a lasting impression on your followers. Put some thought into writing the perfect bio to encourage your followers to stay engaged with your posts.
You want to keep the tone light and friendly while also reflecting your skills and experience. Asides from this, you should use your bio to highlight a CTA (call to action) that encourages your followers to take action. This could be urging them to check your website or book you.
While a bio on Instagram may not seem like much, it is a crucial feature that can change the way your Instagram page looks. And also, how future followers interact with your page.
This is especially important if you want to look professional or stand out among the competition. The goals of your bio should be clear and harmonious.
Tips for Writing the Perfect Instagram Bio
What makes a makeup artist bio the perfect one? The ideal makeup artist's bio is well-written and genuine. It tells who you are and what you do. Let's look at some expert tips for writing the perfect bio.
1. Optimize Your Business Name On Instagram
Your Instagram bio should include a business name with a searchable keyword. This increases the chances of your page appearing higher in the Instagram search. For example, you might want to use your name, your city, and the term 'Makeup Artist' to help people find you easily.
2. State your expertise
Putting out your business name isn't enough. Optimize your Instagram bio to tell people about your artistry. Creatively speak about your craft and showcase your expertise. You should state what you specialize in, e.g., weddings and events, and include any standard terms for your artistry or style.
3. Include contact information
By including your contact information on your bio, you ease the communication process, making it easy for your potential customers to reach you! You'll want to include your phone number or even your email. For instance, you can write something like: "For bookings and inquiries, email name@email.com."
4. Include Links In Your Bio
Your Instagram bio is where you can share clickable links. You can include the link to your website, YouTube channel, or other social media platforms in your bio. This helps drive traffic to your other platforms and build your audience there.
Don't ignore the power of branded hashtags if you want to get more Instagram traffic. Branded hashtags are unique tags for your brand, such as your name, work, campaigns.
With these hashtags, your audience can access your profile and posts and learn about your services. Including branded hashtags on your Instagram bio can boost your engagement.
If you're using the Instagram business profile, you can use the CTA tools in your bio to encourage your audience to take instant action. You can add the "Visit Website," "Shop Now," "Email Us," or "Contact Us" CTA depending on your business goals.
Creative Makeup Artist Bio for Instagram
The Instagram bio is essential because it allows you to set the foundation for your brand. It is the first thing people see about you, so make it good!
Add a statement that shows your expertise and artistry to help people know exactly what you're all about. Below are some creative Instagram bio ideas for a makeup artist.
Instagram Bio For Lash Artist
Say hi to eyelashes and a big farewell to mascara.
Gorgeous eyelashes that make your complexion better.
A blink is more than a thousand utterances.
Lashes that define your beauty.
Beauty with a sprinkle of lashes.
Let your eyes do the talking.
Flawless lashes on a flawed lady.
Lashes that unleash your inner beauty.
Let your eyes tell the story.
Longer and darker lashes for gorgeous ladies.
Blink and let souls sink.
Lashes that bring life to your eyes.
Let the world 'wow' on your lashes.
Unique Makeup Artist Bio for Instagram
The making of beauty is art, and we're the performing artists.
I have the power to give you that flawless glow.
Rule no 1 for a flawless face: Wear red lipstick.
I love colors and make your look colorful.
Stay calm and call on your top-notch makeup artist.
I am an artist – your face is my canvas.
Nice eyebrows = Enigma and Confidence.
I enhance beauty with my magical skills.
Making you sparkle wherever you go.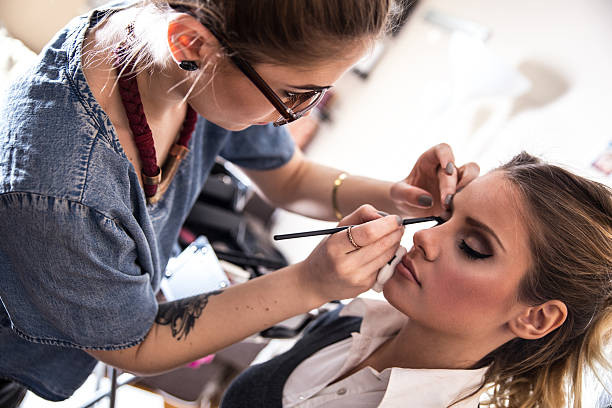 To Wrap Up
Instagram, when effectively utilized, can be a crucial part of your social media marketing strategy. With unique visuals displaying your work and a captivating bio telling your audience what you do, you can build a solid online presence.
It's just as important to add a personal touch to your Instagram bio as to create an eye-catching look with your makeup. The information you provide in your bio and the way you present yourself online are what people will use to gauge your professionalism.
Explore All
Personal Bio Generator Articles