The number of individuals who watch vlogs has been steadily increasing. The phenomenon offers an extraordinary chance for creators and viewers to tell stories in original and personalized ways.
This also allows viewers to experience the world through the eyes of their favorite vloggers. But it's an different game getting to the point where your vlogs are well-liked enough that viewers are interested in watching and participating.
How can you, as a creator or YouTuber, take advantage of this expanding market? Developing great ideas that you can execute flawlessly is your most significant challenge. Therefore, if your creative juices aren't flowing, whether you're new to vlogging or an experienced vlogger, we're here to help.
Today's guide will look at different vlog ideas you can capitalize on for more likes and subscribers!
What Is Vlogging and Why Is it Popular?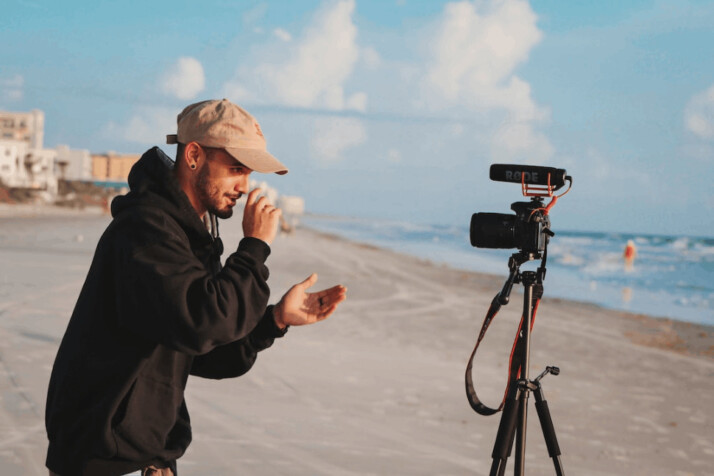 Vlog, which stands for "video log" or "video blog," refers to content that is in video format and may be edited or not. It frequently includes a variety of supplementary texts, pictures, or other components to support and enhance the content.
There are a lot of vloggers who candidly share their daily activities while recording themselves on the phone or with a camera. The subject matter of a vlog, however, is not limited. The main objective is to present it in front of the camera and engage viewers.
Daily routines, travel logs, Q&A sessions, and family vlogs are a few examples of popular vlog categories. More than one person may appear in any of these vlogs, but the vlogger will always command the majority of the spotlight.
When the internet first appeared, people quickly began posting videos of themselves online discussing their daily activities or travel experiences. Vlogging advanced significantly after Youtube was launched in 2005, and it quickly rose to the top of the most popular types of content production.
Fast forward to the present day, and you might be wondering why vlogging is such a phenomenon. Vlogs are, to start with, incredibly captivating. It's a fantastic strategy for capturing and engaging an audience. People can learn more about you and live vicariously through your vlogs.
You have the freedom to express yourself when you vlog. It is simple for creators or influencers to share their journeys with viewers using this content creation method. A vlog's laid-back vibe not only allows viewers to interact with their favorite stars but also provides entertainment that is simple to consume.
Additionally, you can make money from your vlogs, as with most forms of content creation. Who doesn't love earning money while engaging in what they find enjoyable?
Different Vlog Ideas That You Should Try Right Now!
Daily Vlogs
The most watched YouTube creators include daily vloggers like Casey Neistat, Mr. Beast, Logan Paul, and Bald and Bankrupt. Although it may be difficult to believe, people find it fascinating to learn about the lives of others. Your ability to tell a story, how you present yourself, and how authentically you depend significantly on how the viewer perceives your life. You have to figure out a way to make daily vlog ideas enjoyable, though. Being active is more important than putting on a show. It's best to have at least a general idea of what you'll be doing during your daily vlog if you're going to do it. Creating activities to do while recording is not what you want to do. Always be interesting and true to yourself. That is the secret to making a daily vlog successful.
Again, if you don't have the "it" factor that makes you unique, you won't get all the views for this medium. It's not an easy thing to do, you either have the personality traits that makes you a trend or not. No amount of editing skills will change that. However, there are many other different vlog ideas that don't heavily rely on you having the "it" factor! There are many Youtube channels that started off without the creator showing his or her face! However, vlogging channels on YouTube are more personal. To have the best connection with the viewers as a YouTube creator, you have to show your face.
Make Tutorial Videos — How To Vlogging Videos!
Our favorite one of the different vlog ideas! Although tutorials aren't typically considered part of vlogs, they can make for some of the best vlog content while also benefiting your audience significantly. The tutorial's presentation is what's important here. It will become tedious and uninteresting if it is just a talking-head video. If you change the location where you are shooting and let your audience experience the information you are explaining, it'll be better.
There are two ways to come up with topics for your tutorial vlogs. One is to simply pay attention to the types of questions your current audience poses and adapt those into issues for your vlogs. In contrast, if you're just getting started, you should first choose the content you want to feature on your YouTube channels. These can be as travel, filmmaking, or self-improvement videos. Next, select a pillar, research popular content ideas related to your area of expertise, and build a blog around those.
When making tutorial-based vlogs, you should concentrate on your area of expertise before searching for hot topics in that market to write about. When your topic is prepared, you can play either wing it or record as you go. However, if you want your vlog to be more attractive, it's better to develop a basic structure. That is evident when he shoots different parts of his vlog in other places.
Travel Videos and Vlogs — Add a Personal Touch to the Places You Visit!
Everyone knows travel broadens your mind. We have a list of places we know we will visit someday, but we need to go to work. What will we do? Spend time watching videos of people who can travel!
To make travel vlogs, you don't have to be a professional videographer. Because so few people are not enthusiastic about traveling, travel vlogs will fit seamlessly into your channel regardless of your niche. People feel better after a change of scenery, especially when the new scenery is captivating.
Therefore, if you have any upcoming travel plans, don't forget to pack your vlogging equipment. These should include your camera, a gimbal, and a microphone. Obtain some unprocessed footage of hills, beaches, amusing animal antics, or just you strolling along a pretty road. As you document a travel vlog, there are a few things you should bear in mind. It makes sense that you would want to record everything because you are in a new location. However, that is a poor strategy for two reasons.
First, not everything will appear as attractive as you think. And second, if you record everything, you will miss out on the opportunity to enjoy your trip thoroughly.
Instead, center your vlog on specific stops and activities you participated in while traveling. If you have a schedule, use it to decide when you'll record and when you'll just enjoy yourself. By doing this, you'll be able to enjoy your trip without worrying about constantly charging your camera. Additionally, keep your videos brief and remove anything that isn't particularly exciting or interesting. Above all, don't hesitate to show that you are enjoying yourself while traveling. Typically, you are the main reason people are watching your vlog.
Do Product Review Videos As a Vlogging Channel!
You'll have a set of tools that you regularly use as a vlogger to make your life simpler. Because you use tools daily, you can become more inventive with how you use them. You can share this knowledge with your audience because they'll probably want to know more about it. However, be sure that a sizable enough portion of your audience is interested in the product before you review it. Usually, you can tell whether your audience is interested in a particular product you use by reading the comments.
A screen recorder is required if you're evaluating a digital product. Use a screen recorder that generates HD videos in a variety of formats for your video editor. The screen recorder should also allow you to add a tiny window to the screen where you can capture your image in the camera. Being on camera increases engagement because you can address your audience directly. To make the review video more fun, you can edit in a non-copyrighthed music track — a quick tip!
Additionally, because you'll essentially be guiding people through a process or going over features, review and walkthrough videos can frequently feel sparse. So, if you're considering using a review as one of your vlog ideas for a future video, try not to make it all speech. Your audience will find your vlog more engaging if you add some sound effects.
Make A Youtube Video on Your Personal Fitness
Here's another one of the different vlog ideas.
It's easier to say than do to maintain good health. Many people find it difficult to get out of bed early, put on socks, and perform cardio exercises. However, seeing a friend or family member succeed in their fitness goals might inspire them.
Additionally, your audience would be interested in hearing about your experiences if you've been exercising for a while and have some to share. For instance, how do you manage to squeeze in some cardio when your career is at a crossroads? Present advice on how your viewers can also accomplish that.
Encourage your audience to act, and then describe how that action (in this case, exercising) will benefit them. Instead of just repeatedly sharing your workout success stories with your audience, try to engage them by explaining the advantages of exercise. You should give viewers, who are ordinary people, hope that they can also achieve perfect fitness as a creator. Many people watching your video probably won't be fit people, but they will continue watching your YouTube videos anyway! The like button on your YouTube videos will keep your viewers subscribed to your channel!
Conclusion
We hope our guide on different vlog ideas was able to help you draw more people to your YouTube channels. Or, you gained more views for your channel's videos on YouTube.
If you liked our guide on different vlog ideas, and thought it was great, consider sharing it with your friends! It may give them more great ideas, to employ on their own YouTube videos, who knows!
Explore All
Video Topic Ideas Generator Articles