If you're a pair who enjoys making videos and would like good couple YouTube video ideas, we're here to assist you. The purpose of this guide is to serve as a springboard for your exploration.
Couples' content, including videos and channels, is a massively successful niche on YouTube. The videos uploaded by couples should not only be amusing but also connect with their viewers through the sharing of personal stories.
Let's start with some creative concepts for YouTube couple's videos.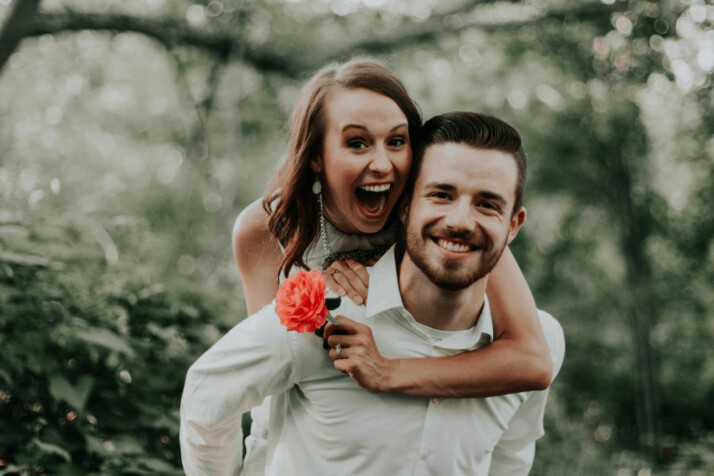 Good Couple YouTube Video Ideas to Explore
Making YouTube videos for couples may be time-consuming and challenging to master. This is because both partners must come up with ideas, shoot the footage, and edit it. You can use these small-scale ideas to see what works best.
1. Make Vlogs about Daily Life
If you're wondering if vlogs are still popular and profitable, the answer is yes. More than 44 percent of internet users regularly tune in to vlogs. Since there are 4.66 billion people with access to the internet worldwide, that's more than 2 billion people every month.
Making vlogs about your relationship can increase your audience, interaction, and monetization. Vlogs allow you to meet and connect with other people who share your interests and experiences.
It's important to know who you're talking to and what you're talking about if you want your couple's vlog to be a smashing hit.
You can begin production when you know who you're making content for and what they want to see. You'll grow better at making vlogs the more you do it. In the beginning, speaking to the camera is essential as if you were talking to someone. Consider methods to involve your audience in what you're doing.
Try engaging them with questions, issuing a challenge, or making suggestions. Your vlogs ought to have an exciting introduction so that people will start associating with your business.
2. Create Prank Videos
One category of relationship videos that always does well on YouTube is pranks. The number of people who watch these movies is enormous. They provide a fun opportunity for couples who don't want others prying into their lives.
The nicest part about making YouTube prank videos for couples is that you can start making them with very little money.
However, when creating prank videos, it's important to remember that the results should feel natural and unrehearsed.
Of course, the ideal method to accomplish this is to prank your partner in good faith rather than for the sake of a film. The best way to come up with ideas for your couples' YouTube films is to watch other prank channels.
You may even use prank compilations to advertise your channel on YouTube to attract more subscribers and views.
If you're pulling a prank on your partner, let the audience in on the joke with narration, on-screen text, and images of their reactions. Just ensure you have everything you need to record these in the best possible way.
3. Produce Instructional Videos
You may try making a YouTube video together if you and your partner are both knowledgeable about and enthusiastic about the same topic.
Research studies indicate that 51% of U.S. YouTube users watch the site to learn something new they have never done before. This adds further evidence to the widespread appeal of educational videos. With the addition of your dynamic or chemistry as a couple, you may attract a sizable following.
Just because your channel isn't focused on one topic doesn't mean you can't make informative videos about it. You can focus on one topic throughout multiple episodes.
You should begin by compiling a list of the areas in which you are an expert, and your target audience would appreciate your insight.
The next step is to record video lessons on these subjects, drawing on your expertise and additional sources of information. Therefore, it is essential to undertake in-depth research to identify people's inquiries. You also want to know the information they are looking for and other relevant details in this domain.
After compiling all the crucial details, you should write a script incorporating dialogue and screen time for each of you in equal proportions. You can do a trial run to see how well your arguments and dialogue mesh with one another.
After filming is complete, edit the movie by adding transitions, slides, text, etc., to prevent information overload for the viewer.
4. Movie Reaction Videos
Some people find reaction videos dishonest. However, their widespread appeal stems from allowing viewers to identify with the video maker and form connections over shared interests. Including these in your repertoire of YouTube video ideas for couples can help you connect with your viewers on a deeper level.
Both partners are optional while making a reaction video together. Creating a viral reaction video helps identify what sets you apart as a couple. Then, use that as a jumping-off point for your videos.
For instance, your content should handle the contrasts if you come from distinct cultural backgrounds and have diverse upbringings.
5. Video FAQs
One of the best ways to engage with your viewers is to host a Q&A in the comments section of your YouTube videos.
Both partners can be open and honest their relationships so that there is an emotional connection with the listeners.
You can construct a viral Q&A video by soliciting questions from your audience. Select the top 5-10 most popular or intriguing ones to answer in your video.
Then, to keep your listeners interested and engaged, begin by addressing their most pressing inquiries. If there are too many questions, divide the video into segments and keep the responses brief.
Use transitions and breaker slides to keep the video from feeling like a monologue and to provide visual interest.
You should have a good concept of the types of videos you can make for a couples channel on YouTube now. Ensure you implement some of these ideas to make your channel stand out from the crowd.
Wrapping Up
A lot of work goes into making a funny or touching video for a couple's channel on YouTube. It's a mammoth task, requiring much preparation, planning, and execution.
We hope this collection of good couple YouTube video ideas is helpful enough to make the task a little less daunting.
Explore All
Video Topic Ideas Generator Articles