A YouTube channel description provides information about what a YouTube channel is about. It allows users to learn about you and the type of content you put out.
Optimizing your Gaming Description for YouTube is key to getting the most from your channel. A properly written YouTube description will drive traffic to your channel, attracting more views, likes, and comments.
This guide discusses the best practices for writing a Gaming Description that will effectively attract views, likes, and comments.
Benefits of A YouTube Description
A well-written YouTube description can be the difference between your video becoming a viral hit or not. The channel description is the first thing viewers will read when they visit your channel. It's your first chance to show off your personality. If you want your videos to be discovered, you must write your descriptions carefully and accurately.
Here are some benefits of a YouTube Description.
1. It makes it easy for your audience to find you.
Adding a channel description makes it easier for viewers to find your content online. Using the right keywords on your channel description will allow YouTube to suggest your content to users seeking the keyword.
2. Lets Audiences Know What You're About.
A channel description is a summary of what your YouTube channel is about. It lets viewers know what types of content you will be sharing and what the channel is about.
3. Maintains An Audience.
A YouTube description is a great place to include links to other social media platforms like Instagram, TikTok, and Facebook. This way, your viewers can also connect with you on these platforms.
4. Builds Your Network.
The best YouTube channel descriptions include contact information through which viewers can reach out for business or other purposes. YouTube description helps you build your network. You can be contacted for collaborations or partnerships when you include details like your email.
What is a YouTube Channel Description?
A YouTube channel description is a short explanation of what you have to offer to your audience. It is the "About" page that highlights what viewers should expect from your channel. A good channel description provides viewers with a few easy-to-digest benefits of subscribing to a YouTube channel.
Here are some tips for writing the perfect YouTube channel description.
1. Highlight What Your Audiences Will Find On Your Channel
What is your gaming YouTube channel about? What kind of videos do you create? Is it game reviews? Game shortcuts? Let your viewers know in a few sentences. The more viewers know you, the more likely they click that subscribe button.
2. Reveal Why You Create Content
Discuss why you create the kind of content you do, what makes you unique and what your experiences are. You might have started your gaming channel because of your love for games. Whatever your reason is, you may share it in your description. Keep it genuine and use a friendly tone your audience will relate to.
Ending your description with a call to action is vital. You may put out a link to other social media platforms, urging your audience to connect with you. Or share your contact information, like your email, to allow your audience to keep in touch if necessary.
4. Keep it concise
Your channel description should be concise, clear, and easy to understand. Avoid technical terms or jargon that will leave your audience confused. Instead, write in simple, blunt, and clear terms possible.
5. Use relevant keywords and phrases.
Keep your YouTube channel description SEO-friendly by incorporating appropriate keywords. This will help improve your discoverability and visibility. By using keywords, you make it easy for YouTube users searching for the keyword to find your content.
Gaming Description for YouTube Examples
PlayStation: This YouTube channel description reads:
Welcome to the official home of PlayStation on YouTube. Here you'll find the latest videos about your favorite PlayStation products direct from Sony Interactive Entertainment. As well as consumer-generated clips from other PlayStation fans. To stay up to date, be sure to subscribe above and check back often for the new game trailers. Behind-the-scenes footage, in-game moments, tips and tricks, and exclusive sneak peeks.
The channel also includes links to other social media platforms like Twitter, Facebook, and Instagram.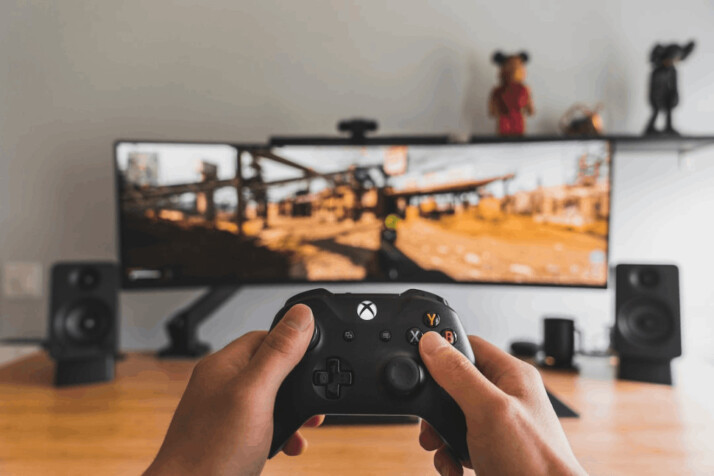 Wrapping Up
The YouTube channel description is a fantastic opportunity for you to pique your community's interest and make them view your content. Your channel description should give your visitors an idea of what to expect. The tips in this guide will help you write the perfect gaming description for YouTube to get you more traffic, likes, and views.
Explore All
YouTube Description Intro Articles