An optimized and well-defined hierarchy needs to be established for any website to achieve maximum visibility on search engine rankings. Enter: the SEO pyramid structure.
Gone are the days when SEO strategies were a confusing jumble of rules with no defined structure. With this lucid organizational framework, you can simplify the process of optimizing your website, so you can capture organic traffic more effectively.
This article will look into the basics of this powerful tool in web optimization. We'll also be sharing tips on using the SEO pyramid to drive real results for your business.
What is the SEO Pyramid Structure?
SEO can be frustrating, especially if you're new to the field. Luckily you can take a cue from many valuable resources to guide your SEO process. And the SEO pyramid can be one of them.
The SEO pyramid is a visual overview of all the concepts and areas you need to cover in your SEO process. It can greatly help increase your website's rankings and attract more visitors. It will also help guide you to optimize your site and provide a unique overview of the key elements you must focus on.
There are many versions of the SEO pyramid. The one we'll be discussing in this article is composed of four main stages, and these are:
Social
Link Building
Keyword Research/Targeting
Accessible and Quality Content
We'll discuss each of these stages in greater detail later in the next section.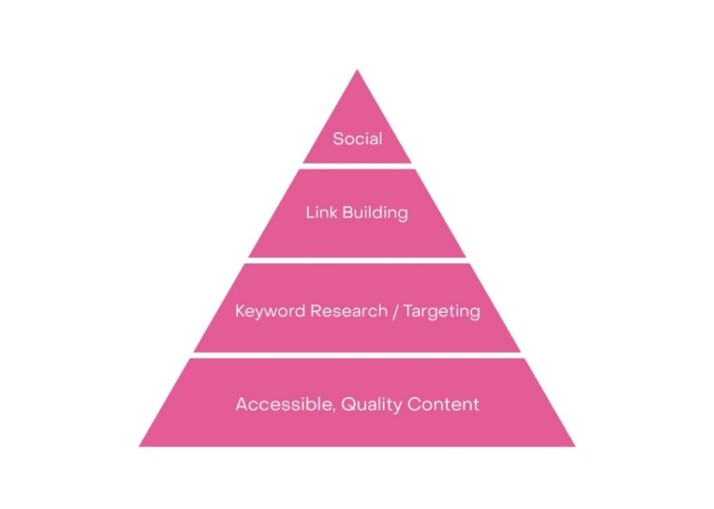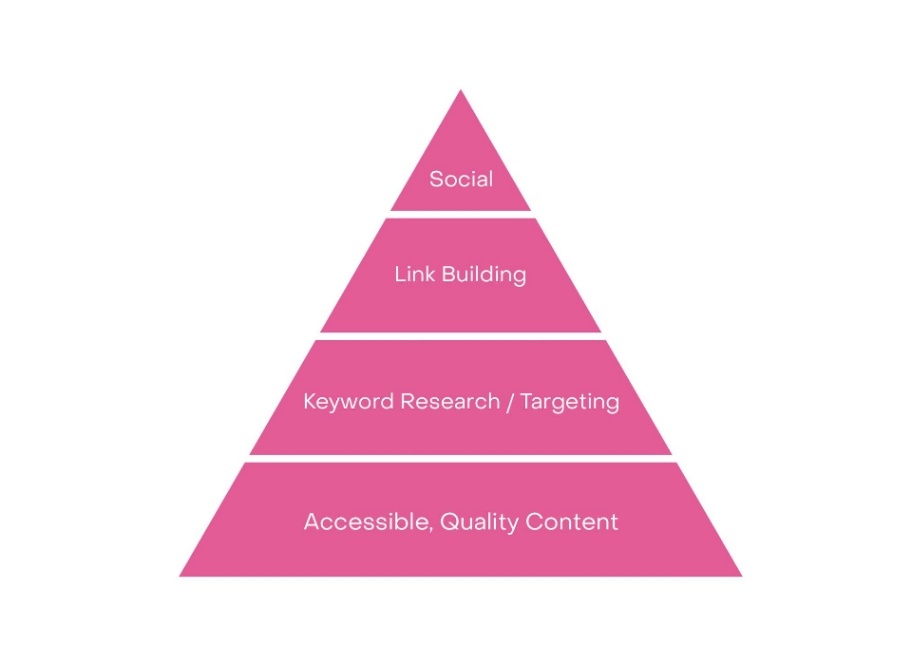 How to Use the SEO Pyramid Structure
Earlier, we mentioned the four main stages of the SEO pyramid structure. Here's a more detailed look at them starting from the bottom and how you can better use them to your advantage:
Accessible, Quality Content
The content and structure of your site need to go hand in hand. You will need to produce content that will keep your visitors engaged. And your website will need to be structured very similarly to your content. This is where navigation or categorization comes in.
A general rule is to have at least four categories for your content and at least 4 posts under each of your categories. You can use these categories in your navigation bar as well.
Other SEO elements involved in this stage are:
Crawlability: Crawlers can easily access and navigate the site without any roadblocks.
Indexability: Search engines index the pages completely.
Architecture/URL structure: The website is built with a well-designed architecture. Visitors should be able to access your key content with no more than 3 clicks from the Home page.
Loading speed: The average loading speed for your pages should be below 4 seconds.
Mobile friendliness: Your page is responsive and mobile-friendly.
Canonical tags: All your Canonical URLs are well-defined.
Keyword Research/Targeting (On-Page SEO)
The next stage focuses on On-Page SEO. This means optimizing elements on a website to improve visibility and rankings on search engine result pages (SERPs). It mainly involves content-related elements such as:
Title tags
Meta descriptions
Headings
Alt tags
You'll need to find your target keywords before you can work on these elements.
Look for keywords that have a high search volume among your target audience. It's also important to check the keyword competition. If it's too competitive, it may be nearly impossible to rank for it. You can use many tools for your keyword research, like Google Keyword Planner or the INK Content Planner Pro.
Once you have your keywords, incorporate them into your title tags, meta descriptions, and other on-page elements. You can also use them for your internal linking structure. Internal links can help you increase your site's Page Rank and lower your bounce rate.
Link Building (Off-Page SEO)
Link building is an essential part of any comprehensive SEO strategy. It's the process of acquiring high-quality external links (i.e., links from outside websites) to your own content. This boosts its visibility and authority in search engine rankings. Through link building, you can increase website traffic and even build a stronger online presence, as well as establish relationships with other industry influencers.
The key is to create interesting, valuable content that potential referring sites find worth linking to. It's not just about quantity, though – quality trumps all. It's more beneficial to have fewer but better backlinks than lots of low-ranking ones.
Link building is only performed when you've already optimized your page content. This level contains the following elements:
Backlink acquisition campaign. High-quality backlinks are actively gathered.
Negative backlinks. Harmful and undesired backlinks are regularly being denied.
Social
Almost everybody's on social media now, so it makes sense to put your business out there. Be active on your social media pages by sharing your content and inviting your audience to your site.
Encourage your followers to share your posts as well to increase social media traffic and engagement. You can also get social by joining conversations on LinkedIn groups and other online forums.
Content syndication: Publishing content from your website to other social sites.
Reviews: Encouraging reviews on your Google Business page and your website.
Final Words
It's important to note that the SEO pyramid is not a one size fits all approach. There are some cases where backlinks or socials may be irrelevant because of industry limitations.
You can choose to adjust your site priorities depending on the situation. But overall, the SEO pyramid structure can be a valuable resource for guiding your SEO strategy and increasing your online visibility.
Explore All
SEO Pyramids Articles