Searching for creative and effective job advertisements examples? You've come to the right place.
Through clear language, concise facts, and a few emotional touches, you can craft an ad that draws in qualified professionals to help your business. You should write your job ads with colloquial language and varied sentence structures.
We explain various tips to help you create engaging job posts. By the time you finish reading this article, you'll be confident in crafting perfect job posts!
What Is a Job Posting?
A job posting is an advertisement that seeks qualified professionals to apply for a position in the company. It typically includes a detailed description of the role and its required qualifications. It also includes any additional benefits or perks the company may offer. By crafting effective job postings, businesses can attract quality applicants who possess the skills necessary for the role.
There are two types of job postings — internal job postings and external job postings. Internal job postings are circulated among existing employees. On the other hand, the job-seeking public has access to external job postings.
How to Craft an Effective Job Advertisement
Job ads are crucial to any business. You should create them with care. The language used in job advertisements can make or break a successful recruitment process. You need to use clear and concise language to craft effective job postings that attract the best candidates.
Use Colloquial Language
Using colloquial language and including a varied sentence structure is also important when writing effective job advertisements. It makes the post more human-sounding and relatable, as opposed to sounding robotic or repetitive. This keeps people interested and gives them a sense of what working at this company would really be like.
Make It Sound Natural
A good job posting should also use varied sentence structures and colloquial language. This makes your ad more interesting to read and adds emphasis to key points without making them sound robotic or repetitive. Additionally, try to include at least one uncommon word per sentence to show off your expertise and communicate with readers on a deeper level.
Add Visuals
In addition to the text itself, consider adding visuals like images, graphics, or videos to your job postings. These elements give potential employees an idea of what they can expect if hired. They can also improve engagement rates significantly compared to plain text job ads. For example, video interviews with team members give candidates an accurate glimpse of the company culture and work environment before applying.
Salary Range
Salary information should also be included in every job advertisement. It helps applicants have a better idea of what salary range to expect for the position. Being upfront and honest about pay rates helps prevent misunderstandings and saves everyone time by eliminating those who don't fit the budget.
Include Other Important Details
Lastly, be sure to include deadlines, contact info, and any special instructions. Details like whether applicants need to complete the application online instead of printing and sending it via mail.
Creating successful job postings requires both creativity and experience. But once you've crafted the perfect job advertisement, you can sit back and watch the resumes come rolling in! Through clear language, concise facts, and just a touch of creativity, you'll create great job ads.
Effective Job Advertisements Examples
We have some effective job advertisements examples to inspire you as you create yours.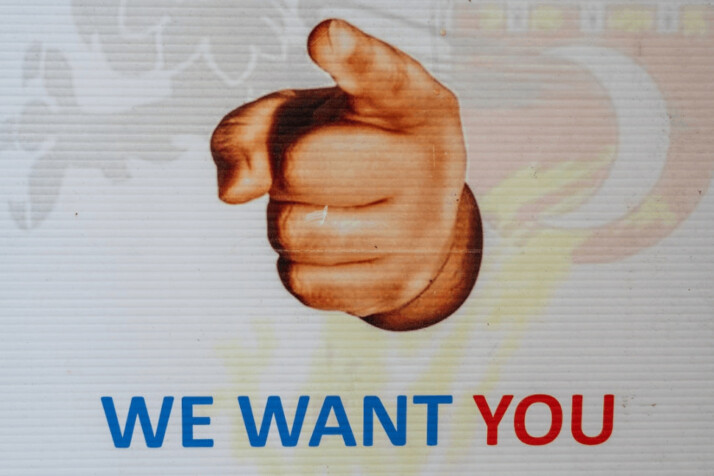 Example 1
We are searching for a seasoned professional to join our marketing and recruiting team. The ideal candidate should have extensive experience in the field, a deep understanding of modern trends, and be capable of executing advanced strategies. A successful applicant will possess strong communication skills, both verbal and written, as well as superb analytical capabilities. They must also demonstrate excellent organizational acumen along with creativity and resourcefulness. A penchant for working collaboratively is essential, as this position requires frequent interaction with other departments.
The role entails managing advertising campaigns, analyzing data, developing hiring strategies, coordinating with vendors, and attending virtual meetings. Additionally, they should be able to draw upon their expertise to provide guidance when required. We anticipate that our recruit will bring a wealth of knowledge to bear on the job. Their contribution should help us stay at the forefront of the industry.
If you feel your qualifications meet or exceed these requirements, please submit your CV today!
Example 2
Are you a highly motivated software developer looking for a new opportunity to learn and develop your skills? If so, this job would be a perfect match! We are currently seeking an exceptional employer who can help us build on our success. You will need to be passionate about developing innovative solutions and have a strong understanding of coding principles. Your work must be creative yet maintain the highest standards of quality.
You should possess excellent communication skills, problem-solving acumen, and the ability to collaborate with colleagues in a fast-paced environment. A commitment to excellence, innovation, and customer satisfaction is essential. Knowledge of cloud technologies and object-oriented programming languages would also be beneficial. At this company, we value enthusiasm, dedication, flexibility, and an eagerness to learn. We offer competitive remuneration packages and ongoing training to ensure that all employees remain at the cutting edge of their fields. This is an exciting chance to join a dynamic team dedicated to creating unparalleled products and services. If you think you fit the bill, please don't hesitate to apply!
Example 3
We are looking for a seasoned software Developer to join our growing team. This is an incredible opportunity for a talented individual to be part of something big and to make sure the software process runs smoothly.
As a Software Developer, you will use your knowledge and experience to come up with innovative ways to solve complex problems. You must have a passion for coding, have strong analytical skills, be meticulous and have excellent communication skills. Your ability to stay ahead of emerging technologies and trends will be advantageous in this role. At our company, we offer competitive remuneration packages as well as a supportive working environment where you get the recognition you deserve. We strive to foster a culture of excellence and continuous learning so that everyone can reach their full potential.
If this sounds like the ideal position for you, please apply now!
Final Words
For creative and effective job ad examples, take time to research other businesses' job postings. This will give you ideas on how to craft one yourself while still being unique. Once you have a draft, go through and tweak it to make sure you've included all details. Make sure the sentences flow naturally and there aren't any grammar mistakes.
Explore All
Write Recruitment/Job Advertisement Articles