Congratulations on your new job! Starting a new position can be exciting and nerve-wracking, but it's an excellent opportunity to take on new challenges and grow personally and professionally. One crucial step in transitioning to a new job is networking with other people in the same industry. And LinkedIn is the perfect platform for that. A LinkedIn post announcing new job opens more opportunities for you and gives your job more visibility.
Whether you are a seasoned LinkedIn user or a newbie, making the most out of LinkedIn is vital. It is an excellent opportunity to meet new people and connect with professionals in your field. This article explores all you need to know about announcing your new job on LinkedIn.
When Do You Announce a New Job?
It is always a good idea to wait until you officially start your new job before announcing it on LinkedIn. This ensures you're settled and have everything in order before sharing the news.
It would be best if you also spoke to your new employer before making any announcements. Some companies have guidelines for employees to follow when sharing news about their employment on social media. Make sure you follow your company's set guidelines.
Why Is It Important to Announce Your New Job on LinkedIn?
1. Professional Networking
LinkedIn is an excellent platform for professional networking. Announcing your new job will help you connect with people in your field and to build your professional network.
2. Personal Branding
Announcing a new job on LinkedIn also showcases your career progress and accomplishments. This will help you establish yourself as an expert in your field.
3. Opportunities
By announcing a new job on LinkedIn, you open yourself up to new opportunities. For example, you may be approached by someone looking to hire for a position aligned with your skills and experience.
How to Write a LinkedIn Post Announcing New Job
1. Thank Your Former Employer
It's important to show gratitude to your previous employer. Appreciate them even if you are excited to move on to a new opportunity. Thank them for the experience and skills you gained while working with them. You can also thank them for their support during your time with the company.
Also, show gratitude to those who helped land the job. This could be a recruiter or a former colleague.
2. Show Your Excitement for the New Job.
Write about why you are excited about your new job. You may include details about the company, the role, or any personal or professional goals the new job will help you achieve. You can also mention any specific skills or experiences that you will be able to utilize in your new job.
3. Include a Brief Description of the New Job
Include the title of the position and the name of the company. You can also write a few sentences about what the job entails.
4. Add an Image or Video.
You can add a visual element to your post by uploading a photo or video representing your new job or company.
5. Tag the Company and Your New Colleagues
Make sure to tag the company you'll be working for. Also, tag any new colleague you'll be working with within your new role. This will get the attention of connections interested in learning more about your new job.
Adding relevant hashtags to your post can help it be discovered by more people interested in your industry or field. You can include hashtags related to your company, your role, or the industry you'll be working in.
Once you've finished composing your post, hit the "Share" button to publish it to your LinkedIn feed. You can also share the post with specific connections or groups if you'd like to target a particular audience.
8. Engage With Comments and Likes
Keep an eye on your post, and be sure to respond to any comments or questions from your connections. You can also thank people who engaged with your post.
What Do You Do After Announcing the New Job?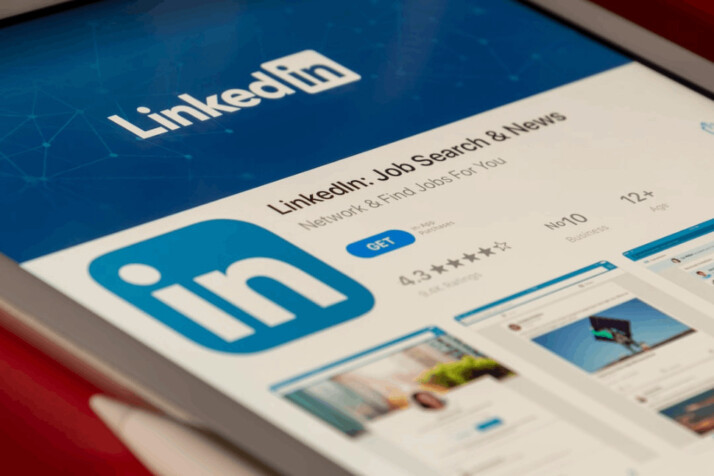 There are a few things you can do after announcing your new job on LinkedIn:
1. Engage With Comments and Messages
After posting about your new job, you may receive comments and messages from your network. Be sure to thank people for their congratulations and respond to any questions or comments they may have.
2. Update Your LinkedIn Profile
Once you begin your new job, update your LinkedIn profile. Ensure that your profile reflects your new position and responsibilities. This will help you stay connected with your professional network.
3. Connect With Colleagues and Industry Professionals
Your new job is a great opportunity to expand your network and connect with colleagues and industry professionals. Take the time to reach out and introduce yourself to people in your new company and industry.
As you settle into your new job, consider sharing updates about your experience. You can also share your accomplishments or projects you are working on. This will help to keep your network informed about your career and show your professional growth.
5. Keep in Touch With Your Previous Employer and Colleagues
Even though you are moving on to a new job, it's important to maintain relationships with your previous employer and colleagues. Consider reaching out to them periodically to stay connected and let them know how you are doing in your new role.
Tips for Writing a LinkedIn Post Announcing New Job
Keep it brief and to the point.
Use a professional tone.
Include the name of the company and your new job title.
Mention any relevant details about the company or your new role.
Use relevant hashtags to make your post more discoverable.
Use visually appealing graphics or images to make your post more engaging.
Proofread for spelling and grammar errors.
Include a call to action, such as inviting your connections to connect with you on LinkedIn.
Consider tagging relevant individuals or companies in your post.
Use LinkedIn's formatting options, such as bullet points or bolding, to make your post easier to read.
LinkedIn Post Announcing New Job Examples
Example 1
I'm thrilled to announce that I've recently been appointed to a new role! After years of cultivating my expertise, I can leverage it to shape meaningful projects and initiatives. My experience has enabled me to navigate many obstacles skillfully. I have created effective solutions for complex challenges and tenaciously advocated for progress.
With this new position, I anticipate using these proficiencies further while devising innovative pathways forward.
Here's to embracing fresh opportunities and forging ahead! #Hired
Example 2
I'm ecstatic to announce that I have taken up a new job! With an extensive experience in the field, it is undeniably an honor to be able to pursue this opportunity and endeavor.
In the past, I've managed to tackle challenges with resilience. I have maintained good rapport with clients and colleagues alike.
It's indeed been quite a journey – one full of significant hardships but gratifying accomplishments as well.
Although daunting, every instance has helped hone my creativity and intrepidity, making me more confident than ever!
Example 3
I'm beyond ecstatic to announce that I have been chosen for a new job! Over the years, I've developed my knowledge and skills through diligent practice and passion. Now, it's paid off in spades; this is an incredible opportunity to utilize my capabilities.
Gaining experience has taught me to think outside the box while maintaining accuracy. I can confidently articulate the nuances of any given task with thought-provoking articulacy. I strive to make informed decisions that reflect innovation without sacrificing precision with every endeavor.
My exemplary focus, coupled with afflatus, allows me to execute projects quickly and satisfactorily.
I look forward to taking on the challenge!
Example 4
I'm excited to announce that I have accepted a new role as Marketing Manager at XYZ Company! I look forward to working with such a talented team and tackling exciting projects. Please get in touch with me if you have any questions about the company or my new role. #newjob #marketing #XYZCompany"
Wrapping Up
LinkedIn is a great platform for connecting with other professionals and widening your horizon. When you announce a new job, it is a chance for you to showcase your skills and abilities to others.
Follow all the tips provided in this article and use the platform to showcase that new job today!
Explore All
Write Recruitment/Job Advertisement Articles