If you need an example of Facebook Ad that converts, then you've come to the right place! Ads on Facebook are effective because they allow you to reach your desired demographic directly. With 93% of social marketers now using Facebook advertisements, we're at a tipping point where paying to play is key.
So, what's the good news? If anything, Facebook's advertising platform has become even more user-friendly in recent years. No prior experience with advertisements or Facebook's Creative Hub is required. You can start right away.
Still skeptical about launching the next campaign? Fear not, for we have compiled a list of top Facebook ads to help you get started.
8 Examples of Facebook Ads That You Can Steal Right Now
Facebook ads are attractive because they provide a lot of room for individual expression. Whatever you're selling or talking about, you can make something that works for you.
You don't have to be a genius at creativity to make it work. There is no "one size fits all" recipe for engagement, and this mix of sponsored ads and promotional postings exemplifies that.
1. P.F. Chang's
Sweepstakes, a mainstay of traditional advertising, is effective even today, as seen by the threefold engagement rate at P.F. Chang's. This ad highlights that Facebook's advertising platform can be used for many different purposes. You can never go wrong with ads that offer free stuff.
What Is It About This Advertisement That Gets Results?
Social media contests and giveaways are successful if the prize is interesting and valuable to the target audience. This advertisement's relatively modest visuals belie the substantial value of the reward it offers.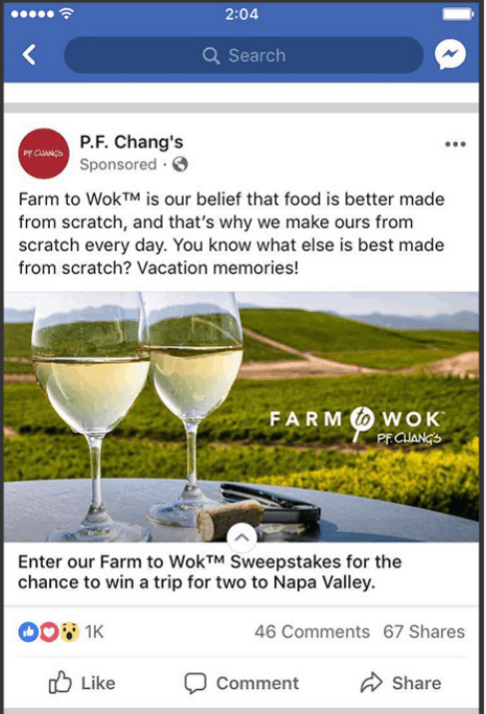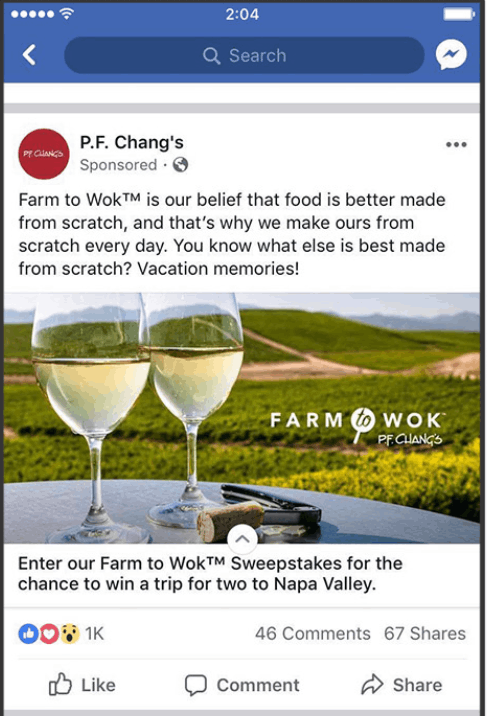 2. AirAsia
Here is an example of Facebook ad that isn't even intricate. Even though AirAsia's static-image promotion screams "simplicity," it meets all the criteria for an effective commercial.
What is it about this advertisement that gets results?
This advertisement's copy is concise but doesn't mince words. Vivid images will stop scrollers, while "FREE" and a time constraint will push them to act swiftly.
3. Loot Crate
Ads should avoid coming off as sales pitches at any costs. Although there are embedded links to Loot Crate's goods in virtually every update, the company's promotions are subtle and tasteful.
What is it about this advertisement that gets results?
Questions are a helpful tool when competing with Facebook's algorithm, which values interaction. This post's many shares illustrate that discussion-based advertising incentives boost engagement beyond likes and comments.
4. Pura Vida
This advertising exemplifies the effectiveness of carousel advertisements and should ease any concerns about the monotony of Facebook advertisements. This carousel promotion was so innovative and engaging that Pura Vida sold twenty times as many products as they usually would have.
What is it about this advertisement that gets results?
This is an example of Facebook ad that hits a home run. It combines catchy music, user-generated content, and a socially relevant message. Since each slide is essentially its advertisement, there is a lot of space for innovation and a greater likelihood of conversion.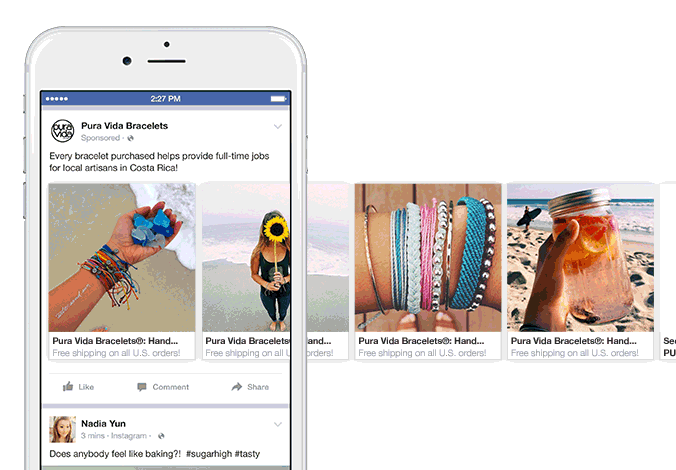 5. Sephora
In case you missed it, Facebook strongly encourages companies to create videos due to the high engagement rate of this type of content. In this Sephora campaign, video ads increased the click-through rate by 41%.
Facebook is putting a lot of emphasis on video for content and advertising.
What is it about this advertisement that gets results?
There is a lot to take in visually, which works to the ad's advantage in terms of being noticed in consumers' feeds. The commercial's ability to rapidly and effectively present a variety of promos and merchandise appealed to a wide range of beauty customers.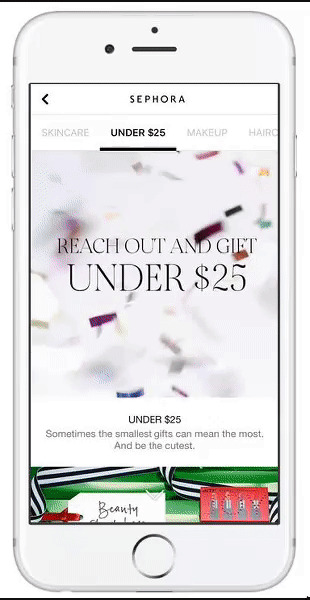 6. Dollar Shave Club
Despite Dollar Shave Club's reputation for clever advertisements, this simple promotion was hugely successful. This commercial is brilliant in its simplicity, which led to a 1.5x increase in subscriptions.
What is it about this advertisement that gets results?
This ad gets right down to business. Anxiety-inducing text and a reference to a competitor did the trick, drawing readers to the discussion thread.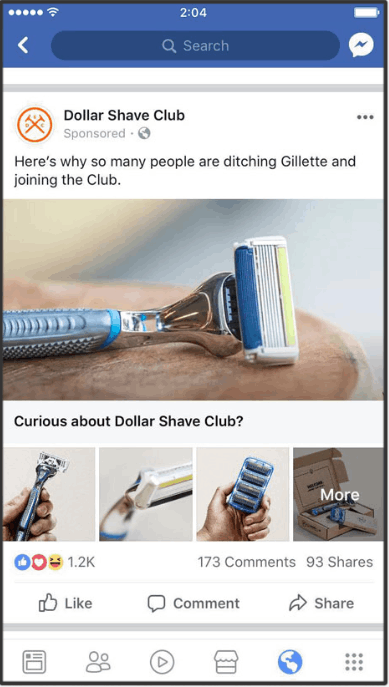 7. Project Repat
It's a common misconception that you need considerable money to fund your ad's creative development. The success of Project Repat proves the marketing potential of even the most basic photograph.
It has been found that Facebook advertising that features user-generated content (UGC) is more successful.
What is it about this advertisement that gets results?
Given the high conversion rates of user-generated content, using a customer as a billboard is a clever strategy. Due to consumers getting immune to typical marketing messages in their feeds, less polished advertisements may work in your favor.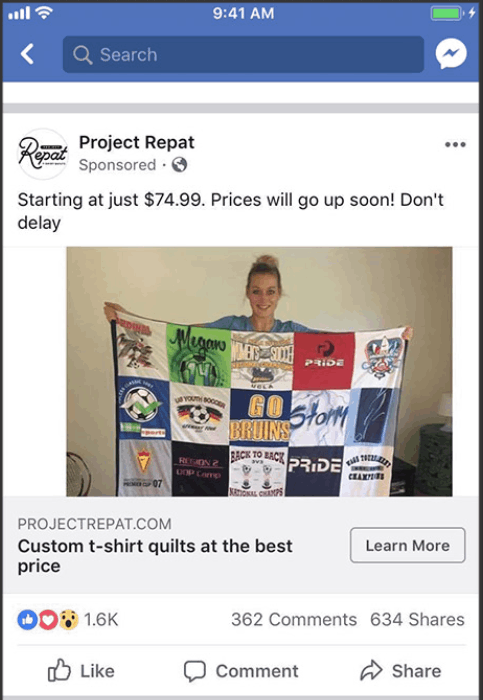 8. Porsche
The social media giant surprises you with a brand-new feature when you think you've got the Facebook platform figured out. This Facebook ad uses a carousel to showcase multiple videos and a messaging bot, making it one of the most cutting-edge examples.
What is it about this advertisement that gets results?
This advertisement allows users to interact with nearly every aspect of it. Want to strike up a conversation with the Porsche robot? Check out these driver testimonials if you're interested in seeing how much fun they're having. There are many options for users to interact with the ad.
Wrapping Up
If you have been searching for an example of Facebook ad that had crazy results, the results above should interest you. Facebook ads can help marketers accomplish their goals with their audience no matter the product.
Explore All
Write Recruitment/Job Advertisement Articles