A name that is both memorable and unusual is always a good starting point. Additionally, the name of your firm should be both unique and in line with the type of clothing you'll be selling.
Customers will be most impressed by a name that conveys a sense of exclusivity. Even if they don't buy anything from you, they should be curious about what you have to offer because of the name.
Choosing a name for your business can enormously influence how successful it will be in the long run.
It is imperative that you choose a name for your company that stands out from the crowd. It's not easy, but you shouldn't take it for granted.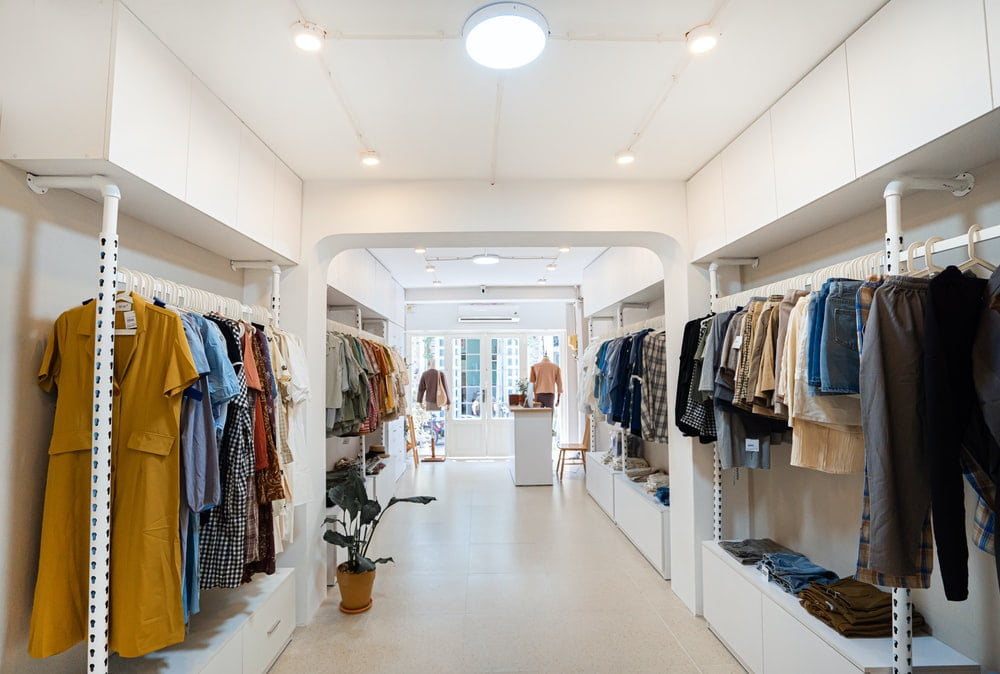 What Exactly Is a Boutique?
A boutique is a store that sells handmade and designer-inspired clothing, furniture, jewelry and home accessories in a smaller, more exclusive format.
It could be a small specialty department within a bigger store, especially one that sells stylish clothes and accessories. It could also include a unique selection of other items.
Why Do People Shop in Boutiques?
A boutique is a small store with high-end goods for sale. They tend to focus on fashion, jewelry, and cosmetics for ladies. Price-wise, they're usually pricier than their bigger-name competitors.
Personalization and exclusivity are the hallmarks of boutique shopping. Clothing, shoes, bags, jewelry, cosmetics, and fragrances are just some of the items they carry.
There has been an increase in the number of boutiques opening worldwide in recent years. Thus, the term "boutique" has come to be synonymous with luxury as a result.
There are many reasons why you should consider the name "boutique" for your new clothing store. But bear in mind that several other firms use the word "boutique." Before settling on a name, give some thought to the overall voice of your company.
Exploring Creative and Memorable Boutique Name Ideas
The name of your boutique is the first thing that potential clients see. So, don't just pick a name out of thin air while brainstorming options for a boutique's name.
When brainstorming boutique company name ideas, begin by jotting down important words and phrases that describe what your firm is all about.
Make use of powerful keywords to bring those other words to life. It's possible to enhance the name of your boutique with words like "emporium," "market," "bazaar," and "apothecary," but you can also include "trend," "style," and "fashion" to do so.
Boutique Name Ideas: Rhyming and Alliteration
First impressions are everything when it comes to the success of your clothing company, and this is no exception. The kind of clients you're hoping to attract can be inferred from this, too.
For boutique business names, rhyming and alliteration are two of the most prevalent methods employed by proprietors of small enterprises. Using words that rhyme or sound similar is a terrific method to develop a catchy, amusing name that people will remember. e.g. Coca-Cola, BlackBerry, Slim Jeans, Ruff n Tumble, etc.
If you name your boutique 'Gen Y Collections,' it implies that it mainly carries fashionable products that are popular among young people. A boutique's name with the term "antique" evokes clothing that has been around for at least a century.
To Wrap Up
The name you choose is crucial to attract new consumers, develop brand recognition and make an excellent first impression. When choosing a name for your clothing store, you must proceed with prudence and care.
You can find a lot of creative concepts by exploring through blog articles and websites, you just have to think outside of the box and come up with something that beats out the rest!
Frequently asked questions
What is a good fashion name?
| Sweet Tea Dresses | Silhouettes, Suits & Separates |
| --- | --- |
| Too Tempted Clubwear | Red Betty Boutique |
| Tanked Up Co. | Ellie Elizabeth Apparel for Women |
| Bewitched Boutique | Jillian B. Jean Co. |
| Hourglass Jeans | Fringe Apparel for Juniors |
What's a synonym for boutique?
(also five-and-dime), mini-mart, thrift store, variety store.
What is fancy name for a clothing store?
| clothes shop | clothes store |
| --- | --- |
| clothing outlet | fashion outlet |
| fashion boutique | |
What is a slang word for clothing?
This informal term means "clothing," and it can be used to describe packing your duds before a vacation or organizing your dudes by color in your closet.
How do you create a unique name?
It determines the length of the name and how many syllables it has.
This is so easy to spell.
It's so easy to pronounce.
Your child's initials
Your other children's names.
You can choose a gender neutral name.
How your child's last name sounds with the first.
How do I pick a name for my business?
You should follow your state's Naming Guidelines.
Don't pick a name that's too similar to a competitor's.
Choose a name that people can spell and pronounce.
Web-friendly names
You should not be too unique, but be memorable.
Choose a name that matches your brand.
Don't Limit Yourself
How do I pick a cute shop name?
Name a store based on your brand. you! .
If you want to describe your industry, a descriptive name might be useful.
One of the strongest name types is Fabricated.
How do you come up with a creative boutique name?
Your boutique name should be memorable and catchy, brandable, relatable to clients/customers, and set your customers and clients clear expectations about your products, services, or general sense of the industry.
Whats a good name for a small business?
Party Plex
Exploration Kids
Darwin Travel
Acorn Crafts
GameDay Catering
Pizza Factor
Spa Paragon
Yoga Professor
What are some aesthetic shop names?
Roen Beauty
Vogue
Nécessaire
Veja
For Love & Lemons
How do you brainstorm a business name?
Start creating your brand identity now.
Make the name of your business unique by using a business name generator.
Find a business name that matches your target audience.
What you'd like to know about the winner and request feedback.
Please verify availability of your name.
Register the name
How to name your business well.
How do you create a store name?
Storenames that are short are easy to remember. People can recommend your store with these services. Keep it relevant – Use any relevant keyword that explains what you sell and how you would like to be positioned. Numbers and misspelled words are harder to remember names with inverted numbers.
What is a catchy name for a boutique?
| Apple Blossoms | Ever After Boutique | Poppy Petals |
| --- | --- | --- |
| Bella Bella Boutique | Juneberry Boutique | Rebellious Rose |
| Bend the Trend | Laura's Closet | Rose Petals |
| Blush Boutique | Little Lady Boutique | Sew Lovely |
| Bumble Bee Boutique | Magnolia Boutique | Sweet Pea Boutique |
What's another word for nice clothes?
| array | finery |
| --- | --- |
| civvies | tatters |
| formals | best clothes |
| feathers | robe |
| black tie | couture |