A unique service name is crucial to let your customers know what your company provides and differentiate your company from every other competition. Creating a unique name enhances your business's brand, and you should consider it when naming your business. Considering the number of cleaning businesses out there, finding unused cleaning business names isn't a straightforward process.
Luckily for you, we compiled tips for generating cleaning service name ideas that you can use as a building block to start your company. What would you rather call your company?
Let's dive right in.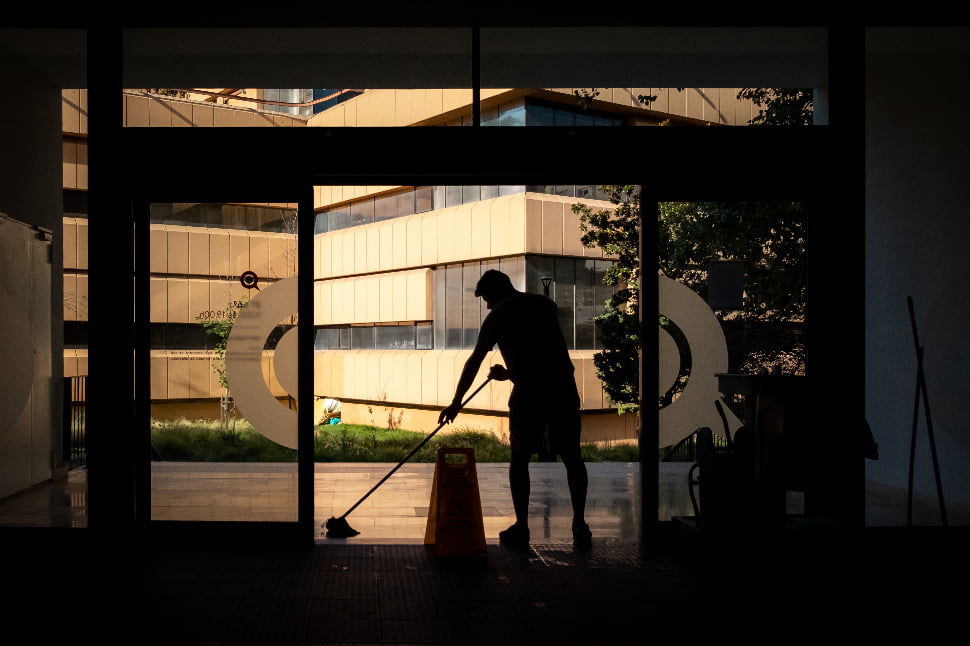 Nine Tips to Create Unused Cleaning Business Names
Here are some things to consider when creating a cleaning business name.
Step 1 – Do Your Research
Avoid using the same name as an existing business or trademark. A trademark protects a company's brand, and an existing company can prevent you from using its name in your business. Thus, you should do proper research to ensure the name you come up with isn't taken. You can check online listings and local directories to be sure.
Researching also helps you to know what works. Check the names of the leading companies offering the same service and check for similarities in their naming styles.
Step 2 – Ensure It Sticks
How many businesses do you pass without noticing on average? Running errands, commuting to work, going out to eat- they are everywhere, but few bring us out of our routine. One of the most overlooked and undervalued marketing strategies for cleaning companies is to name your business. 
There is something about great names that grab attention, communicate purpose, and dictate face-value perceptions. Cleaning services are not so different from tech companies, restaurants, or retail products. 
There is a lot of competition in the cleaning and janitorial industry, so try your best to stick out.
Step 3 – Make sure It Communicates Your Service
In your effort to bring up catchy and unused cleaning business names, you should not lose the plot. Avoid this pitfall and ensure that the fancy name reflects the services you offer. Thus, words like 'sparkling,' 'neat,' and 'clean' should make the cut.
These are the words that your prospective clients are going to need to get a better perception of your cleaning services. Focus on words that communicate with the senses; people like sweet-smelling soaps. This is how your clients will quickly identify you and recognize this as the company you represent. It may take more than a few rounds of this step, but it will be worth the time and effort. You will end up with a company name you'll be able to proudly promote.
Step 4 – Draw up Potential Names
If you follow the steps above, you'll most likely come up with multiple names. What do you do then, since you only need one? Don't fret. Write out all your best name suggestions and ask friends and family. It's like an informal survey. Ask them to tell you the name that strikes them the most as the name of a cleaning service company. By the time you do this, you'll be left with only a handful.
Step 5 – Pronounce the Name
Take a deep breath and make a firm decision on which name you like best. You might be nervous at first, but you won't regret it. Think of the process as a branding exercise. Pronounce it out loud a few times. See how you feel with it on your lips. If you feel like you're in a car with fresh air rushing blowing at you, that's the name!
The process above may seem too long and boring. But trust me, finding unused cleaning business names will be a walk in the park if you follow them painstakingly.
Contact a Professional
If you don't have time to do the hard work, you can contact a professional to handle the process for you. It is therefore advisable to secure a cleaning business name consultant. For instance, you might want to register your cleaning business name with an association. Some associations will have experts whose works and advice you can ask for. If you don't find an association that does business in your area, you could always go online and register your business name.
Things to Avoid When Generating a Business Name
A business name should make it very clear what your business does and who it is for. Using unnecessary words or derivations of words makes your business name difficult to understand. Avoid words that are already taken.
A name should also capture the spirit and movement of your business. You may want to get professional help if there are doubts as to what your business name should be.
Useful Cleaning Business Name Samples
These samples can offer you clarity and inspire you. You can use these business name ideas in a variety of capacities, including home cleaning and institutional cleaning. Of course, the more you expand into a new and ever-growing market, the more marketable your name will become.
Pristine Cleaner Uppers
Hygiene Machine
Lemon Fresh Cleaning
Cleanworks + (Your Location)
Green Clean + (Your Location)
Casual Cleaning Services
Clean Unit Blocks
Housekeepers + (Your Location)
HouseWipes
Quality Care Cleaning
Spotless Cleaners + (Your Location)
Spotless Cleaning Services
Aqua Fresh Cleaners
Complete Cleaning Services
Ants-Cleaning Cart
Three Men, One Bucket
Hypervac Service
Restored Cleanin
Cleaning by Design
Twinkle Time
Tidy Cleaners
SteriScrub (cheeky combination of sterilize and scrub)
Industrial cleaning + (Your Location)
White Glove Clean
Snow White Cleaners
Conclusion
As you brainstorm and think of all the unique names you can use, you remember the steps listed above. A completely unique name makes it more difficult to market your business. On the other hand, a name that is too similar to another company's business name makes people think you're just a knock-off.
An often forgotten part of creating business names is the byline that follows. Yes, you've created a name that resonates, but why not take it further? A byline is like a second chance to fully communicate your cleaning business' service. Unfortunately, many miss the opportunity.
Frequently asked questions
What is the best slogan?
Disneyland: "The happiest place on earth.".
Nike: "Just try it.".
"Old Spice: The original".
De Beers: "A diamond is forever.".
I agree with MasterCard's statement: "There are some things money cannot buy.".
Samsung: Do what you can't.".
What is another name for cleaning service?
| cleaning woman | housemaid |
| --- | --- |
| carer | home care |
| home aid | caretaker |
| housewife | house cleaner |
| daily help | fishwife |
How do I get clients for my cleaning business?
Developing a marketing plan.
Customer Referrals
Coupons/Discounts
Recycling Marketing Campaigns
Content Optimization for Your Website.
Social Media
Networking is the key to success.
What are the brand name of chemicals for cleaning?
Bounty (brand)
Cheer (brand)
Chore Boy
Calgon
2000 Flushes
Brasso
20 Mule Team Borax
Ariel (detergent)
What makes your cleaning business stand out?
Alerts. It's important to establish trust between your cleaning service business and your customers by keeping your customers updated on your arrival time. Shows that you respect their time and, therefore, value them as a client.
What is the best slogan for cleaning?
Cleaning is something everyone can't do, it's what makes us unique.
An example of service cleaning at its best.
The solutions you need are our own.
No problem, we can take care of your mess.
Cleaning your house is our specialty.
We are here for you, since you cannot handle your kitchen cleaning.
What is a cleaning logo?
The cleaning logo is typically used to convey stability and trust, as those things are the traits your customers are looking for most often in cleaning services of any kind. Cleaning service logos tend to feature thin, all-caps letters, so they are more likely to convey these traits.
How do I start a cleaning business in Nigeria?
Business plan for cleaning.
Choose a cleaning business.
Clean Your Home
Get Required Capital
Buy Cleaning Equipment
Make your business more visible.
Start Professional Cleaning
What is a good name for a cleaning business?
Meticulous Maids
Ready-Maid Maintenance Services
Cleaning with Meaning
Maid in Manhattan. (or your city).
Cleaning Company. Nooks & Crannies.
The Office Cleaning Fresh Start.
Company called Executive Pro Cleaning.
Clean office team
How do you introduce a cleaning business?
An introduction letter for a cleaning business should begin with a warm greeting and a thankyou to the new customer for trusting you with their cleaning needs. Give mention of how excited you are about working with them and how excited that business relationship will be. Provide a bit of your corporate history.
Can a cleaning business make you rich?
Hanson says a residential cleaning company would need to clean about 31 homes per day in order to earn a million dollars or more annually. There are now several house cleaning companies in the country, which is a fair amount of money. Earning a million dollars or more per year is certainly possible.
How can I make my cleaning business unique?
You could stand out, however, by offering unique services you cannot find anywhere else. This can be done in three ways: Include add-on services such as refrigerator cleaning or oven cleaning, pick up pet waste, carpet spot cleaning, or steam cleaning.
How do you come up with a company name?
Tell your story
Personal inventory
Look for other business names in your field.
Don't forget about other industry business names.
Make an emotional brainstorm.
Check the thesaurus
Make an effort to discuss myths, movies & legends.
Make a business name generator.
How do I start a cleaning business in Indiana?
Indiana does not require all proprietors and general partners to obtain a business license. The business license for house cleaning businesses must be obtained at their city clerk's or county recorder's offices. Find a county recorder in Indiana.
What is commercial housekeeping?
Mopping, vacuuming, and making beds are common tasks in hotels and motels, as well as in other commercial settings. The store provides mini bars, toilets, and shower supplies. Commercial Housekeepers do not need formal credentials to work. There may be an opportunity to obtain an A certification in cleaning.