Even though we're making our way back to live events (and hybrid events are becoming more and more popular), the unexpected occurs. Even though some events are virtual, organizers still cancel them.
Nevertheless, some people, like you who are reading this post, are choosing to postpone their event until next year or until something different. You need to check on your local regulations and information boards to see whether you have to cancel your event.
Although we are rolling out vaccines faster than ever, it can still be possible that you would have to cancel your attraction. Or, at the very least, the guest information would have to change because of the coronavirus.
Another option would be to add additional precautions, such as the staff being vaccined to carry on the attraction. It's all up to information from your local contacts in the government.
In the worst case scenario possible, you would have to cancel the meeting and give refunds to people who booked. We will share some examples of COVID cancellation messages so you can use them to create your own.
In order to give you a better understanding of how to communicate event cancellations. We hope that these examples will assist you in communicating your plans if you must make the difficult decision to cancel.
How to Write COVID Cancellation Messages?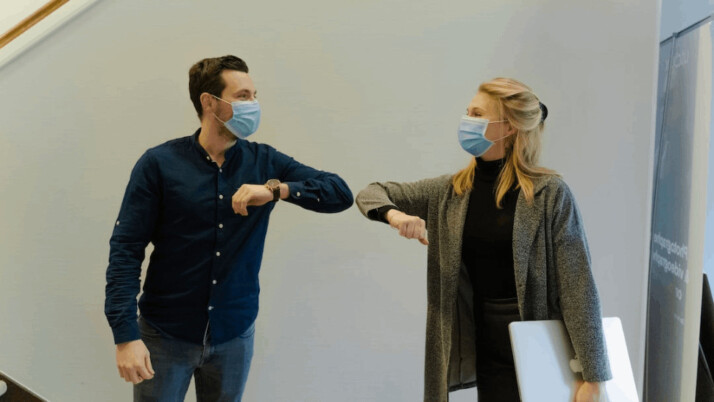 In the modern world, postponing events is not only a logical necessity but also a moral one. The majority of people who register for events plan not to attend, and the majority of municipalities have official bans on large gatherings.
It is more difficult when we gradually return to the status quo, and audiences feel more at ease coming together in person. Event postponement, virtualization, or cancellation are your best bets up until that time. The following guidelines and best practices will help you master the art of sending out event cancellation emails.
Be prompt in your communications with necessary parties, whether they are sponsors or attendees. You should still post it online if you're unsure whether your event will be moved, postponed, or canceled. If you decide to cancel, show that you have been keeping a close eye on the situation. And present the choice as being in the best interests of your attendees, speakers, and collaborators.
Establish a transparent (benevolent) policy for registration transfers and refunds for attendees and other stakeholders. Send readers to a website or email address where they can find more details on upcoming events, both online and offline.
To ensure that the attendees have information of the contractual decisions, involve your legal team early. Since contracts with your vendors are probably more pliable during this time, you should ideally cancel at least 30 days in advance.
To determine whether a contract covers you, ask your venue and vendors. In that case, try to come to a compromise. It's likely that suppliers will appreciate the current world situation and want to continue working with you. To prevent out-of-towners from traveling, contact attendees at least one week prior to the event.
Examples of COVID Cancellation Messages
You are aware that as of the date this letter is being written, indoor wedding ceremonies are permitted. As long as they adhere to the restrictions on indoor gatherings.
These limit events to 100 people or less or 25% of a room's capacity. However, indoor wedding venues, indoor catering halls, and indoor banquet halls are not permitted to be used for wedding receptions.
Frustration happens when an unforeseeable event, such as COVID-19, makes contractual obligations impossible. Or significantly alters the party's primary reason for entering into the contract—and does so without the fault of either party.
According to COVID-19, a wedding or other event may be frustrated if the law changes and makes the planned event unlawful. Unless the language or the circumstances indicate otherwise, a party's remaining obligations to render performance are discharged.
After a contract is made, the party's primary purpose is materially frustrated without his fault by the occurrence of an event. The non-occurrence of which was a basic assumption on which the contract was made.
The law stipulates that every contract contains an implied covenant of good faith and fair dealing in addition to the express terms. This means that even if nothing is explicitly stated, each party acts in good faith. As such, treat the other party fairly when carrying out or enforcing the terms of the agreement.
Conclusion
We have all had to make the difficult choice to cancel conferences, family reunions, business meetings, and other events due to the COVID-19 pandemic. Due to these challenging times, you must handle contracts with event venues like hotel conference centers, wedding venues, and other event venues.
Additionally, you must handle corollary contracts, including those for transportation, photographers, decorations, and audio-visual services. But that's not the case! The unfortunate news of cancellation will also need to be shared with all attendees and guests of these scheduled events. The uncertainty surrounding COVID-19 makes this already horribly frustrating situation even worse, regarding refunds.
In many venue agreements for events, the venue is protected in the event of cancellation by liquidated damages clauses. Is this compensation reasonable in light of COVID-19?
Make sure to take proactive measures with regard to cancellation dates if you are a party to a venue contract. Never wait until the day after the event to speak with a lawyer. Hire a lawyer to draft a legal notice explaining why you cannot fulfill the contract prior to the event's scheduled date.
Losses resulting from cancellations may also be covered by insurance. However, a COVID-19 cancellation might also necessitate notice under such an insurance policy.
Many parties under contract have faced a tremendous challenge as a result of the coronavirus pandemic. I have talked about the force majeure clause and how it applies to contracts during a pandemic. This sample letter for event cancellation due to COVID-19 is provided in case your contract does not include such a clause.
If you need help getting in contact with attendees, and have to give them refunds, get in contact with a legal advisor.
Explore All
Cancellation Email Generator Articles