An informational interview is a discussion between someone with experience in a particular industry and another who wants to learn about the industry. The informational interview questions and process are typically informal, not structured as a job interview, but very useful for gaining insightful feedback. Such an interview aims to acquire helpful input from a credible source.
The questions are designed to learn about how interviewees managed to hit specific benchmarks or how they dealt with particular challenges. Let's look at some of the best questions to ask in an informational interview.
What Is an Informational Interview?
An informational interview is a meeting where someone interested in finding information about a particular subject, usually for a business or career change, tries to get another person's opinion on the subject, and the interviewee discusses their personal experiences.
An informational interview isn't the same as a job interview. It is not an opportunity to express an interest in a position or job. During this type of interview, the information shared is not used to make an offer of employment. Your goals for the interview are to learn more about a company, an office, or a job.
It is a good way of researching before pursuing a career in a particular field, industry, or position. Such interviews are an effective way to meet other professionals within your area, expand your network and gain recognition in the hidden job market.
Why Informational Interviews Are Important
An informational interview is a great way to widen your knowledge of a subject and learn about industries you previously knew nothing about.
Informational interviews are essential for the following reasons. They:
Offer you the chance to meet and ask experts in a specific field intelligent questions that could help you make critical decisions.
Help you understand the job market and opportunities in the industry you want to get into.
Provide the opportunity to learn, grow, and learn firsthand about a person, company, or industry.
Give you the chance to meet individuals who can recommend you to others within their industry, thereby expanding your professional network.
Allow you to gain valuable insights into an individual's career path and advice they may provide.
Give you insight into a company and its workforce.
Make you more confident through face-to-face interactions in formal and informal settings.
Put you at the forefront of people's minds increasing your visibility, which might benefit you in the long run.
Make you engage in active listening and meaningful conversation that can improve your interpersonal skills.
How to Prepare for an Informational Interview
Here are the tips for preparing for an informational interview.
1. Identify a Suitable Candidate for the Interview
Before you approach a candidate for an informational interview, you need to think carefully about what you have in mind. Who are you looking for?
For example, you might be searching for a person with whom you share a common language and cultural background. Is their expertise right up your alley?
Research your dream companies or job roles and see top employees at such organizations. Learn more about the person's career path on LinkedIn or Twitter to see if they're a good fit for what you want.
2. Reach Out to Them
Reach out to your ideal person via email or whatever platform you wish. Before you do, gather essential information that will help you convey your purpose of wanting to meet them for an interview.
Highlighting the features that struck you about them can increase your chances of getting an interview. When you reach out, keep your message brief. The person might not have enough time to read a long message; use the first two lines to appeal to them.
3. Establish Your Goals
Attending the meeting unprepared will be unprofessional, and you want to avoid it. Before the interview, highlight your objectives for the meeting. You should know your learning objectives and the right questions to ask. Your research on this person should give you better insight into their experiences.
4. Prepare Your Questions.
Researching and preparing the interview questions beforehand is very important. It lets you identify the most essential information you want from the person. Make sure you always have your set of prepared questions and that you can professionally present yourself.
28 Top Informational Interview Questions
Could you please tell me about your professional background?
What were some of your previous roles within your industry?
How would you describe your typical workday?
What are some noteworthy projects you have worked on?
Which is the most enjoyable aspect of your job?
What is the least enjoyable about your job?
Why did you choose the company you're presently working for?
What aspects of your career are most rewarding?
Are you happy with your job and live your desired lifestyle, including work/life balance, vacations, and income?
What are the biggest challenges you face at your job?
What skills are most important to your role?
What professional certifications are essential to your occupation?
What types of training or development opportunities do you currently engage?
What industry trends or changes do I need to take into account?
Which is the piece of advice you would give to someone starting on the same path?
Which characteristics do you think are necessary to excel in a similar role?
What entry-level jobs are appropriate if one pursues a similar career trajectory?
Do you have a flexible working environment in your company?
What are the typical professional benefits your role or company offers?
How do your personality traits align with your current position?
What, if anything, would you change if you could return to the beginning of your career path?
What educational majors are most pertinent to your career?
What are other roles that are relevant to professionals in your field?
Where do you see yourself in five to ten Years?
What are the typical salary ranges for this profession, from entry to senior level?
Do you recommend that I contact anyone else?
Can you clarify any questions I have not asked that I should ask?
Would it be appropriate to stay in touch?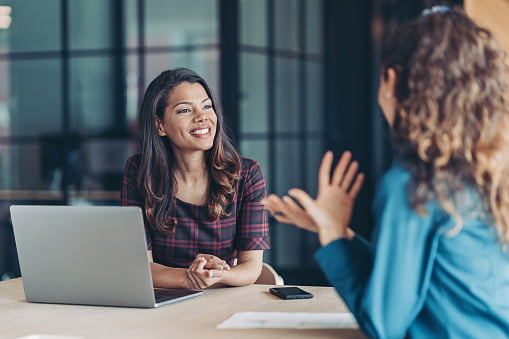 To Wrap Up
An informational interview is an opportunity to learn about a person, job, industry, and career. It provides an opportunity to establish relationships, build a network and rapport and get recommendations for potential places of employment.
Preparing the interview questions before time is best to avoid being unprofessional and wasting the interviewee's time. The list in this guide will help you draft the right interview questions.
Explore All
Generate Interview Questions Articles