As a new hiring manager, you've set up an interview with prospective employees to find the best candidate for your company. But you're unsure what interview questions to ask candidates – no worries, we're here to help. Posing the right questions can help you determine whether or not a candidate has what it takes to be on your team.
The best interview questions help assess the applicant's work history, experiences, strengths, weaknesses, and skills. Let's see some of the top questions to ask an interviewee.
Interview Questions to Ask Candidates
Formulating the essential questions that help you ascertain if a candidate is good enough for a position in your company can be challenging. By asking specific interview questions, you get an idea of the applicant's experience, skills, work ethic, and cultural add.
There are no right or wrong questions, but interview questions should not only be focused on the role or company. They should include those that help ascertain emotional intelligence, personality type, problem-solving, and critical thinking skills. As the interviewer, it's best to prepare the questions before time alongside what to look for in candidate responses.
The Best Interview Questions to Ask Candidates
Some of the questions to ask job interviewees are:
1. What's your reason for wanting to work here?
This question helps you determine how much an employee has researched about your company and what they're looking for in an employer. This way, you know which candidate is passionate about offering value to the company while building their career.
2. What career accomplishment are you most proud of?
The response you get by asking this question helps you understand the type of task that makes the job candidate feel fulfilled. You can then determine if it aligns with the job role they are being interviewed for.
Employee satisfaction is an essential factor in retention, so it is important that the person you hire enjoys the position.
3. Tell me something about yourself that isn't on your resume.
Job candidates tailor their resumes to include the best summary of their professional experiences, but you can't learn everything you need to know.
Asking this question allows the job candidate to share whatever they think you need to know that's not on their resume, job-related or not. How they respond to this question can tell you a great deal about the kind of employee they will be.
4. Why are you leaving your current employer?
When asking this question, pay attention to what the candidate discusses about their former job. Do they focus more on the negative aspects, or do they err on the positive side by addressing their hopes for the future? An interviewee's ability to demonstrate respect for their previous employer and workplace portrays them as civilized and professional.
You'll also ascertain if the job role at your company provides an alternative to the factors that made them quit their previous job.
5. Do you work best on a team or alone?
By asking this question, you know if the job candidate is suited to carry out all kinds of assignments they'll receive. If the job requires more collaborative work, an individual who enjoys solo work might not fit the position.
6. How would your previous coworkers describe you?
This question can reveal the personality traits of the interviewee that assist them in adapting to the role and company.
Their answers will also give you a glimpse into their collaboration and interpersonal skills. You may request specific peer feedback examples to better assess a candidate's strengths.
7. What are your weaknesses?
This is an essential interview question. It helps you determine whether or not the individual has identified his/her weaknesses and how they're working to improve.
With this question, you know if the candidate's weaknesses may conflict with the job requirements or hinder their ability to perform as expected.
8. What are your greatest strengths?
A candidate's ability to speak about their strengths demonstrates their self-awareness and humility.
By asking this question, you allow the interviewee to discuss how their qualities complement the position's needs. You'll also learn how they intend to use their strengths to contribute to the company's success.
9. Tell me about a previous work disagreement and how you handled the situation?
This question helps you ascertain the interviewee's conflict resolution abilities. Observe the tone the person uses in talking about the other parties involves.
How did they respond to the situation described? Did they resolve the issue amicably? You'll want an emotionally intelligent employee who knows the best way to resolve conflict.
10. How do you manage deadline pressure?
Since specific projects often have very tight deadlines, it is essential to ask your prospective employee how well they perform under pressure.
Encourage the candidate to offer an example of the steps they took in ensuring a project got delivered within its deadline.
Did they compromise quality to meet up the deadline? And how did they manage the situation if they couldn't meet a deadline despite efforts?
11. Tell me about a difficult work situation and how you overcame it.
Work challenges are almost inevitable, and many professionals grow most from these experiences. By posing this question, you get a sense of the interviewee's problem-solving, critical thinking, and analytical skills.
Observe how the candidate describes their behavior when facing a challenge. Did they struggle with their plan, or did they devise an outline of action that worked?
12. What are your career goals?
An ambitious and goal-oriented candidate with a professional drive and exceptional career aspirations can be great for your company.
Look out for goals that align with your company's and consider mentioning how your organization can assist them in achieving their goals. A prospect interested in advancing their career will likely stay with your company if they see an opportunity to grow.
13. Describe an instance in which you had to work with someone whose work style differed from yours.
Working well with others from different backgrounds, communication styles, and personalities is vital in every job.
You'll learn about the candidate's problem-solving, interpersonal, and collaborative skills by asking this question. You also know how well they collaborate and compromise to achieve a common goal.
14. Do you have any questions for me?
This question wraps up the interview. Most candidates interested in the job will have a few pertinent questions to ask a hiring manager.
However, the candidate may have already asked their questions if the discussion was lengthy and detailed. So it's okay if a candidate doesn't have any questions at the end of the interview.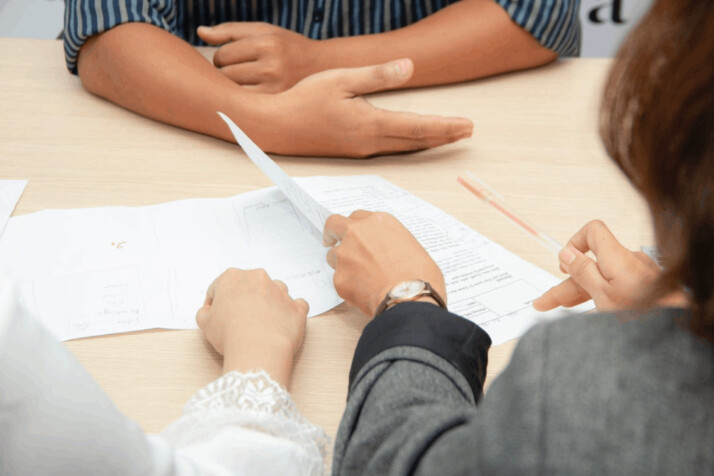 To Wrap Up
Finding a good match for a job role at your company can be challenging – but not impossible. Alongside the resume and other preliminary stages, asking the right questions can help ascertain whether a candidate is a good fit.
Interview questions shouldn't focus on only the individual's skills and experiences. The right questions help you analyze the candidate's work style, collaborative, problem-solving, and conflict-resolution skills.
The questions highlighted in this article are great interview questions that help you learn what an individual can offer your company.
Explore All
Generate Interview Questions Articles