Every successful entrepreneur had a unique vision that propelled them to a fantastic success story. The first step towards building a successful business venture is having a brilliant startup idea. You need to see beyond the noise and distraction and see right through the path you must take to achieve success. The 10 startup ideas in this guide will help you get started and refine your brilliant business vision.
Businesses must be set up with a clear vision and a business proposition. The business proposition makes the difference between an average and a successful business. This guide lists 10 startup ideas to inspire you.
10 Startup Ideas for Aspiring Entrepreneurs
The world is flooded with ideas and opportunities, and while they're exciting, it can be overwhelming to make a suitable choice. To avoid a waste of time and resources, you need to identify practical opportunities available and discover which suits you best. Walk through the list of 10 startup ideas below and identify those that jump out to you.
1. Food Vendor
Food is a necessity and people love to eat good food. If you have excellent culinary skills, you can start making a variety of food, drinks, and snacks and sell them to people. You could post pictures of your amazing dishes online with your phone number or address, so you can have customers making orders. All you need is a little capital to either cook from home or some more money to own a small restaurant.
2. Home Tutoring
If you are well knowledgeable in specific courses or skills, you can take up home tutoring as your business. Home tutors are responsible for assisting students with school projects, assignments, and other school-related work. They also mark the progress of their students for improvement. As a home tutor, you can take up as many students as you can handle.
3. Social Media Management
Another brilliant startup idea is a social media management company. Many businesses, celebrities, and organizations require someone they can trust to manage their social media accounts. You can start up your company with a team of professional hands. Your company will analyze social media audiences and develop suitable strategies for different types of audiences. Then create and distribute content for social media profiles, and monitor online conversations for the pages of the clients your company can handle.
4. Coffee Shop
People love to go to a place where they can relax after work or during lunch. Starting up a coffee shop is one of the best ideas that you can think of. A coffee shop or a café serves various types of coffee like espresso, latte, and cappuccino. If you like to take it some step higher, you may consider making available ice tea, noncaffeinated beverages, and snacks. When it comes to choosing a business, you can never go wrong with food as people will always get hungry.
5. Consultation
Consultation is the action or process of formally consulting or discussing. It is also a meeting with an expert in a particular field. A lot of people have questions to ask. Others need vital information to gain clarity or to make a decision. Starting a consultation service in your area of expertise is a significant step.
6. Life Coach
Coaches don't come easy. In fact, if you are experienced in navigating life, you should put it to great use. You can offer training and advice to clients to make crucial decisions in their personal and professional lives. You can start up a company that can assist people in different aspects of their lives. And the more solutions and advice you can give, the more referrals and clients you get.
7. Property Management Company
Not all property owners can maintain all of their properties, and many people manage properties that aren't theirs. These properties are often in different locations. As a property management company, you will ensure that all properties in your care are in good condition. And all damages are fixed when there is a need.
8. Online Tutoring
Another idea entrepreneurs can take advantage of is the growing demand for online education. Learning a new skill or gaining knowledge about a subject through the Internet is much easier. Online learning has made it possible to provide a global education as the Internet is not such a local concept anymore. You can choose any subject you're well vast in and offer online lessons to the people that want to learn.
9. Drop-shipping
Drop-shipping is the practice of selling products from another business. For instance, a fashion blogger can buy clothes and other accessories from sellers and drop-ship them to customers. Thanks to the Internet, you can sell a whole lot online without owning a store.
10. Language Translation
Gaining mastery of more than one language is valuable, especially in this globalized world. Translation service businesses are growing, as are multilingual business dealings. There are specific services for multilingual speakers, including document translation, establishing communication channels, and translating websites into multi-languages. Your mastery of multiple languages may give you a good chance of carving out a niche in the translation industry.
Bonus Ideas
Aside from the top 10 startup ideas, a few more creative startup ideas are below.
11. Content Writing
If you can write blog posts and other types of content, you could be in luck with content writing. Every company with a digital presence needs help with content creation for blog posts, product pages, and even their bios. This makes it one of the most profitable business ideas. As an icing to your services, make a good impression on clients by offering keyword optimization and custom graphics.
12. Stock Photography
You can begin your own photography business and earn money selling stock photos to companies like Adobe and Shutterstock. Once photographs are submitted, you must wait until they are downloaded, as most platforms pay a royalty on every download.
13. Email Marketing
With all the e-commerce websites going live, you can become a digital marketing expert and offer email marketing services. You can create a template for generating email campaigns and provide clients autoresponder service.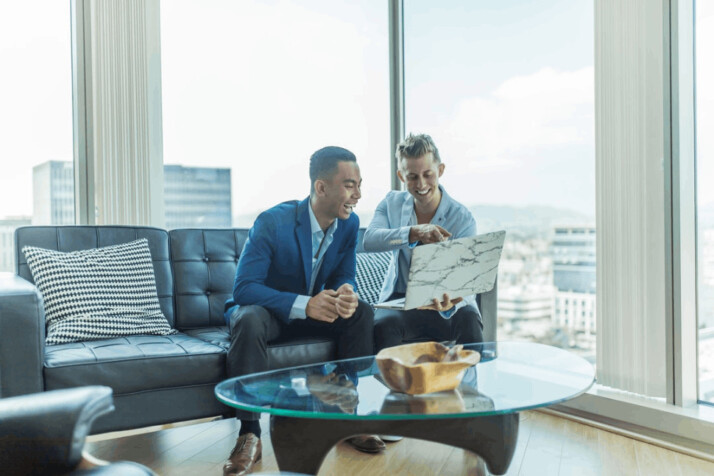 The Bottom line
Before settling on a startup idea, carry out adequate research. Ensure there's a demand for the product or service you plan to offer. You will make a more significant impact if the suitability of your idea is practical and profitable. If there's no market need for the business you plan to venture into; it's likely to be unsuccessful.
If you can't think up a brilliant startup idea, run through the 10 startup ideas above and pick the very best that suits you.
Explore All
Generate Startup Ideas Articles