Not everyone can leave their full-time jobs to start a business. If you want to own a full-scale business, you can taste the waters by beginning with a part-time business. A part-time business is also worth considering if you're looking for a side hustle to earn extra cash. The best part time business to start is one that doesn't interfere with your full-time job.
There are many opportunities at your disposal when it comes to finding the perfect part-time business. This guide lists some of the best part-time businesses you could run concurrently with your 9 to 5 job.
Read till the end to find which part-time business would be perfect for you.
Best Part Time Business To Start
Businesses built out of passion and ingenuity often work like a charm. The key to succeeding in a business is finding one that speaks to you, your interest, and your skill set.
While building a business might sound complicated and time-consuming, these businesses below are those you can do on a part-time basis.
1. Blogging
Blogging is a suitable business for you if you can write excellent and compelling content. Many people have made big money off blogging, and you can likely succeed at it.
Blogging is a low-cost business, one of the few businesses you can begin without a considerable investment. The market is also available as people are always looking for good content.
Starting this business is not an easy task, but with your experience and hard work, you'll be well on your way to success.
2. Personal Fitness Trainer
This part-time business idea is the go-to for you if you're a fitness enthusiast and love to help others get into shape.
Services you could offer as a fitness trainer include yoga and Pilates lessons and diet instruction. You may also enjoy the freedom of providing your services online and at your customers' homes.
If you're interested in sports, you could offer coaching services to clients. For instance, you could become a basketball coach and teach children and teenagers how to play the sport.
3. Catering or Bartending Service
Catering and bartending services offer you the flexibility of keeping your 9-5 job and building a side income. You could offer these services during the weekends at parties or events – your availability is up to you.
If you have top-notch culinary skills, you can offer to cook for weddings, festivities, and special occasions. Your clientele may include families looking for a personal chef, organizations planning an event, and private parties.
4. Candle Making/Candle Selling
You could purchase candles from a manufacturer and resell them on your website or an online marketplace. If you have the time and resources, you can get into the business of making these candles yourself. You could sell them online or through existing retailers.
There's a massive demand for beautifully scented candles, so you'll have an excellent market. You can also make these candles after work hours or on weekends.
5. Freelance Writing/Content Marketing
Almost every business today requires the services of a freelance content writer. Freelance writing and content marketing are the fastest ways to make an income without leaving your full-time job. These businesses also do not require investment, so they're easy to start.
Content marketing involves creating informative and compelling content for blogs, websites, social media, and emails. If you're a skilled writer, freelancing and content marketing can earn you a handsome income.
Understanding the basis of Search Engine Optimization is an added advantage. Businesses are seeking to attract the most qualified prospects through their put up on the internet. If you can improve these businesses' rankings and website visibility via SEO, you're sure to get established for life.
6. Cleaning Service
Busy families juggling work and family time prefer to have a cleaning service come in to do their chores. This is a profitable business you could start without needing any experience. If you're handy cleaning the home, you could start this business and make a good income.
You can opt to start a cleaning company, where you recruit people to do the actual cleaning job. Cleaning service is an excellent, steady-income, repeat-customer type of business. You'll get repeat customers and build a long-term business if you deliver properly the first time.
7. Resume, Cover Letter, and LinkedIn Profile Writing
You can make a fortune off resume or cover letter writing, and LinkedIn profile writing. If you have decent writing skills, you could offer your services to individuals seeking employment. Since they want to stand out, they wouldn't mind paying a fee to get a properly written resume or cover letter.
The same applies to LinkedIn profiles – these days; employers hire most of their employees from professional networks like LinkedIn. You can offer your services to individuals looking to optimize their profiles in such a way that they stand out.
8. Tutoring Service
The internet has made learning more accessible than ever before. You can offer online tutoring services or private lessons to clients at their homes.
For business success, it's essential to identify a specialty and provide your service based on that. For example, if you're excellent in Mathematics, you can focus on helping students get better at it.
9. Drop-shipping
Drop-shipping is one of the best part time business to start. It involves selling products from an online retailer on your website and shipping them to customers when they make online purchases.
You buy the products at a low price after your customer has placed an order and then sell them for a profit. This business can fetch you a significant income at a steady rate; you also don't need a lot of money to start this business.
10. Make and sell crafts.
If you're skilled in hand-crafting and artwork, you should consider pursuing your craft as a part-time business. With the rise of e-commerce, you can quickly sell your skills online.
Crocheting, pottery, knitting, and painting are some crafts you can pursue. All you need is your talent and a few resources to begin. You can sell your skills on sites like eBay or Etsy or consider building your website.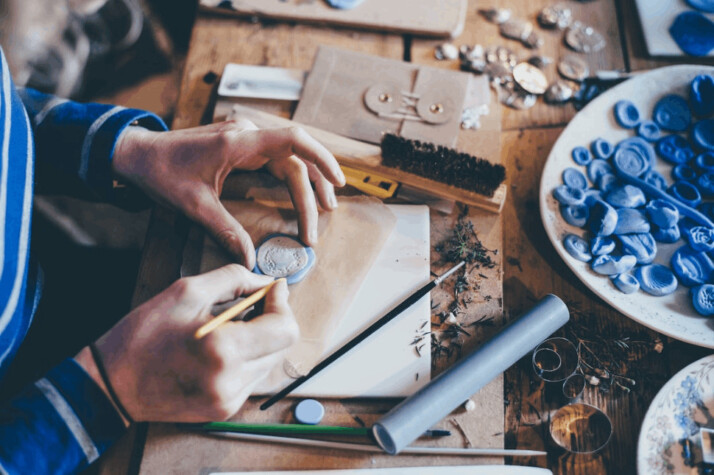 Final Thoughts
Every successful business has a unique element that distinguishes it from the rest. The part-time business suitable for you will depend on your skill set, interests, and preferences.
This guide suggested some of the best low-investment, high-income part-time businesses you could pursue. Find the one that suits your needs and go for it.
Explore All
Generate Startup Ideas Articles