If you're a carpenter looking to start a business, read this article for some fantastic business ideas for carpenters. Woodworking and carvings are among the highest-paying and fastest-growing industries, with many business opportunities available.
With the plethora of opportunities in the industry, you can easily carve a niche for yourself and build a lucrative business. This guide lists some of the best low-investment and highly-profitable business ideas for carpenters.
Top 8 Business Ideas for Carpenters
Nearly almost home and business place uses one type of furniture or another. Wooden handicraft possesses a vast ethnic and cultural diversity.
The massive demand for wooden handicraft items makes carpenters highly-sought after. However, to succeed in this industry, you must specialize in a field you love.
Here are some of the best woodworking business ideas worth pursuing.
1. Custom Furniture Business
The custom-made furniture business is pretty straightforward. It is one of the most popular carpenter business ideas. You'd typically need excellent woodworking skills and a space to carry out your business.
The business requires little capital but comes with a long-term commitment. You can make a fortune off this business if you deliver exceptional furniture.
Popular wooden furniture includes tables, beds, sitting arrangements, dressers, reading tables, chairs, desks, headboards, bed frames, and sideboard tables.
Your ideal clientele would be schools, offices, other businesses, and homes. Almost everyone needs a seating arrangement, bed, or table, so you'll never be without devoted customers.
2. Wooden Interior
Wooden interior involves the installation of woodwork services in homes and buildings. The wooden interior can typically be categorized as any interior construction, restoration, or refinishing of a structure made primarily of wood.
Popular wooden interiors are walls, ceilings, flooring, doors, walls, and shelving. You can offer your services to a wide range of clients, from offices to homes.
3. Kitchen and Dining Accessories
Another great way to generate income from carpentry skills is to make quality wooden utility like kitchen and dining accessories. Popular wooden utilities are cabinets, chopsticks, spoons, cutting boards, mugs, and serving utensils.
The possibilities are endless. Every home needs these items, and when they are crafted beautifully, you can create an appreciable source of income.
4. Wooden Decor Items
Wooden decor items, like toys, photo frames, plant pots, and sculptures, are in high demand and can provide a steady income.
Homes, offices, and businesses need these wooden decor items to add finishing touches and enhance the overall look of their space. This business is ideal for people that are passionate about wooden decor items.
5. Garden Planters and Decor
People love to add a natural aesthetic appeal to their gardens and enhance the beauty outside their homes.
You can go into the business of decorating gardens with outdoor furniture to make them more beautiful, functional, and attractive. Some of the most popular designs for garden decor are bird feeders, plant shelves, picnic tables, patio furniture, garden benches, and arbors.
6. Bath and Body Gifts
Wooden soap dishes, bath mats, massage tools, cabinets, towel racks, and shelving are some of the most popular bath and body gifts. You could specialize in creating these crafts and selling them. People will love to gift their loved ones these items as they're not regular gift items.
7. Pet and Animal Items
Pets are wonderful companions, and pet owners love to give their pets extra care. This includes ensuring they have a comfortable home, feeding stations, and toys.
Use your creativity and skill to create these animal items, and pet owners will be more than happy to purchase them. They'll appreciate your added personal touch in making their pet feel special.
You may focus on just one pet or create items for all pets. Some things you could make for pets include dog houses, kennels, cat and dog toys, and feeding stations.
8. Toys and Entertainment
You can focus on making wooden toys and entertainment items such as dollhouses, toy trains, water play tables, and kitchen sets. There are several entertainment items you could make.
To get inspiration, visit a toy store and see how you could make some of those toys using wood. People will surely love your work and purchase them.
Other Business Ideas for Carpenters
Fencing and Decking
Trim Carpentry Specialist
Plywood Manufacturing
Wooden Pencil Manufacturing
Wooden Jewelry Making
Start a Woodworking Workshop Unit
Wooden Crates Making
Sales of Wood Items Online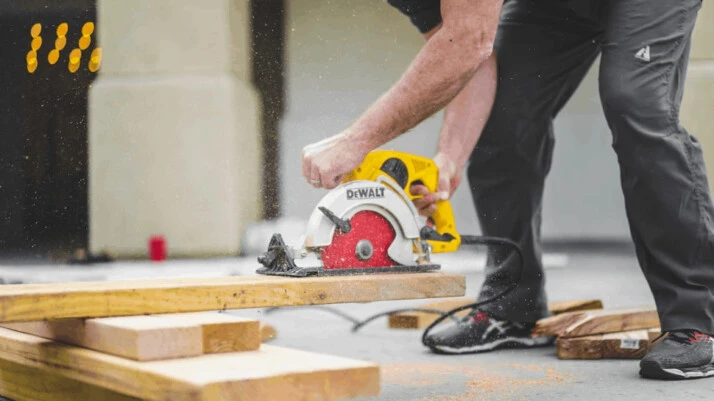 Wrapping Up
Carpentry is the craft of constructing, assembling, and maintaining wooden objects. The versatility of this craft comes from the fact that almost everyone uses wooden furniture.
Carpentry is a great business opportunity with a large number of markets. This guide lists some of the best business ideas for carpenters. Choose the one that best resonates with you and kick-start your business.
Explore All
Generate Startup Ideas Articles