Graphic design is a creative and exciting career, and the demand for this skill makes it highly profitable. However, the market is saturated with graphic design professionals, making it very competitive to start.
Carving a niche for your work makes it easy for you to stand out amongst your competitors and make money off your skill. This article's graphic design business ideas are highly profitable and easy to begin.
There are several untapped graphic design business ideas. You can look into these options and pursue one that best appeals to you. This article discusses some of the most lucrative, low-investment graphic design business ideas.
Why Graphic Design is a Good Business
There is a high demand for graphic designers that create quality, memorable and great designs.
Graphic design is a powerful marketing tool because people are attracted to visuals. From magazines to marketing logos, flyers, t-shirts, and books, graphic design is essential in efficiently getting a message across to an audience.
Here are some reasons you should consider the graphic design business.
1. It is lucrative
One reason to choose graphic design as a career is that it is a very lucrative business. At first glance, graphic design doesn't seem to be a profession that would yield a lot of money, but this is not the case. Graphic design can, with self-discipline, become a lucrative business that can produce massive income.
2. You get to be your boss.
As the world goes more digital, there is always going to be a need for graphic designers. You can decide to be a freelancer, choose your clients and work according to your schedule without a boss breathing down your neck.
3. You can work from anywhere in the world.
Graphic designers can work remotely from the comfort of their homes. You can earn money as a graphic designer by working in any corner of the world. Working remotely saves you a lot as you are free from aggravating traffic or other disturbances that may prevent you from working effectively.
4. Job opportunities in multiple sectors
Almost every industry requires the services of graphic designers to tell their stories. You can work for the government, charity organizations, or internationally recognized brands.
As a graphic designer, you can never lack new opportunities. The likelihood of having your name easily recognized and well-known is higher in the graphic design business. This can help to establish the reputation you need to find success.
Top 11 Graphic Design Business Ideas
Finding the perfect small business idea as a graphic designer can be daunting, especially when you're just starting out. You should start by considering what you excel at, what you enjoy doing, and what you are passionate about. By understanding your skills and what you have to offer, you'll be able to determine better what needs you can fill.
Here are eleven great business ideas for graphic designers with an emphasis on small-that are sure to help you make a name for yourself.
1. Cover Page Designing
All books, whether hard copy or soft copy, require an eye-catching cover page. Cover-page designing gives you the creative freedom to design in several fields, such as literature, science, or art. You could also work from the comfort of your home.
Your ideal clientele would be authors, booksellers, and publishers. You can set up a professional website and reach out to potential clients via social media. You're well on building a flourishing business with creativity, professional skills, and hard work.
2. Children Book Designing
Another lucrative business idea for graphic designers is making children's storybooks, coloring books, or comic books. You can be the writer of these books or offer these services to authors of children's books.
If the latter is the case, you'll need to consult with the writer and publisher about the theme and design of the book. The market for this business is excellent, but reaching out to the right audience is key to your success.
3. Catalog Designing
A product catalog is a document that lists essential product details that help buyers make a purchase decision. These details include product features, descriptions, dimensions, color, and customer reviews.
Several business owners use product catalogs, making catalog designing a profitable business venture. You can market your services by producing a sample catalog and showing them to potential customers who might be interested.
4. Greeting Cards Design
Designing and printing greeting cards suitable for different occasions is another good business idea for graphic designers. You can design and sell birthday cards, Christmas cards, get-well-soon cards, etc.
These cards can be sold online or as hard copies. You could also partner with stores that sell gift cards to help you sell.
5. Teach Graphic Design
The graphic design career is a high-demand industry, and several people are looking to learn the skill from the best of the best. If you're good at disseminating information, you can make a living off teaching others the skill. Y
ou also don't need so much to begin. Create an online presence and display flyers offering to teach others your skill for a fee. You could offer private lessons to individuals as well. With social media advertising, you're sure to reach your target audience.
6. Website Designing
With many businesses looking to utilize the internet for increasing leads and generating more revenue, the website design business is a good option. Websites have become so popular, and the website design business is a profitable venture to consider.
You can key into this untapped niche if you have web development skills. If you don't have the adequate skills to kick-start this business, you could take professional courses to hone your skills.
7. T-Shirt Designing
If you are interested in fashion, you could consider designing and selling t-shirts. You can use witty designs and celebrity images on custom t-shirts to attract potential customers, and fan-based clients.
You could also offer your services to individuals who want specific images or text printed on t-shirts. This concept can also be applied to mugs and pillows. The market for this business is excellent, making this business highly profitable.
8. Create an Advertising Agency
Graphic design is increasingly used in social media marketing, email marketing, digital advertising, and even billboards. Businesses rely on graphic design to develop practical and engaging promotional campaigns, like public relations materials, promotional boards, and other promotional activities. You can thrive in this niche with excellent interpersonal and brand marketing skills.
9. Newsletter Designing
Businesses use newsletters to share valuable information with customers and update them on a brand's latest products and services. These newsletters can be sent as emails or printed out for distribution to current or potential customers.
Since some companies do not have an in-house department for publishing newsletters, you can offer your services to them. Social media advertising is a great way to reach your ideal clientele.
10. Marketing Brochures Designing
Companies use marketing brochures to inform the public about their products or services. The use of marketing brochures remains one of the oldest means of advertising. They can be paper-based or digital documents. Creative professionals use marketing brochures to advertise their services and find new clients. You can offer your design skills to these organizations and professionals for a fee.
11. Printing Press
The printing business is a great small business idea for graphic designers. You can become a one-stop shop for everything graphic design and print-related. Getting this business up and running is easy as it requires a considerable investment.
You could print posters, banners, wedding programs and invitations, gifts for events, jotters, postcards, flyers, and virtually anything in the print trade. With the affordable technology available for marketing, you can engage clients and promote your services effectively.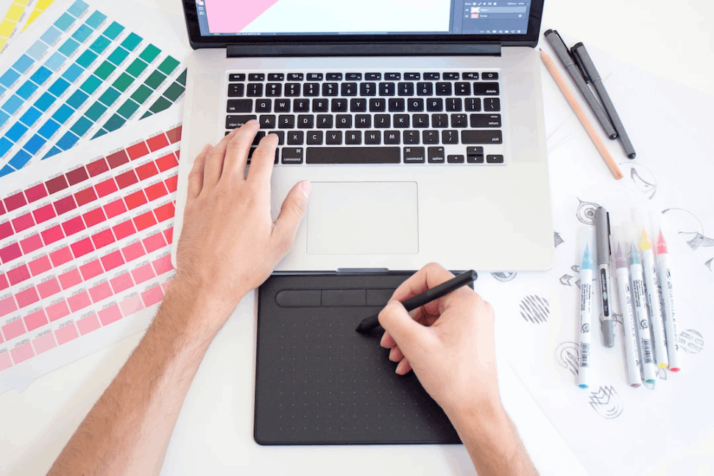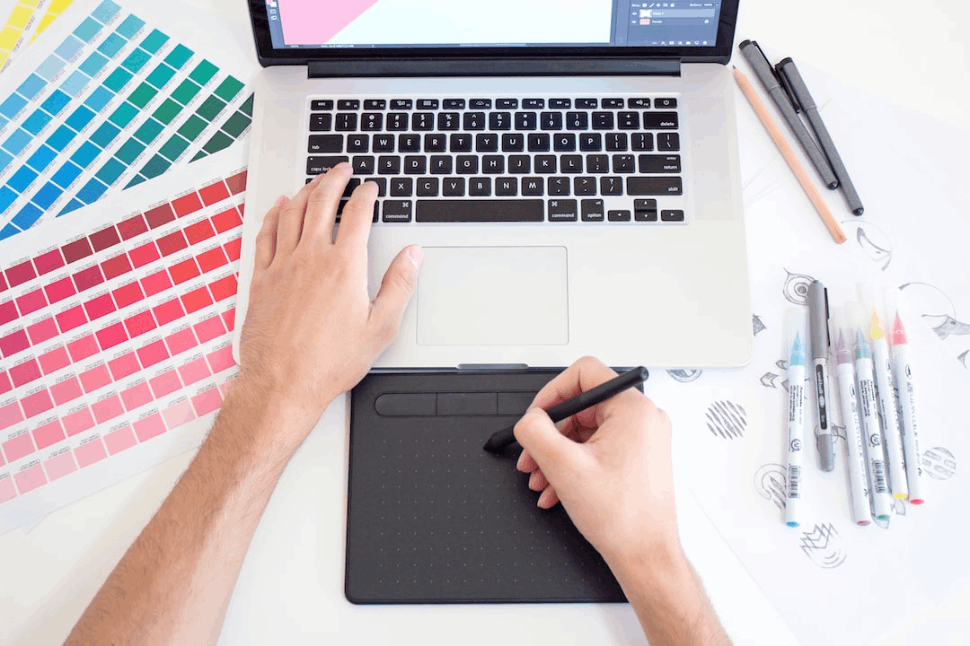 Conclusion
In this digital era, graphic design has become a profitable skill. Graphic design businesses are booming because of the importance of visuals.
Corporations, organizations, and even churches realize the importance of graphics and visuals and constantly seek the services of these professionals. You'll have a competitive advantage over other graphic designers by carving a niche for yourself in the design space.
Explore All
Generate Startup Ideas Articles