There are many steel fabrication business ideas that you can start up today and be successful. However, steel fabrication is both physically and financially demanding. It requires a lot of expertise, as it is difficult to stay afloat without support.
To make it big, you have to have a good business plan. A good welding business plan can turn almost any idea into a moneymaker, though some ideas are more lucrative than others.
Let's get started!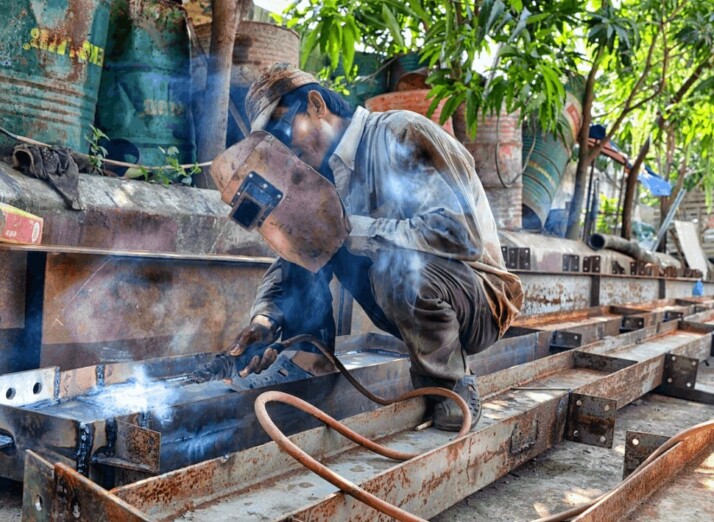 Steel Fabrication Business Ideas
Although not rated in order of preference, the following are ten steel fabrication business ideas from which you can profit substantially. Some of the businesses mentioned are easy and relatively low-risk to start.
Here are ten moneymaking concepts involving fabrication and welding:
1. Mobile Welding Services
A startup's excellent welding strategy is setting up a mobile workshop. Most clients would appreciate it if you visited them. You would not have to spend as much on rent or utilities. You can either start small and expand into a larger firm or keep a smaller team with only one or two mobile operating units.
Businesses that choose this option maintain a small workshop for stockpiling purposes. A small workshop is also needed to handle the occasional task that can only be done apart from the main operation. Since most of the labor is performed locally, this choice still helps keep prices low.
Due to the nature of the position, highly motivated and competent welders will likely consider it.
2. Licensed Expert in High-Risk Welding
Welding in restricted spaces, working on tall buildings, welding near toxic materials, and other high-risk tasks fall under this category. It's not something you just leap into, but with little planning, it can be profitable.
The profit rate is sky-high simply because the work is complex and challenging. Most of the time, the required effort is high. The task can be accomplished by those with the necessary skills and strict attention to detail, and safety infrastructure.
In the field of high-risk welding, you have the option of being a generalist and taking on any project that comes your way. There will be more work opportunities, but you and your workers must put in significantly more training and preparation time.
It's also possible to focus on one potentially dangerous location and train your team to handle that one thing better. Both choices will help your company thrive.
3. Fabrication of Heavy Stainless Steel
This kind of fabrication is often reserved for affluent customers. While the initial investment is expensive, the result is worth it because the profit margin is much larger than other types of fabrication.
Once again, unless you have a very deep pocket, this is not a business you can launch quickly. Forging large pieces of stainless steel may prove profitable if you put in the time and effort.
4. Welding aluminum
Aluminum welders are in scarce supply. It's a niche industry that requires a lot of welding. As with any other sector, this one is simple to enter and launch a company in.
It's a good idea to start a shop that specializes in aluminum welding. For the same amount of labor and investment you would like to spend, you can charge more.
On the side, you may manufacture aluminum boats at a high rate, which will fetch a reasonable price. Your business may succeed whether you sell boat parts or full vessels. However, before selling boats, it's a good idea to consult an attorney, as there are regulations concerning their seaworthiness.
5. Heavy Haulage Trailer Manufacturing
Building truck trailers is a worthwhile endeavor. Selling the entire trailer or just the decks and trailer bodies are lucrative business ventures.
The most effective method is zeroing in on a single component, such as the trailer body. You're positioned to produce a higher volume of superior trailers than a more diverse organization would be able to.
When companies reach a certain size, splitting off into new departments with specialized tasks can be a lucrative strategy. Having clear boundaries between them allows each sub-unit to provide 100% of the duties for which it was designed.
Again, keep in mind the legal implications of your work in this area because of its proximity to the transportation sector. To avoid being sued or punished, most welders in the transportation and maritime industries need to have legal protection in place.
6. Steelwork Projects
Construction projects require a large deal of steelwork; this is a fantastic concept. With the correct processes, you can take on large projects and crank them out rapidly.
Though there is a considerable profit margin, the equipment investment required to properly handle the massive steel lengths is not insignificant. Once you've invested in essential machinery like forklifts, gantries, and roller systems, your operating costs will primarily consist of routine upkeep.
7. Aluminum Joinery
Aluminum joinery is required to construct nearly all new homes, remodel many existing ones, and in the business sector. It opens up a massive potential customer base for you to exploit.
There will undoubtedly be a lot of competition in your field. But, if you're committed to being the best at what you do, you may easily capture a significant market share.
Once business picks up, you can effectively establish a system for mass-producing the joinery. This will let you increase output significantly. Because aluminum is so simple to deal with, the output rate can be incredible.
8. Breakdown Welder
Given the desperation of your target market, this service is a fantastic way to turn a profit. If anything breaks at 3 a.m. on a Sunday and the customer needs it fixed, they will pay whatever the cost.
Kindness in delivery is essential. Customers in a bind who are treated rudely will quickly look elsewhere. Set your delivery above and beyond for clients, and you will have steady business.
To meet deadlines, contractors that employ excavators or earth working machinery frequently require welding to be completed quickly. Since they have a sizable budget for such events, they will gladly pay your standard rate.
9. Submarine Welding Company
Because it is so specialized and risky, underwater welding can bring in a lot of money. Diving welders make a terrific addition to any startup team. However, competition for jobs is high, and entry is difficult.
If diving is your actual calling, and you're determined to make a life at it, ensure you set up shop right.
10. High-end Gate Business
Gates are standard fixtures in residential architecture, and they can be purchased from various sources for little cost. As a designer of fancy gates for the wealthy, you can charge more for your gates.
Make sure your marketing efforts are practical. Keep the low-cost gate part of the firm separate from the high-end gate business if that's where most of your time goes. Clients who discover that you offer a unique service for beautiful gates will feel more comfortable entrusting you with their most important projects.
To succeed in this industry, offering a variety of design options to your clientele is crucial. Potential clients may not have access to a design team and rely on you to help them visualize their ideas.
Conclusion
Steel fabrication business ideas are quite lucrative, and we hope the ideas we've shared here have inspired you.
Explore All
Generate Startup Ideas Articles