Many people want to build profitable businesses. It's the only way to guarantee that we earn enough money to become financially independent. It's a common misconception that opening a business requires a huge amount of money.
There are many funding sources that can help you with your startup. The true challenge lies in coming up with quality storefront business ideas.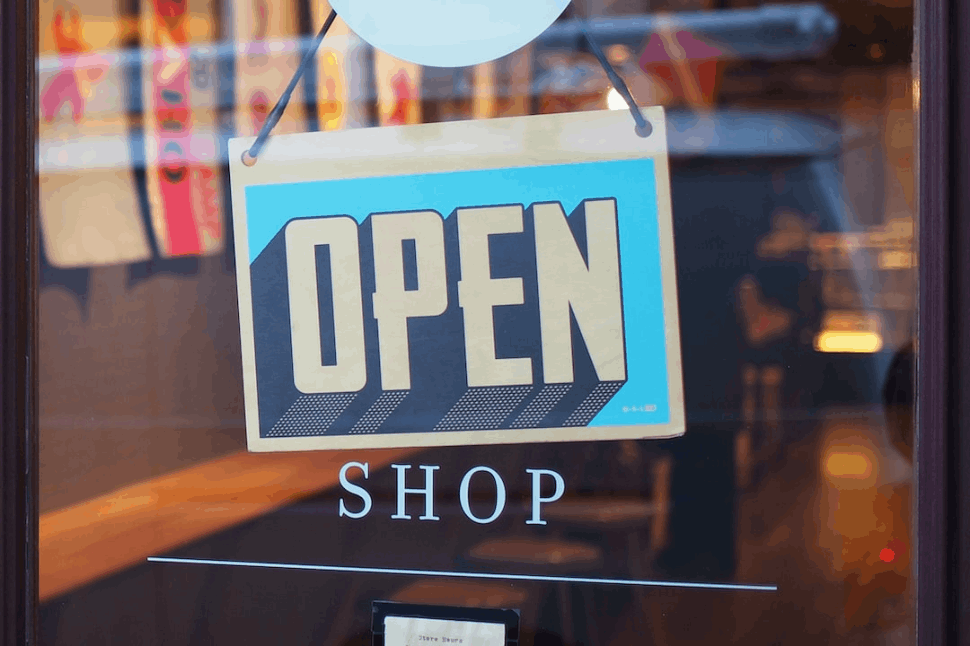 This article will explain the importance of business planning and provide you with some business ideas you can use to build a profitable business. Let's get started.
What is a Retail Storefront?
A retail storefront is a store set up in a commercial location to sell retail goods. The defining feature of a storefront is a front window that displays an assortment of products. The most common types of storefronts are chains, but several small businesses also choose to rent a storefront to show off their products.
Despite the increasing popularity of e-commerce stores, physical retail storefronts still have a role to play in the supply chain. Particularly, storefronts are ideal for customers who still prefer to inspect products personally before buying them.
Reasons to Start a Retail Storefront Business
Even when the pandemic forced consumers to shift from physical retail stores, there are still a lot of opportunities in the physical retail industry. The key to retail success is to have the right idea that suits your resources.
The beauty of a retail business is that there's always an opportunity related to any interest. Retail stores can cater to a wide range of hobbies, interests, and pop cultures. There's an endless list of possibilities for what you can sell in your store.
Retail storefronts can also take part in community events. They can host parties for fundraisers and charity events. They are simple to operate. You need only establish a supply chain and sell your wares directly to your customers.
Another advantage of retail storefronts over online stores is the personal interactions between sellers and buyers. Online stores don't give an avenue for your sales skills to shine through. Physical stores and personal interactions give extroverts a chance to show off their appeal, thus influencing a buyer's decision.
Storefronts don't need a lot of capital. Many businesses can start for next to nothing.
Tips for Getting Started
If you're interested in starting a retail storefront business, there are some things you need to keep in mind.
These tips will ensure that you don't run into any problems in the long run. And they will help maximize the potential of your business.
1. Create an Idea
A good idea is the foundation of any business. You never want to start a retail storefront without first coming up with a good idea. This is the seed of your business, and it is what will keep you interested and motivated throughout the process.
The best way to come up with storefront business ideas is to identify a problem and fill the gap with your idea. Consider the needs of your target market and learn about the needs, wants, and limitations unique to it. This will help you know what to sell, what not to sell, and where to place your business within the marketplace.
For example:
If you've noticed that a popular destination recently opened at your location, it's likely to bring an influx of tourists. You can set up a souvenir store or a bar to accommodate tourists.
2. Create a Business Plan
It's important to map out your short-term, and long-term business goals as these will serve as your compass. Most business plans are unique, but there are a few general rules that apply to all. Some of these include:
Address funding and marketing needs
Consider all business-related costs
Come up with business alternatives
Never underestimate the importance of a point-of-sale system, accounting, and inventory management software.
3. Accomplish All Basic Legal Requirements
Covering basic legal requirements involves choosing a business structure, obtaining all pertinent licenses and permits, and following regulations. Some of these include:
Basic business operation license
Employer identification number
Seller's license
It's important to accomplish legal requirements to avoid any problems in the long term.
4. Find the Right Location
It can be tempting to choose a cheap location in order to save on rent. This can have a negative impact on your business. Many times, there's just no substitute for a prime location.
If you can afford to rent in a busy area, do so. No amount of marketing can replace an accessible and convenient location. The only exception to this is if your business already has an established reputation.
5. Personalize Customer Experience
Customer experience is the key to nurturing lasting relationships. You can allow customers to try sample products for free. This is common practice in food shops, clothing stores, etc.
It's all about making your business stand out from competitors by providing customers with a new or unique experience.
6. Plan a Grand Opening
A grand opening is vital to the near-term health of your business because it's a way to attract your first customers. Grand openings are particularly effective because they create buzz for your business.
Make sure to get the word out by working with local media outlets and leveraging social media. Make sure to share details on the date of your grand opening and to show why your store matters to the community.
Retail Storefront Business Ideas
As mentioned earlier, your idea will determine whether your business thrives or dives. If you're having difficulty coming up with ideas, try to gain inspiration from this list.
Many of these businesses sell items that customers want to inspect before buying. Others sell products that are meant to be consumed immediately.
Pet Store
Coffee Shop
Artisan Donut Shop
Bakery
Toy Store
Thrift Store
Ice Cream Shop
Furniture Store
Mobile Phone Retail Store
Candy Shop
Sporting and Camping Gear Store
Fashion Boutique
Auto Parts Shop
Used Book Store
Pharmacy
Art Supply Store
Tech Accessories Shop
Gaming Console and Video Game Store
Collectible Goods Store
Gift Shop
Craft Beer Shop
Dollar Store
Organic Food Store
Barbershop
Hair Salon
Manicure and Pedicure Services
Home Appliance Store
Arcade
Medical Testing Lab
School and Office Supply Store
Restaurant
In Summary
Storefront businesses are great because they allow you to focus on a particular niche. They are fairly easy to operate, and they expand once you start gaining loyal customers.
Not all storefront businesses require a large capital. Many popular stores sell crafts and trinkets. Remember to start with great storefront business ideas. You never know when you might have a lucrative business opportunity. Remember to do market research and test the viability of your idea. There's no secret to building a successful business. It all boils down to the quality of your idea, your management skills, and your planning. 
Explore All
Generate Startup Ideas Articles