Advertising your brand to the market is necessary to grab the attention of you business's target clients. As simple as using an interesting word, you can urge individuals to respond to the call-to-action (CTA) you will write. In other words, learn how to make the best print ad headlines.
Despite the dawn of the digital age, some businesses are still launching marketing campaigns through print. They may use texts with images or images alone. The aim of this kind of campaign is to allow people to read your brand's messaging on hard copy.
The best print ad headlines will ensure your marketing design's successful future. Curious how to make a good looking design or content? Check out this article!
What is an Ad on Print?
An ad on print is one of the most effective examples of company advertisement. Aside from the digital space, advertisements may appear on hard copy with title appealing to the target people.
This kind of campaign is one of the old school advertising methods marketers are using. As your target customers look and read through it, they will have enough information about the products and services you can offer.
The following are examples of an ad on print:
An infographic containing the company or brand logo
Flyers
Mail
Newspaper Advertisement
Billboard; and
Et cetera!
Using a hard copy ad allows people to read your brand's messaging on black and white. It is a good way to promote your product and its good quality.
Despite advertising having a new look, people still like seeing ads on print. Are you planning to create one? That is a great idea!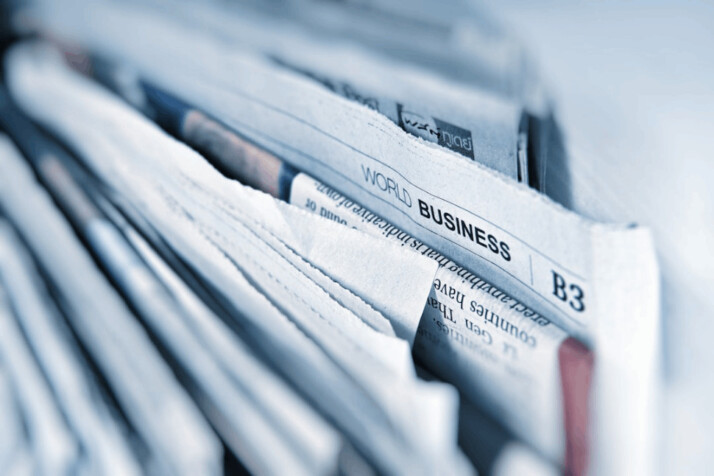 The Importance of Headlines
Are you posting an online ad through your website? Do you want to create an ad on print as a tarpaulin? First, you need to learn the importance of titles.
Some people think that this part of any ad's text is not important. However, they are wrong.
If you want your marketing material or page to succeed, you need to understand that making the most outstanding titles will help you significantly. Readers worldwide look at this part of your ad's text as they start to read your content.
However, if the readers do not feel like your headline is clever, there's a big chance they will skip it. It must feature the most excellent writing talents you have.
You use headlines to leave a good impression to your target market's mind. It leads them towards buying your products and the success of your ad feature or ad campaign.
3 Secrets on Making Your Printed Ad Headline
Do you want to have great ideas for an advertising headline? First, you need to understand the importance of making advertising headlines for features.
Readers want an ad headline that appeals to their preferences. It is like feeding them information that they demand.
However, you can only do this if you create an advertising headline that uses compelling words. Today, you will learn more how to make advertising headlines.
Read about the three secrets on making your printed ad headline below. Try to take note of them and work on the tips you will learn as you assess the advertising headline you have written.
Ad Tip #1: Know Your Audience
First, you need to include knowing your audience to your ad checklist. Learning about your clients allows you to relate your magazine's or billboard's ad content to your target people.
Discover what changes a customer's life the most through your ad researching efforts. You may also ask them about their life preferences and the things they can share more about themselves.
Use the information about the individual's life to create a powerful ad title. You may also try to find out about their mean age.
That way, you can have your ad title appropriately related to their age group's interest.
Ad Examples:
Make the World a better place! Join our ad agency now!
End the power of hunger with this ad!
Here's an ad for you: Buy a house, get a free car!
Ad Tip #2: Make It Catchy
As you talk through your ad, try to work on a title that uses words directly approaching your target market. People love reading an ad that includes their preferences and demands.
As you work on a design for your new ad, include things that will grab your customers' attention. Take your time on improving your ad for the medium you will use.
Do you want to run your ad on social media? Are you planning to post it through physical means?
You must invest enough time to create the most appealing one.
Ad Examples:
Tell the story of your home ads now.
Looking for an ad agency with clear requirements? Join us!
It is time to change the world through ads!
Ad Tip #3: Show Creativity
Lastly, if you really want to drive your readers into spending their money for your brand, show creativity. This will let you show your patronizers that your company ad is like no other.
Your ad must use the right words and designs. It enables you to push your clients to come to your shop and buy the things you are selling.
Your ad should use a number of methods to persuade the target people's interest.
If you want an ad that succeeds, focus on making it creative. You can add trending quotes, witty phrases, and unforgettable punchlines.
Ad Examples:
The book that actually helps you.
Save your money for New Year!
Day and Night: At Your Service.
Final Thoughts
Creating the most appealing ad for your printed promotional materials is a task worth doing. It is like a significant part of your company's journey to brand messaging and influence success. Remember to know your target audience, make it catchy, and show creativity.
Explore All
Google Ads Headlines Ideas Articles