The first sentence of an essay is a sentence starter. They must intrigue the reader enough to read further into the paper without being too wordy.
Generally, they should introduce the topic and give the reader the main idea of the paper at a glance. It also helps establish the tone and direction of the essay.
Without them, writing can become fragmented and disjointed, making reading difficult. However, it is not always clear which ones to include and when.
In this article, we provide sentence starters that you can use in your writing, separated into categories for simple references. Let's get started!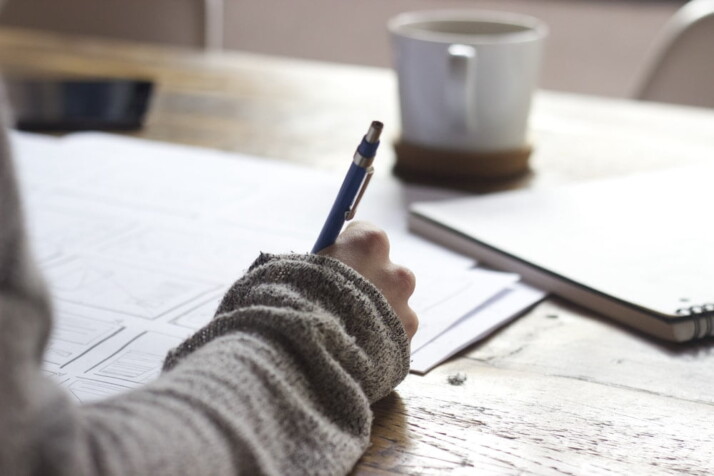 What Is a Sentence Starter?
Sentence starters are the words or phrases that introduce the remainder of the sentence and are generally separated by commas. Sentence-beginning words are crucial in writing. They introduce the subject of the sentence so that the reader knows what to anticipate.
The first sentence of an essay are vital to the cohesion of lengthy academic writing works. Because each sentence effectively has its own theme, these compositions frequently and sometimes abruptly move from point to point.
Sentence starters facilitate the reader's comprehension by softening abrupt transitions and introducing the next topic.
This rule also applies to paragraphs that bounce from subject to subject. Paragraph starters provide an organizational signpost via introductory sentence starters to bridge the gap between themes.
Although prevalent in fiction, sentence starters are most effective when writing nonfiction, especially essays.
In contrast to fiction, nonfiction employs a range of facts that serve as sentence starters for the reader. In other words, if you believe nonfiction to be dull, imagine if it were simply a list of facts!
When Should You Employ Sentence Starters?
Sentence starters aren't required for all sentences. In fact, their overuse can be distracting. These are some instances where a sentence starter is most effective:
When it's hard to see how one sentence fits with the others.
You're bringing up a new idea, like at the start of an essay or a paragraph.
Giving a summary or conclusion, like at the end of an essay.
Want to put more attention on a certain sentence or point.
You need to write a hook to get people interested.
The sentence needs some background information or context to make sense.
There is no hard and fast rule for when to utilize and when to avoid sentence starters. If you are having difficulty deciding, consider revisiting your past few paragraphs and evaluating their flow.
There is no need for sentence starters if your sentence flows well. If something feels odd, out of place, or absent, try adding one to see if it helps.
Below you will discover samples of context-appropriate phrase beginnings.
First Sentence of an Essay (Topic Sentences)
Topic sentences introduce the topic of the paragraph or the entire content to enable readers know what to expect.
This paper discusses …
In this paper . . .
Here, we discuss . . .
Below, you will find . . .
Sequences or Lists: Sentence Starters
Sentence starters come particularly handy when writing sets of instructions or explaining a succession of events. These components aren't always related in obvious ways. Sentence openers connect them and put them in the proper order, so your reader can organize them in their thoughts.
First . . ., Second . . ., Third . . ., etc.
Then . . .
Subsequently . . .
After that . . .
Comparisons: Sentence Starters
To show that two items are similar or linked, use sentence starters.
Similarly . . .
In the same way . . .
Likewise . . .
Again . . .
Elaboration or Adding New Points
When a single sentence is insufficient to properly express your idea, including sentence starters to subsequent sentences can connect them.
Additionally . . .
Moreover . . .
Furthermore . . .
Also . . .
Introducing Examples
For essays, you should support your claims with proof. Sentence openers facilitate the shift from describing the large picture to illustrating the application of these principles in the real world.
For example . . .
For instance . . .
This is evidenced by . . .
Consider the [case/example] of . . .
Contrasts and Abrupt Transitions
Sentence starters are most effective when switching topics abruptly. The writing seems abrupt and disjointed without them, so utilize them to keep your reader on track, especially when comparing topics.
Although . . .
On the other hand . . .
In contrast . . .
Despite that . . ..
To Establish Cause and Effect
Commonly, two sentences are used to describe a cause-and-effect relationship, such as something causing something else to occur. This link can be clarified by using sentence starters to show the distinction between the cause and effect.
As a result . . .
Accordingly . . .
Therefore . . . .
That is why . . .
Emphasis: Sentence Starters
In other instances, sentence beginnings are not required, but they serve to emphasize a point. Reserve these for the sentences that you want your audience to remember most.
Above all . . .
As usual . . .
Certainly . . .
Generally speaking . . .
Starters for References
If you are crediting someone else's concept, such as in a research paper, include the attribution in the first words of the phrase. Use these phrase openers before quoting or discussing an idea from another source.
According to . . .
Based on the findings of . . .
As explained by . . .
With regards to . . .
Generally Accepted Concepts (Historicals)
Some sentences lack meaning when removed from their context. This could be a popular, mainstream notion that is unknown to the reader, or some historical context that is not well known. Sentence starters can provide background in these cases without veering off topic.
Traditionally . . .
Historically . . .
Initially . . .
Until now . . .
To Show Uncertainty or Doubt
If you are writing about facts, your audience will assume that everything you write is true. In circumstances where something is unproven or unknown, tell your readers that doubt exists so as not to mislead them.
Perhaps . . .
Although not proven . . .
Arguably . . .
While debatable . . .
Conclusion and Summaries
Because they do not convey fresh information, conclusions and summaries always behave differently than other phrases and paragraphs.
Sentence starters can signal to the reader that you're about to "close things up," so they don't expect any fresh points or proof.
In summary . . .
To summarize . . .
In conclusion . . .
To wrap things up . . .
To Wrap Up
A sentence starter is a brief word or phrase to help the reader transition. Sentence starters are commonly used in written texts, blog posts, reports, and essays.
If you want your sentence starters to stand out from the crowd, avoid common words. Common words such as "I," "am," and "this" should be avoided. Always use sentences that are familiar to most readers.
Explore All
Hook Writing Articles