Knowing how to start an essay can be pretty challenging – from brainstorming ideas to finding the right words to use. Have no fear, though! With the right learning resource, you'll be able to craft a unique piece with precise sequencing and engaging language.
The starting paragraph of your essay should include a catchy opening line that 'hooks' and entices the reader to continue reading. It should be powerful, descriptive, and include the paper's central focus. In this article, you'll learn how to write a captivating opening line for an essay!
How to Start An Essay
An essay's introduction aims to grab the reader's attention. It is the first sentence the reader looks at, so it should create a positive first impression. The introduction should establish your piece's tone and point out the path you plan on taking.
Typically, the introduction begins with the 'hook,' a catchy sentence that entices and persuades the reader to continue reading. This is followed by sentences describing the topic and providing an overview of the paper's central thesis.
There are several ways to start an essay. Each is best suited for specific essay types, but they all have the same goal – to capture the reader's attention.
An opening that hooks readers in a particular essay type may not have the same effect when incorporated into a different essay. This is why it is essential to understand the types of essay openings and where they're effective.
How to Start An Essay: Types of Hook for Writing
A hook is a compelling introduction starter for an essay. It doesn't matter what your essay is about – it must have an opening line that will immediately capture the reader's attention.
The hook introduces the reader to a text and provides a focal for the essay itself, motivating the audience to read further. An effective hook quickly attracts the reader's attention and sets the tone for the piece.
Here are the types of 'hook' you can begin your essay with.
1. A shocking or amusing fact
Beginning your essay with a shocking or interesting fact that pertains to the topic of discussion can grab the readers' attention. Such statements will pique curiosity and spur interest in your reader's mind.
This way, readers will want to read more to get an explanation or more details about the fact you presented.
Ensure to present a fact relevant to your paper's subject. Stating random facts that have nothing to do with your piece is not the best way to start an essay. It'll leave your readers confused and uninterested in reading further. Plus, it'll portray you as unintelligible.
A shocking or amusing fact can be the best opening line for an expository or persuasive essay. You may present a point that supports the stance you take in your essay.
2. Question
Posing a question in your essay opening is an excellent way to engage the reader. When you begin with a question, you invite the reader to share their thoughts–even though not aloud. Making your readers a part of the conversation is a great way to grab their attention.
Beginning a persuasive essay with a question is an excellent choice as it puts the reader in a position to reflect and take sides.
3. Scenes
This type of hook appeals to the reader's emotions and makes them imagine the things you're writing about. It is most appropriate for descriptive and narrative essays.
It is also incorporated in creative essay writing like literary essays and personal statements.
4. Statistics
Statistical data can be an ideal hook for persuasive essays and serious topics that require facts and figures.
It can also provide your work with a polished and professional aesthetic keeping readers glued until the end. Ensure to use statistical data that relates to the topic of your essay.
5. Quote
Another effective way to begin an essay is to borrow the words of others. Intelligible, motivating quotes can grab the attention of readers in an instant.
As in choosing a fact or a statistic to begin your essay, any quote you choose must be pertinent to your essay's topic.
6. Thesis Statement
You may decide to be straightforward and state your thesis. This way, you're diving right into the subject. An introduction that directly expresses the thesis can be an appropriate choice for an analytical essay.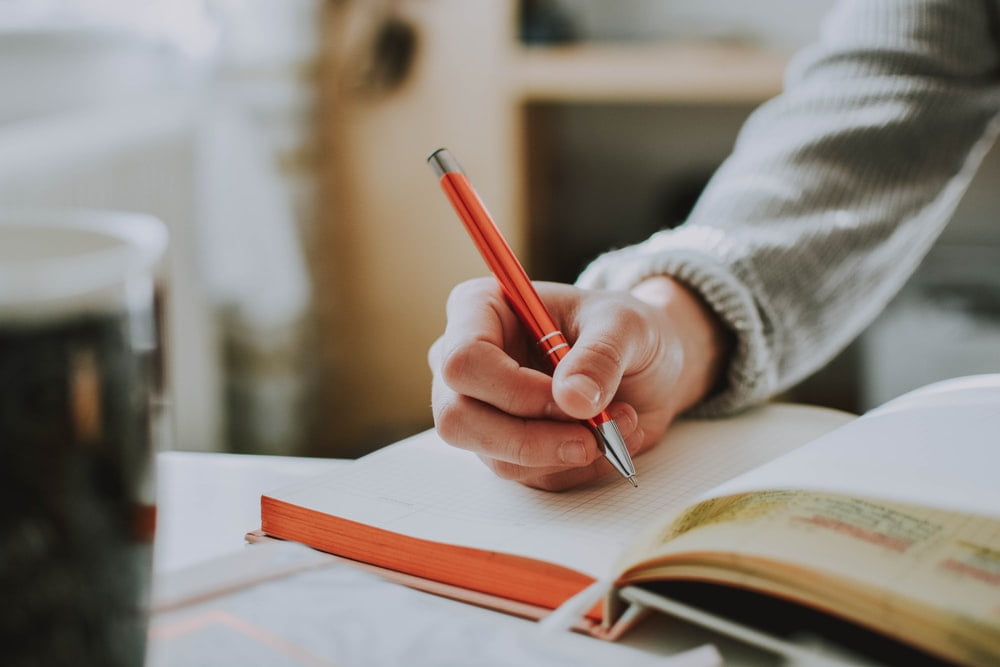 To Wrap Up
The opening paragraph of an essay hooks the reader and sets the tone for the rest of the piece. Your opening line should give an overview of the subject matter without revealing too much. You can begin with a question, quote, fact, or statistic or simply state the thesis.
Whatever you choose, remember to make it interesting, catchy, and relevant to the topic.
Frequently asked questions
What is a good word to start an essay?
| generally… furthermore… finally | during |
| --- | --- |
| in the first place… also… lastly | earlier |
| to be sure… additionally… lastly | eventually |
| first… just in the same way… finally | finally |
| basically… similarly… as well as | first of all |
How do I start my introduction?
In order to begin, you should make your reader fully aware of the general theme. A short introduction should narrow down the topic so your reader is able to appreciate what you're trying to accomplish in your paper.
What makes a good introduction paragraph?
You should start your paper's introduction with a sentence that draws your readers' attention whether it is long or short. As part of a typical essay, the first sentence leads to two or three more sentences that describe your subject or your process. You'll find all of these sentences leading up to your thesis statement.
How do I start just writing?
Start in the middle. Don't wait for the decision to come if you don't know where to start.
Start small and build up.
Incentivize the Reader
Take the title up front.
Create a Synopsis
Beware of Writing Badly.
You can make your own story.
Do the Opposite
What are the 4 types of essays?
In short, an essay is a piece of writing designed to inform or convade. Essays can be classified into four categories: argumentative, expository, narrative, and descriptive.
How do you present an essay?
How do you say I agree in an essay without saying I?
Is your statement correct?
..I think you mean that + [your sentence]".
"I think of you as [your]".
Clearly it is that + [your sentence].
..you could argue that + [your sentence]".
"This suggests that + [your sentence]"".
As a result, this proves the power of [your sentence].
How do you write a good introduction example?
Fact that is surprising. A surprising fact or statement can capture the reader's attention.
Pose a Question
Start with anecdotes
Set the Stage
Clearly state your point.
Consider Starting With Something Shocking.
Use a Statistic
Get Personal
How do you write a guide for an essay?
Start with what you want to write-a plan, a few sentences or bullet points. Starting with the body and working paragraph by paragraph. You should write the introduction and conclusion after the body. When you know what your essay entails, write the introduction and conclusion.
How do you write an essay in one day?
Understand your goals
Choose a topic
Set deadlines
Make arrangements ahead of time for reviewers.
Outline your essay
Stay organized
How can I make my essay more interesting?
Have fun writing about what you're doing.
Include fascinating details
You can write your own style based on the writing style you enjoy.
Use the voice of an active writer.
You can borrow creative writing techniques.
Think about your own opinions.
Cut the waffle
What is an essay format?
Introduction, body, and conclusion are the three main parts of a basic essay. The main format of an essay will help you organize and write it. The value of flexibility, however, lies in its simplicity. Make sure the topic and specific assignment guide you through writing and organization while keeping this basic essay format in mind.
How do I write an essay like a pro?
What Should You Consider. You need a great topic before you start writing that good essay.
Make yourself feel free to speak your own words. This may seem odd as a trick to write good essays, but it is worthy enough to be attempted.
Divide And Rule
Three Parts Work
Check The Errors
How do you write an A+ essay?
Cite your topic and pull quotes.
Become a topic using your prompt.
Make your topic into a complex thesis statement.
Make a map of your essay.
Use formulas to structure body paragraphs.
edit fast
Outsource your work
Get your paper in!