It goes without saying that an author's top priority is to write spectacular books. However, it's equally important to promote your writing and authorship. Therefore, this article outlines some creative author landing page examples to inspire you to write one on your own.
It's challenging to increase your readership if you don't establish a name for yourself. So, making an interesting author landing page for your work is crucial to get the exposure you need. It increases the popularity of your work and establishes a connection with your readers.
What Is an Author Landing Page?
A landing page is a web page with a single purpose: to drive qualified traffic to a website for a specific goal. Authors use landing pages to promote their work, increase sales and send traffic to their web pages.
It is important to offer your potential readers essential elements to making a purchase decision. Whether you are a blogger or a singer, a landing page is a vital part of any effort to promote and sell your work.
Why Is an Author Landing Page Important?
A landing page is a web page specifically created to promote an author's book. A landing page is where visitors go upon entering a website. This is where the author can keep the audience engaged and send them to their desired section of the website.
This is important because it could be the site's opportunity to convince the visitors to support the author. It could be to buy their book, sign up for their email list, or join the community to learn more about the author.
6 Creative Author Landing Page Examples
Landing pages are important for authors in reaching potential customers for their book sale promotion. Landing pages exist for many reasons, but primarily to persuade visitors to take action. If you're wondering how authors design their landing pages to effectively capture the audience's attention, here are some great examples:
James Maxwell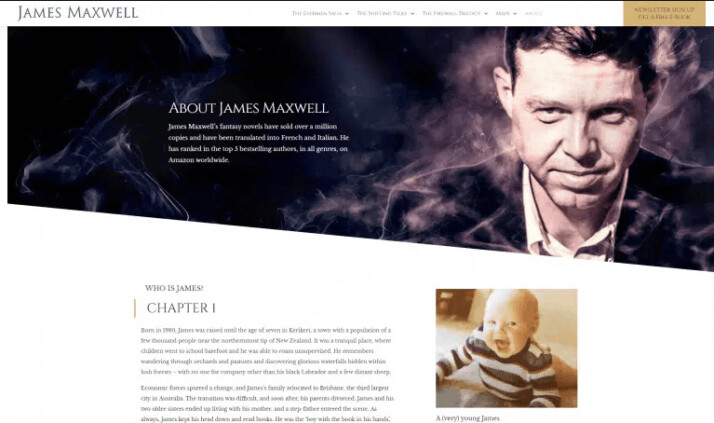 James Maxwell's stunning landing page immediately provides readers with a clear idea of the genre the author specializes in. The captivating fantasy-filtered background image draws attention and captures the author's writing style. The information on the entire page is fascinatingly immersive and offers a wealth of details about James' accomplishments.
Kate Morton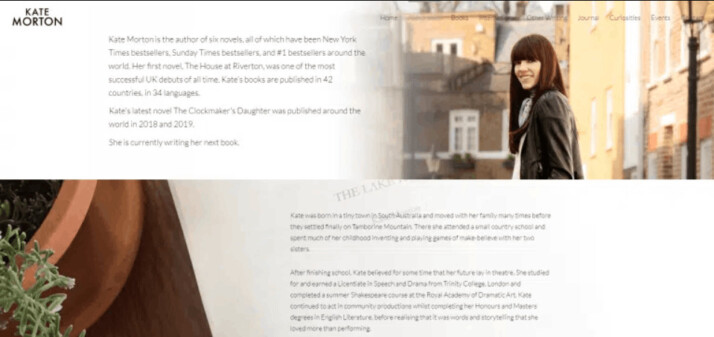 The author Kate Morton's landing page is expertly designed and emphasizes large, attention-grabbing images. The large photos of the author are definitely eye-catching as they stand out well on the page, allowing the reader to appreciate the image. It also draws in visitors and persuades them to continue reading.
There is a lot of information about the author's life as you scroll down the website. You can learn more about the author by clicking on the "find out more" icon scattered on the page.
R.L. Stine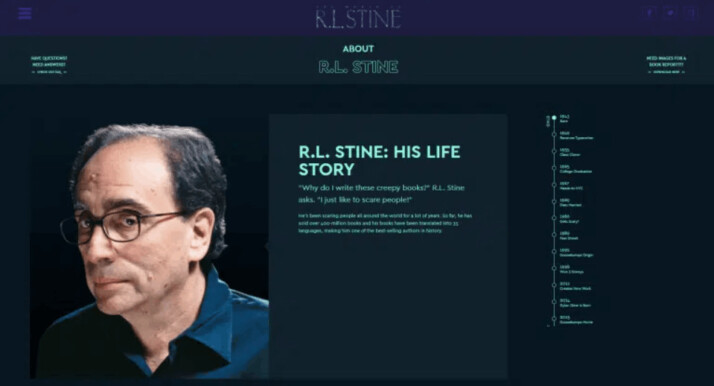 This landing page from R.L. Stine is simple but powerful since it places a lot of emphasis on the author's past. The interactive timeline on the page highlights the author's career path. It begins with his love of writing in school and touches on significant milestones like the release of Goosebumps. This landing page is beautifully and skillfully designed to discover more about Stine's life.
Ruth Ware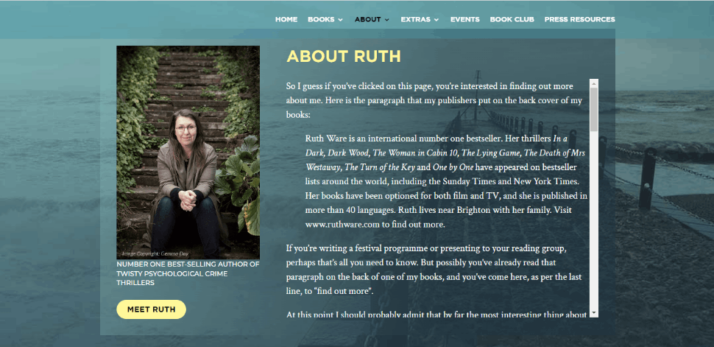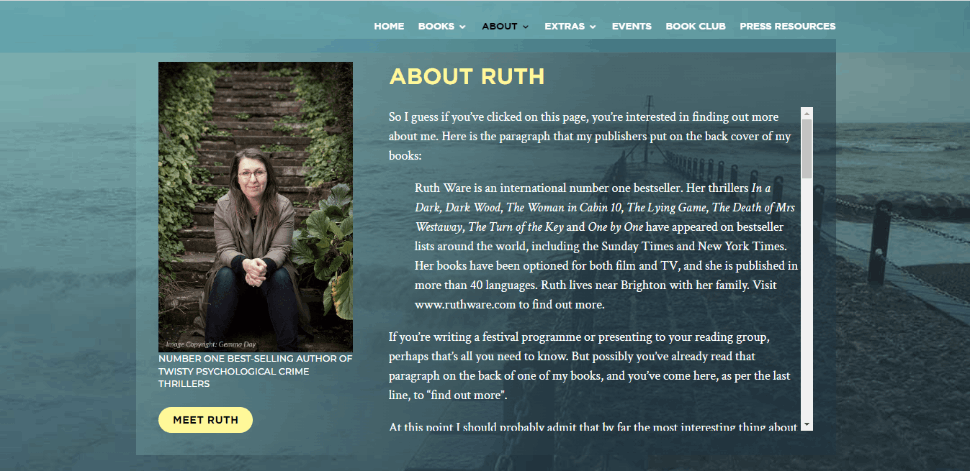 Ruth Ware has a subtle landing page that asks visitors to find out more about her online store. The design is both minimal and elegant and eye-soothing. Ruth concentrates on establishing an emotional connection with the readers on her landing page. You get a sense of the author from a large, professional image of her smiling face. Her writing style is shown in the "About" section.
Jo Nesbo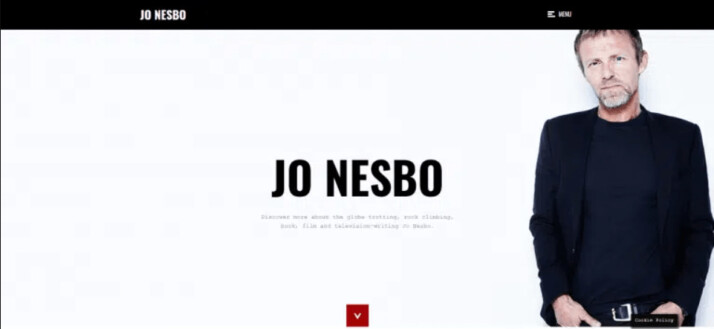 Jo Nesbo chooses a clean, classic simplicity for his landing page. A prominent background photograph of the author himself fosters an immediate sense of familiarity. While scrolling, you also learn valuable details about the author's past. Jo packs his landing page with useful videos where he discusses his work and even includes testimonials from well-known people.
R.J. Palacio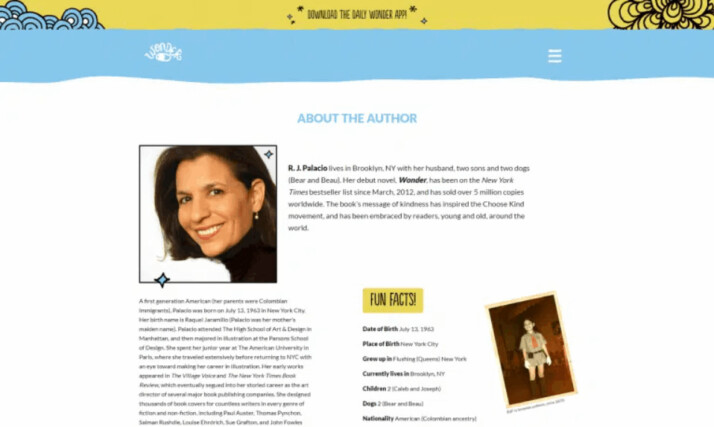 R.J. Palacio's landing page is simple yet effective. Throughout this page, engaging elements attract the visitor's attention and keep them reading. R. J.'s life story, animated illustrations, important dates, and a thorough FAQ section are all included on this landing page. The hand-drawn motifs and vivid colors make the entire page incredibly captivating. Videos of the author provide a more thorough understanding of her writing approach.
Conclusion
Author landing pages can help writers establish their brand and attract potential readers.
Visual representation of the book, writing style, and some interesting life details of the author makes the landing pages even more captivating. If you're looking for inspiration to write one on your own, this article outlines some great author landing page examples.
Explore All
Squeeze Landing Page Hero Text Articles