Are your e-commerce landing pages converting fewer visitors and generating less revenue? You must look at our best e-commerce landing page examples to pinpoint the elements needed for better conversion.
Effective e-commerce landing pages can bring in more leads, increase your conversion rate, and create loyal customers. Successful landing pages don't depend on the most beautiful design or other high-level pages. They require details specific to the offer.
This article outlines some of the best examples of e-commerce landing pages to inspire you to write one for your business.
What Is an E-Commerce Landing Page?
An e-commerce landing page is a standalone webpage designed to entice visitors to sign up or make a purchase. It is one of the most important pages on a website. It helps to entice the target audience, drive more traffic to the website, and increase sales.
Landing pages differ from regular website pages because they focus on a single action. They are created with the intent of converting visitors into leads or customers.
Importance of an E-Commerce Landing Page
If you're running an e-commerce business, your landing page serves a vital role. Visitors to your site must find their way to your landing page to get what they want.
And if your landing page is not enticing enough, you won't get the traffic you need to succeed. An e-commerce landing page is a perfect spot for online stores to sell products, promote sales, and advertise.
Offering an aesthetically pleasing look, a feature-rich destination, and engaging content are how you get people on your site. A landing page is deemed effective if it can present a targeted message or call to action to visitors.
3 Best E-Commerce Landing Page Examples
E-commerce websites need to convert visitors into buyers. A landing page is where potential customers will land once they land on the website's homepage. Landing pages help you acquire prospects, get them to sign up, or provide purchase options to shop your products.
To give you an idea of what an effective landing page looks like, here are three best e-commerce landing page examples for you:
Winc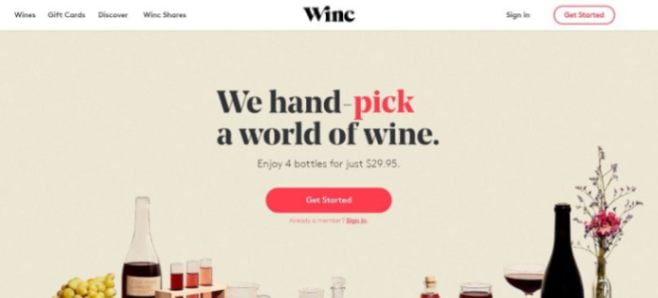 Winc, a website for wineries, does an excellent job with its landing page. The short yet captivating headlines, call-to-action button, and luxurious photos make the landing page stand out.
It has minimal text on the landing page. This is because their products are already visually appealing and self-explanatory. So, they can naturally rely more on their images than on text.
Vanity Planet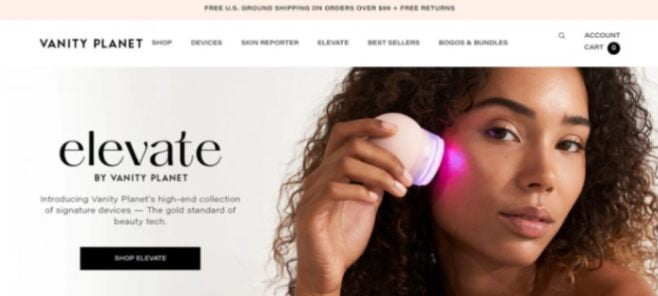 Vanity Planet's landing page is an excellent example of marketing a single product effectively. They wisely chose to focus solely on the Raedia Facial Cleansing brush instead of promoting their full line of items.
The captivating short headline draws the eyes, while the subheading provides additional information on how it can benefit the target audience. It shows how you can develop a landing page that works without needing to make your company the major focus.
The strategic use of the white navigation bar makes it easy to use while reflecting the objective of the cleansing brush. Also, the contrasting color of the CTA button makes it pop, making it apparent for the visitor what action to take next.
LIV Watches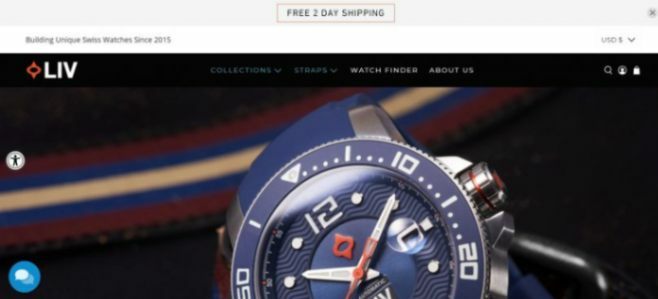 The landing page of LIV Watches is effective because they realized how to showcase their product in the best possible way. Instead of adding a photo carousel, they chose to use high-quality photos around their landing page in numerous ways.
They used a high-resolution image of their special edition wristwatch in various settings on their landing page. It gives its target audience a thorough understanding of its product and its various features.
Moreover, exceptional craftsmanship is also highlighted by the use of close-ups and side-profile shots. This landing page is an excellent example of how e-commerce sites can showcase products in various ways. It helps visitors to see all the important details.
Conclusion
E-commerce landing pages are websites created with the intent to entice online shoppers to purchase a specific product or service.
These websites have a very narrow purpose, usually selling a particular item. Because landing pages are usually created with a sole purpose, they are often very well-designed and aesthetically pleasing.
This article outlines the three best e-commerce landing page examples to help understand the idea better.
Explore All
Squeeze Landing Page Hero Text Articles