Videos are powerful marketing tools. They play a role in driving traffic, generating engagements, improving conversion rates, and increasing sales. Video landing pages can convert visitors into customers and skyrocket your sales figures when used effectively. The best video landing pages provide viewers with an entertaining and informative experience while encouraging them to take the desired action.
Landing page videos can be the most effective tool you need to convince people that your product is the best one for them.
In this guide, we listed some real-world examples of landing pages that were successful in driving conversions. You can draw inspiration from these examples if you're considering a video page landing for your site.
The Best Video Landing Pages Examples
Video landing pages inspire and captivate visitors in ways that text-only pages can't. They let you demonstrate and highlight your company's value proposition. They also give visitors a reason to trust your brand and be interested in your offer.
Many businesses have recorded massive success with video landing pages. Here are some of them:
1. Adidas
A great example of a good video landing page is that of Adidas, a shoe brand. Adidas' landing page is simple and well-designed, with a clear call to action. The video automatically begins to play once the visitor lands on the page. It showcases the new Adidas running shoes in a pleasing way that gets visitors hooked.
The qualities of the shoes are also displayed in the video. The slow motion effect highlights the cushioning offered by the wears. And the forward-moving arrows give the impression of speed and smoothness.
2. Rolex
Rolex is a luxurious watchmaker. This brand's landing page demonstrates its luxury without neglecting its usefulness. The page is well-designed, simple, and includes a clear call to action. It features a video displaying the fine detail of these classic wristwatches that connect subconsciously with viewers' perceptions of their brand.
The quality of the watches in the video convinces consumers that buying from the brand will give them a quality lifestyle. Consumers can experience owning a Rolex watch by watching the video displaying others showing off the watch.
3. Samsung Galaxy
The landing page for Samsung Galaxy Z Flip3 5G is straightforward. It displays beautiful images of the phone, including detailed written descriptions. Other supporting videos provide visitors with additional information, so they can make an informed purchasing decision.
There are also reviews from experts and a product film. The landing page includes a 4-minute introduction to the phone's excellent features.
4. Ferrari
Ferrari is a brand associated with fast sport vehicles. Their landing page video embodies their high-energy personality.
The video displays several scenes, from close-up shots of the beautiful parts of the cars to wide shots of the vehicles moving on roads. The video will instantly hook prospective customers and make them desire the product.
Once visitors land on the page, they're presented with an offer that encourages them to take immediate action. This removes any friction in making a purchasing decision.
5. Hermès
Hermès is one of the world's leading luxury brands specializing in fashion and jewelry. The brand is famous for its wristwatches, bags, perfumes, and jewelry.
Hermès' website offers a brief video showcasing different shades of lipsticks and what they can do for the buyer. It provides the consumer with essential information while including a clear call to action. Hermès' landing page is well-designed with a clear message that conveys its values and mission.
6. Tissot
Tissot is a Swiss Luxury brand. The brand's landing page displays a video that automatically plays once a user visits the page.
The video demonstrates the brand's luxury and elegance, leaving viewers yearning for more. Tissot's landing page also contains precise information about the brand and its offerings.
7. Odoo
Odoo is a suite of open source business apps that covers business needs, including CRM, e-commerce, accounting, inventory, point of sale, and project management. The video landing page of the brand focuses on getting attention, engaging visitors, and converting them into customers.
Oddo displays a brief video on their landing pages with clear text. The video doesn't play automatically; it has a play button that allows users to watch the video at a time of their choosing. The landing page contains specific call-to-actions encouraging users to complete a marketing goal.
8. Screaming Frog
Screaming frog is an SEO site audit tool. The landing page of this brand does the talking without unnecessary information.
The video landing page describes the service, so the customer can make an informed decision. Screaming frog's video landing page works because it provides all the information the audience might want to know.
9. WordStream
WordStream speaks to its audience with a video comparing a person using its services to someone who doesn't. The video is short yet quirky, catchy, and memorable. It gives prospective customers an idea of what happens if viewers don't take advantage of the services offered.
WordStream's video landing page works because it empathizes with a problem and provides a solution. The video plays automatically once a visitor arrives at the page.
The page headline reads "Online Advertising Made Easy," providing the prospect with a glimpse into what the video is about. A clear call-to-action is also included.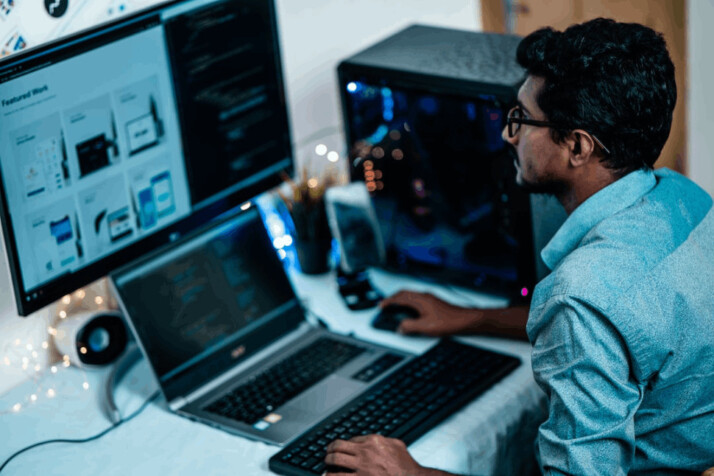 Conclusion
The best video landing pages showcase the unique features or benefits of the product you're marketing in the most entertaining and informative way. Simple videos that engage the buyer on a personal level work best.
If you're wondering how video landing pages convert prospects into paying customers, the examples in this guide are a great inspiration. They can spark your creativity and inspire you to create better video landing pages.
Explore All
Squeeze Landing Page Hero Text Articles