Your wedding website serves as a central location for your guests to obtain pertinent information about your special day. It isn't a place to display those lovely engagement pictures.
You may need to compose a welcome message that visitors to your wedding website will read when they first arrive. Although it may seem unimportant, this statement sets the tone for your wedding.
That's why it's worth the effort to write something straightforward yet emotional and meaningful. As your big day draws near, we're to assist you in creating your welcome message for the wedding website.
That's why, we decided to create this article to help you create your own welcome message for wedding website.
What Is a Welcome Message for Wedding Website?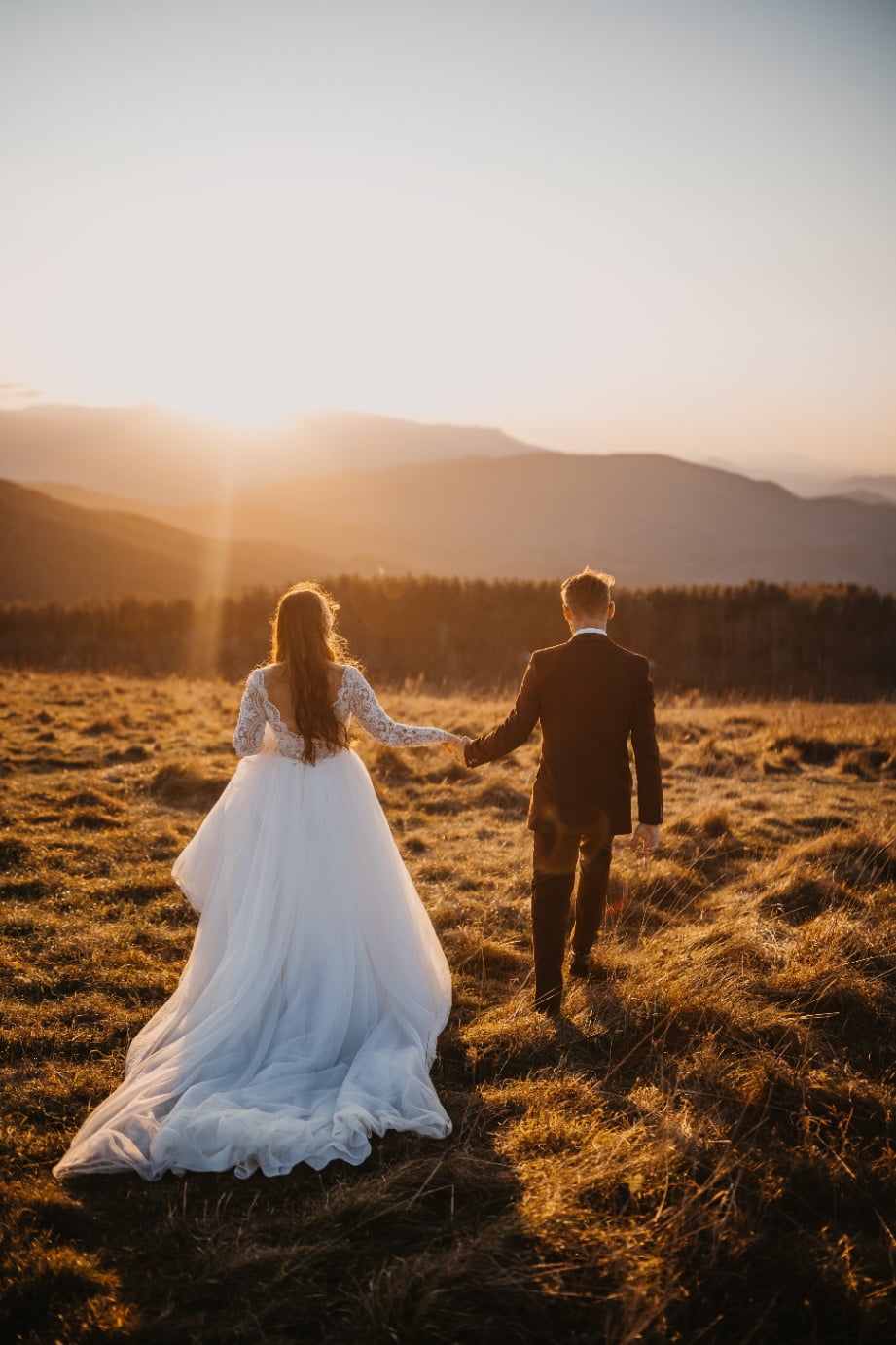 A brief greeting that shows on the website's main page is a welcome message for wedding websites. It's the first thing visitors to your website will see. It may include an engagement picture and a countdown to the wedding day.
Let your family and friends visit your wedding website, share your excitement for the day. Don't forget to ask them to browse the site for vital details.
What Should a Welcome Message for Wedding Website Include?
Avoid becoming bogged down with the message's subject matter. It must be clear and easy to use.
A helpful approach is to think of it as a handbook or as an introduction to the website. It suffices to state what the website is about; you don't need to be specific.
Here are some components that could work if you don't know where to begin:
Begin with a welcome, a catchphrase, or a literary quotation.
Make the page's purpose clear in the website introduction for the wedding.
Describe your website's highlights in your announcement.
Leave a note that piques the user's interest to continue investigating, or offer some navigational advice.
Put reminders for wedding details that you can handle, such as music requests.
Add a signature to personalize it.
When writing a welcome message for wedding websites, we have a variety of choices. We may create a humorous or serious message based on our personal preferences.
Though this is a solemn occasion, the welcoming speech does not need to be uninteresting. To establish a personal connection with your audience, use a witty and captivating message.
You can lighten the mood by using nice words or by including amusing images of the pair. Even some video might be produced as a greeting.
Messages about the loss of personal freedoms are a traditional method to make weddings amusing. You're sure to come across a letter at some time that begins like this:
"You are invited to my ceremony where I shall leave my freedom on the day…"
Welcome Message for Wedding Website Examples
Join Us On the Day We Stop Being a Couple and Start Being Life Partners!
A Love Story That Led Us Here — And We Expect You Here Too!
Thanks for Visiting Our Wedding Website! We'd Love To See You In Our Wedding Day Too!
We Would Love To See You In This Life-Changing Event! You Can Find All The Necessary Info Here!
Come & Share Our Best Day With Us!
Welcome To Nikki & Caleb's Wedding Website! No Invitation Necessary, Just Make Sure You Add Your Name To The List Here!
We Would Love To Have You As a Guest On Our Wedding Day — Find The Venue Below!
Looking For The Wedding of Kevin & Ashley? Look no Further! You Have Landed On Our Wedding Website!
Welcome to Our Wedding Website! Please Scroll Down For More Info About The Destination & Accommodation!
I Want YOU In Our Wedding Photo! Don't Leave Us Hanging, Now!
She Said Yes! Join Us On Our Wedding Day To See Me Seal The Deal!
Fancy Seeing You Here! There Is No Wedding Invitation — If You Are In This Website, You Are Invited! Check Out The Site For All The Information You Need!
Thanks For Joining Our Wedding! Make Sure You Write Yourself Down At The Registry!
Welcome To Our Wedding Website! Here You Can Find Everything You Need For Planning and Scheduling Your Trip Here!
Dear Guest! If You Have Stumbled Upon This Wedding Website, Consider Yourself (+1) Invited!
Accompany Us As We Become A Forever Couple On This Event!
Thanks for Coming To Our Wedding! Don't Worry, We Won't Drag You Halfway to Mexico!
More Welcome Messages
Hello & Welcome To Our Wedding Website! Put Your Name Down On The Guest List And Be With Us On This Special Day!
Make Our Wedding Perfect By Coming To It! We Look Forward With Excitement!
Thanks For Your RSVP! Looking Forward To Seeing You!
Our Love Gets Official On July 25th, So Don't Miss It!
Welcome To Our Wedding Website — Yes, We're Getting Married
Conclusion
Rather than searching around the internet to find a free welcome message to post on your wedding website, try following the steps above. Not only will your website look polished when guests click on the link, but this is also a great way to maintain a consistent message on your website.
Frequently asked questions
How do you write your wedding welcome?
You can put the welcome letter inside a gift box.
Let us know what you think about your welcome letter.
Take a copy at the front desk.
Add fun facts or fun facts.
Style a wedding wedding.
Include your parents
Start writing early
How do you inform a wedding without inviting?
Hope you're doing well. I just wanted to talk about our wedding. We will not be able to invite you. I am sorry. Since we really would like to celebrate with you, we are afraid that we must keep our guest list really small due to budget limits/capacity.
What information should be included in a wedding invitation?
The couple's names
Attire details
Wedding Website address
Additional information about the venue.
Location for ceremony and reception.
RSVP card
Names of hosts
Wedlock and date
What to say to welcome guests at a wedding?
I am (name). Please take your seats so we can officially welcome our guests of honor." "Friends and Families of the _____ and _____, I welcome and thank you for being here on this important day. By joining them in marriage, we are gathered together to celebrate the very special relationship between _____ and _____.".
What should I say to my guests?
You know that a thank you is.. or a "We Appreciate..".
"It's My Life.." / "I am delighted..".
Let us welcome you back again.
No other option
"Welcome…"
What should I write on my registry page?
Since we have lived together for a while, we've created a gift registry of things we need to complete our home. At [insert store name(s)], you can find our wish list. We are so thankful to have you at our wedding!
How do you start a welcome speech?
(choose the time of the event). My sincere gratitude is to stand here and welcome you all to this _________________ (name of the seminar). I, ___________________ (your name), will be walking you through the seminar today.
What do I write on the first page of my wedding website?
Write for guests who might not know you well.
Don't share too many details.
Keep it relevant-even if it's just personality!
Divide it into sections.
Let's tell a chronological story.
Write your own story.
Introduce yourselves
How do you write a wedding scene?
What time and where you are. Decide what month or season the wedding will take place and where it will be held.
Pick the theme
Dress your heroine in a stylish way!
Bridesmaids and groomsmen
The bouquet
Emotions are high
Mardi and escort for weddings.
The vows
How do you tell guests about your wedding website?
Create a simple URL.
Register for the RSVP page.
Save the Dates and mention your wedding website.
Make your wedding website available on wedding invitations.
What to RSVP for.
You may share your wedding website at the engagement party.
Get Your Wedding Party Engaged.
Link to your wedding registry.
How do you write a welcome message for a wedding website?
(Name) and (name) are getting married!
It's finally happening!
(Name) and (name) are fastening!
We're getting married!
It was ringed!
Let's have our wedding.
It's wedding time!
It's party time!
What should I write in my wedding website?
You might want to include details about your first date, your proposal story, and your most memorable experiences from your relationship so far. For guests visiting relatives from distant backgrounds or those with a lot of experience, this section is particularly helpful.
Do you put your wedding website on the invitation?
If you choose to share your site on the formal invitation, add it to the bottom of the invitation to prevent it from being included on the invitation. Organizing your wedding website with enclosure cards and save the dates is another great way to share your website with your guests.
When should you post your wedding website?
Once you have set your wedding date and booked your wedding venue, you should begin writing your wedding website. Publish it at the same time you send save the dates (roughly six-8 months before the wedding day) so that guests can read more about the event and begin planning the trip.