The proper way to begin a healthy work relationship is to make every new employee feel comfortable with their new work environment. A warm welcome can boost employee engagement and build a productive workforce. Crafting the perfect welcome messages to new employees can be challenging, but it's not impossible.
A genuine and friendly welcome message can be an important way to build a bridge for new hires. This guide lists 20 insightful and inspiring welcome messages your new employees will appreciate.
Choose the one that resonates best with you and convey your wishes to new employees.
Welcome Messages to New Employees
An excellent onboarding experience is much more than the message you send to new hires. While a tremendous welcome message is a must, it's also important to reference your company's culture to help educate new employees.
Your employees want to know how they're supposed to act, your company's social norms, and what is expected of them.
New employees are the living embodiment of the "new blood" teams need to achieve success. You can set the stage for new employees' success by creating a solid first impression.
An employee introduction email and a note about your company culture can help connect the latest person to the team.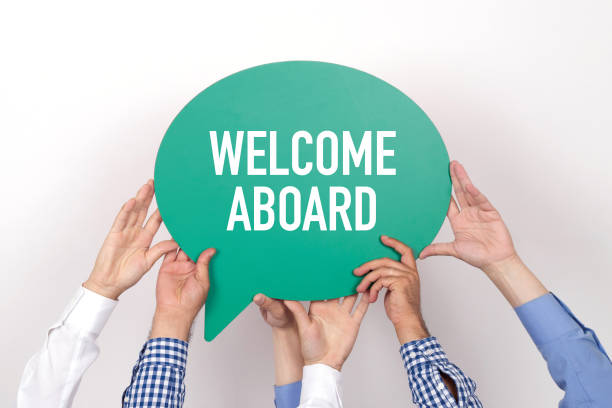 Tips for Crafting the Appropriate Welcome Messages
A company's welcome message is meant to set the tone for the company's culture, vision, mission, and key messages. It is the first message a new hire should receive before they commence work.
A welcome message is an excellent tool to convey your company's vibe and let your employees know where they should be headed.
Every word counts. Outline what you want your new employees to know about your company. Also, include what you want them to believe about their potential.
The following tips will guide you in crafting the best welcome messages.
1. Encourage them to be a change-makers.
New employees joining your company need encouragement to embrace change and build on the company identity. Let them know that their ideas and opinions are welcomed. This will make them confident and motivate them to make changes that will directly impact the company's growth.
2. Empower them to experiment.
Let your new hires know they don't have to be afraid to take chances. Make them understand that no one is perfect, so they shouldn't have the mindset that they must be perfect. Encourage them to take chances and experiment with new things that could help the company.
3. Express your growth mindset.
Welcome messages are a great way to communicate a message of encouragement, optimism, and hope. Your message should let new employees know that there's room for growth, and you're interested in helping them reach their potential.
4. Let them know you're there for them.
New hires need to feel a sense of belonging and know that they're valued members of your team. Your message should let them know they're essential to the team, and they could always ask for help. This way, instead of feeling like a lonely newbie, they'll want to use their talents to support the success of others.
5. Tell them you value their opinions and perspective.
An excellent welcome message conveys that you care and recognize the person's individuality. Your message should signal that you trust their opinions and views and appreciate their unique skill sets and experiences. This way, they'll strive to produce better results.
The Best 20 Welcome Messages to New Employees
Here are the best 20 welcome messages that you could use as a template or inspiration to craft yours.
1. A warm welcome and lots of good wishes on becoming part of our growing team. Congratulations on behalf of all our team members! We are delighted and excited about your contribution and input to our company.
2. Congratulations on your new role! On behalf of the members and supervisors, I welcome you to the team. We are excited about your joining and working with us as a team starting today.
3. A warm welcome! We believe that your remarkable skills and expertise will be a great addition to our team. We look forward benefitting from you!
4. We love to work as a team with creative, enthusiastic people who have a great learning attitude. You fit the bill perfectly! We're excited to have you work with us. The Warmest welcome!
5. Welcome aboard, [Name]! You're among the most efficient and resourceful candidates we've ever hired. We hope you'll enjoy the amenities and ensure your talents are utilized!
Unique Welcome Messages to New Hires
6. We're doing some exciting work here, hoping that your enthusiasm, fresh ideas, and talents will be invaluable to us.
7. Thank you for choosing to be part of the team! We're all working towards a common goal, and your contribution is essential. Congratulations, and welcome aboard!
8. Congratulations and welcome to the company! We believe that what a group of people can accomplish together is much more significant, and will surpass what an individual can do alone.
9. Your talent and skill are valuable to our organization. We hope that you learn and grow with us. Congratulations and welcome!
10. We'll take another pivotal step towards the organizational goals with a talented individual like you. We're looking forward to working with you. Welcome!
Creative Welcome Messages to New Employees
11. We are thrilled to have you on our team. Your creative mindset, skill set, and personality will positively impact our workforce. We hope you enjoy a great time here!
12. We understand that starting a new job can be overwhelming. No worries, we're here to help and support you in every way possible. Please sit back, relax, learn and enjoy the journey with us!
13. We hope you'll surprise us with your ideas and positively influence the organization. We wish you a good time working with the team!
14. Congratulations on joining the team! We appreciate hard work and dedication, and we know you're ready to put in all your efforts right from the start.
15. We encourage our employees to try new things, so don't be afraid to try them. Experiment and learn. We're always available if you need help. Welcome. We hope you enjoy working here!
Inspiring Welcome Messages to New Employees
16. Welcome to our team, [Name]. We chose you from all our applicants because we believe you'll do great things with us. We hope you'll always feel free to innovate, share your thoughts, and help your teammates.
17. We're proud to welcome you with all of your talents, knowledge, ideas, and faults. Making mistakes is essential to growth, so never be afraid to experiment. We aren't perfect, so we hope you'll never worry about trying to be perfect on the job.
18. "Welcome, [Name]! We're proud to have you on our team, and you're one of our best people. We're looking forward to learning and growing with you.
19. Congratulations on taking the next step in your career! We see great things in your future, so we hired you. We hope you'll ask questions, make mistakes and try new things, so we'll all reach new heights together.
20. Welcome to our team! We brought you on because we saw something special in you – a fresh eye that can take our business to the next level. We know you'll make waves, and we're committed to supporting you every step of the way.
To Wrap Up
Whenever a new employee joins your company, they are excited to become a part of your team and want to feel welcome. "Welcome Message" is a simple phrase; however, the meaning behind it is significant in determining how to make employees comfortable.
The fundamental goal of your message is to create the appropriate atmosphere for new hires to become a positive force in your company. Make sure to utilize elements of the welcome messages in this article to leave positive impressions.
Explore All
Welcome Email Generator Articles