"Congratulations, we are delighted to offer you the position…" Everyone looks forward to such a mail after an interview. But such emails ushers in a dilemma that leaves people clueless: negotiation. Not to worry, keep up the celebration mood because we've got a negotiation dialogue sample that would inspire you.

After landing a job, your best bet is to burst out of "the art of war" and strategize your negotiation. This article will suffice in this case because we've got you covered.

We'll offer negotiation tips and show you how to land a raise by saying all the right words. So, keep reading for all the juicy bits.
What To Do Before Negotiation
The preparation preceding a negotiation is more mental than anything else. First, you need to understand the value you offer. Well, as most people would say, know what you bring to the table.

It all starts with how you present yourself at the interview stage. As a strong candidate, chances are that the hiring manager will be willing to negotiate a better salary. Here are a few things to lay the foundation for your negotiation during your interview.
1. Casually Talk About Your Background And Accomplishments
If you don't toot your horns, you'll probably blame yourself later. The " can we meet you " question is an opportunity to tell them what you can do in the most natural way possible.

Don't sound boastful, but put it out there. You are better positioned to negotiate when they understand what the firm stands to gain from you.
2. Confidence
Shyness won't get you far in negotiation. But confidence can open doors to better deals– like an increase in pay. Tell the interview board how your skills and expertise will grow their firm. Sound convincing enough, and they may think you are their safety net.
3. Display Passion For Your Work
A company wants to hire people who genuinely enjoy their work. During your interview, you can demonstrate an excellent work ethic. And love for what you do.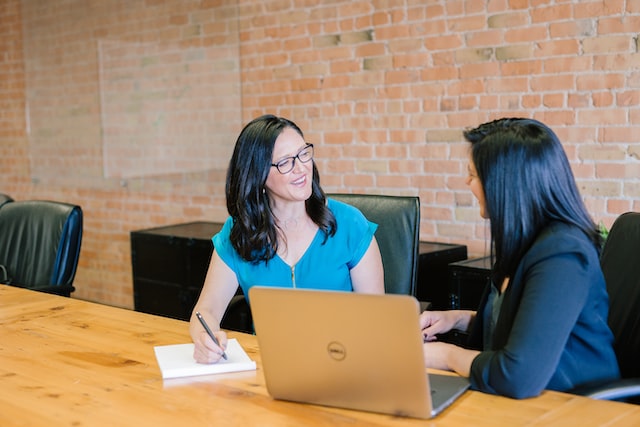 Negotiation Dialogue Sample: How To Respond To Offers.
Your offer letter doesn't stop at this: " Congratulations , we are delighted to offer you the position…"

It goes on to break down your salary and other details. Finally, it leaves room for an acceptance or rejection– and negotiations.

How you will negotiate with your hiring manager hinges on the circumstances of the negotiation. So, we'll play out a couple of scenarios.
1. Counteroffer: the pay doesn't match up to your worth
Keep the counteroffer positive (start with gratitude), but be firm. And ensure it's backed up with thorough market research. You may shoot yourself in the leg if you sound ignorant.

Check this out:

" HI, Meg!

I'm extremely thankful for this job offer and I'm excited to join your team! But after researching the salary range for similar positions in the industry, I believe $70 000 is a fair wage. This is based on my experience, skills, and the value I can bring to your company. I hope we come to an agreement that works for both of us."
2. Play Competing Offer Card (You Must Be Honest)
Never lie about a competing offer! But if you have an offer that beats the current one, that's your jackpot. You can use this as a negotiation chip to land a better salary.

You don't have to name the other company or the exact offer. But it's all a matter of choice.

We suggest you sound like this:

"Hi Chris!

I'm truly appreciative of the job offer and I would be thrilled to join your company. I have been in contact with other companies and I've received an offer of $70 000.

But my enthusiasm for joining your team remains strong.

If you could adjust the salary package commensurately with my credentials, we can come to an amenable arrangement.

Thanks!"
3. Negotiate Your Compensation Package
If you can't boost your salary, you may consider other accompanying packages. It could be your vacation period, remote working, leave days, and other deals that make your life easier. Any win is a win, right?

If you agree, you may draft a message like this:

"Hi Layla!

I appreciate the offer of $ 55,000 salary. However, I am also interested in having additional flexibility with regard to my vacation time. In addition, I would like to revisit my compensation after a few months. Ultimately, this could provide me with further incentive and motivation to excel in this role. Does this arrangement seem agreeable?"
4. Ask For A Raise Or Promotion
You guessed right; this is for existing employees. After years of service and dedication, you have become a valuable asset to your company. Time to negotiate a raise.

Here's how we would have done it if we were in your shoes:

"Hi Sandy!

I've had a great time working at Crown Industries, and I believe my achievements reflect the industry standard of an experienced professional. As such, I am seeking a salary increase that properly reflects this level of experience. If granted, I would be grateful for your support and look forward to continuing to make meaningful contributions to our organization."
Conclusions
Negotiation dialogues require both skill and finesse.

Having the right words and knowing how to use them is critical for successful negotiations. You can become a better negotiator with practice and knowledge of negotiation techniques.

Remember that it's not just about winning or losing. Effective negotiation is all about building relationships and reaching mutually beneficial solutions.

Use the negotiation dialogue sample above to improve your salary offer!
Explore All
Write Negotiation Letter Articles