Email marketing remains one of the most effective ways to keep in touch with your target customers.
It empowers customers to be a little more accepting of you. They can decide whether to take action on what you are offering or ignore it. Flash sale is a promotional tactic that has thrived over the years, and the results are evident. It is an exclusive offer that entices shoppers to buy. This guide's flash sale email ideas will help you attract new customers to purchase.
Flash sales increase brand visibility, product demand, and lead conversion, while reducing inventory. Despite the various benefits of this promotional tactic, if it's not done right, it can have a negative effect on your business. This can harm your brand's image, affect profits, and discredit loyal customers. Knowing how to craft appropriate flash sales emails is essential. This guide teaches how to create effective, personalized flash sale emails while avoiding pitfalls.
What is a Flash Sale?
A flash sale is a discount or promotion offered by an e-commerce store for a short time, usually 24 – 48 hours. Flash sales can increase your transactional rate and get your website flooded with users and customers interested in your brand.
A flash sale is a cost-effective marketing tactic for e-commerce stores. The short promotional period can boost your sales significantly. A flash sale strategy aims to attract online shoppers to buy, increase short-term sales, and sell surplus stock.
What Is A Flash Sale Email?
A Flash sale email is an open loop email telling shoppers to buy your product at a discount. As the name suggests, it is a flash. It means that the discount is offered for only a short period. Flash sale emails should be simple yet convincing enough to attract customers, especially those without prior buying intentions.
A flash sale email aims to attract people's attention and drive recurring sales. This strategy creates urgency, so your audience will want to act quickly before the deal runs out.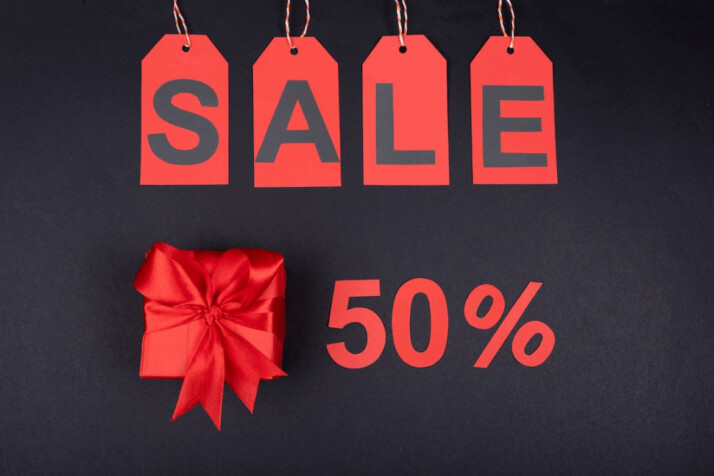 How To Write Effective Flash Sale Emails
Straight to the point is the philosophy for these emails — crafting them most efficiently for their ultimate success. They typically have a short introduction to what the flash sale entails. And then a more detailed explanation of the offer at the end of the email.
Creating your email sequence for a flash sale can be a challenge. It's always recommended that you develop a plan for your promotional campaign. The sequence can involve the following:
Before the flash sale commences
When the flash sale has already kicked off
Changing flash sale dates
Extending the flash sale date
When delivering your flash sale email, you should do so in about five major stages:
1. Awareness Stage
This is the first email you'll send out to your subscribers. It is where you provide a general background information on the sale. The email content should include your reason for the sale, the sale's date, how long it will last and how deep the discounts are.
Avoid making the email too long, since you will be sending multiple emails in a short period. The awareness email is usually sent about two or three days before the sale commences. The theme for this email looks more like a sales pitch to the customers.
2. Follow-Up Emails
It would help if you kept in touch with the customers that responded and made them aware of the upcoming deals. This leads them to roll over and act quickly to get their free promise or discount.
You can also have a few genuinely interesting texts, such as hot topics or some news about the product you are selling. This helps you keep your customers up to date with what's going on with your deal.
3. Launch Phase
This is when you email your customers and subscribers, notifying them that the sale has commenced or is about to commence. This email may include a teaser and a link to a special promotion landing page they can visit. Here you'll make it clear what the promotion entails.
Present your audience with other value-added benefits to your product. Your message should be concise and enticing, expounding a little bit about the deal but persuasive enough to get subscribers to participate.
4. Last Day Stage
This is applicable if you are running a flash sale for several days. Usually, most people prefer to buy on the last day when everyone is rushing to buy. It is very easy for people in this category to forget. Therefore, it is convenient that you send your customers the last-day email to keep them engaged and prevent them from forgetting. When sending this email, let it contain all the content in your awareness stage.
5. Final Call Stage
This final flash sale email aims to motivate and persuade your subscribers to action. The email should create a sense of urgency in your audience. You can do this by telling them that the deal will end in a few hours. This strategy may coerce some of your customers into buying the deal. In addition, this email must contain promotional offers, the product on sale, and the time the deal ends.
Flash Sale Email Ideas: Appealing Subject Lines
The subject line of your email significantly impacts the open rate your email receives. Writing a good subject line is one of the essential parts of an email marketing campaign. A catchy subject line wins over customers and increases the chances of them opening your email. To elicit responses, you may use appealing emojis, including the sale's duration and "discount" in the subject line.
Consider the following email subject lines popular brands used to increase flash sale open email rates.
Grubhub: Get $15 off. Breakfast is calling
Sony: Big Summer Sale
Nissan: Weekend sale. The inventory you need to see
Converse: Ending in 24 hours: 25% off site wide
Sephora: Last day: Pick your five faves
Miss Selfridge: Stop EVERYTHING! Up to 50% off ALL Dresses
West Elm: THIS SALE IS LIT 20% off all lighting
Conclusion
Everyone loves discounts, and this is why flash sale emails are effective. However, the email must be intriguing and persuasive enough to cause the recipient to take action. Point out the benefits of the products and make the offer captivating so that your prospects cannot resist.
A well-crafted flash sale email will cause customers to buy, often increasing revenue and profit. Use this guide's flash sale email ideas to craft the most appealing email ever!
Explore All
Sales Letter Articles