It's not always easy to give an accurate and complete picture of a former employee with just words.
Most employers would rather have something more concrete to work with — like a company reference letter. This document can be very helpful for the employer. It provides specific examples illustrating how well the applicant has done in their previous role.
This article explains how to write an employee reference letter in detail.
How to Write an Employee Reference Letter
Writing effective company reference letters isn't always straightforward. Below, we have tips to help you draft them the right way.
Introduce Yourself
You should start by introducing your relationship to the applicant and state your job title or position within the organization. This gives the new employer an idea of your scope of influence and authority.
Include Specific Examples of the Applicant's Work
When writing a company reference letter, it is important to include specific examples of the applicant's work. Employers want to know what an individual was responsible for in their previous role and how they performed.
Avoid Negative Comments
It is best to steer clear of making negative comments in your reference letter. It doesn't matter if they left on bad terms, try and frame things in a positive way.
Highlight Their Strength and Avoid Being Generic
Good recommendation letters should highlight specific achievements or contributions that the applicant made while working at the company. Use strong adjectives to describe their strengths (eagerness to learn new skills, motivated individual, takes the initiative etc.), and avoid being overly generic.
Use quantifiable information whenever possible (e.g., "led team of X professionals," "managed a budget of Y," etc.). Including this shows the applicant has the experience needed to succeed.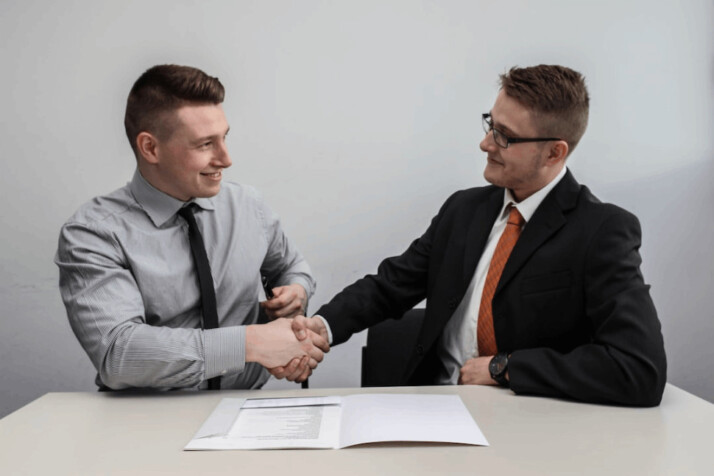 Explain Why You Think the Applicant Will Be a Good Fit
The final part of the letter should capture why you think they will be a good fit for the new role. Keep it short and to the point.
Examples of Good Company Reference Letters
Knowing how to write an employee reference letter only in theory may not be enough. Here are some practical examples of what it should look like.
Template 1
Dear [Name],
We are writing to provide a reference for Robert Green. We have had the pleasure of having him as part of our team for the past two years.
He is an exemplary employee and has been consistently reliable and dedicated to his work. In addition, he possesses an impressive knowledge base in his field that would be difficult to find elsewhere. His skill set is highly sought after by employers, making him a valuable asset in any workplace.
It's been a great honor to work with him, and we wholeheartedly recommend him for any position he may be seeking. If you need more information, please contact us at your earliest convenience. Thank you for your time and consideration.
Best,
Sam Edward
Template 2
To Whom It May Concern,
It is with great pleasure that I write this character reference for Jane Doe. I have worked with Jane for the past ten years in a number of different roles. She has consistently impressed me with her intelligence, creativity, and work ethic.
In every setting, from large team meetings to one-on-one interactions, she has always been respectful and considerate of others. Her positive attitude is infectious, and colleagues often seek out her input on projects due to her thoughtful approach to problem-solving. As an individual contributor or as a leader, Jane's skills are evident in both written communications and oral presentations. She delivers with poise and confidence.
She would be an excellent addition to any organization seeking someone who embodies integrity combined with exceptional ability in the workplace. You can contact me if you require any additional information about Jane's qualifications or experience. I am happy to speak further on her behalf at your convenience.
Regards,
Maxwell Austin
Template 3
Hello [Employer],
I am writing to provide a reference for Juliet Stones. I have known and worked with her for over six years now. Throughout that time, she has consistently displayed excellence in every task that she undertakes. Her knowledge base is extensive and up-to-date, her work ethic is exemplary, and her client interactions are always positive.
She truly cares about providing the best possible experience for those around her, both clients and coworkers alike. Given all of this, she would be an excellent addition to any company or team. If you need further information, you can contact me at your convenience. We are happy to provide any information needed. Thank you very much for your time.
Sincerely,
John Locke
Template 4
Hello [Name],
I am extremely pleased to write this reference letter on behalf of my colleague and friend, Sam Hurst. I've worked with him for almost two years now. Without a doubt, I can say that he is one of the most dedicated professionals I have ever met. His work ethic is impeccable, and he goes above and beyond to get things done. In addition, he's an excellent team player who never hesitates to lend a helping hand when needed.
If you are considering hiring him, I wholeheartedly recommend giving him the job. He would be a great asset to any organization lucky enough to hire him. If you need further clarification about anything stated here, please contact me at your earliest convenience. Thank you for your time and consideration in this matter.
Best,
Ben Rogers
Final Thoughts
As you have probably noticed, completing employee reference letters is not a hard task to complete. This is because they are often easy to write. Keep in mind that with a reference letter, you are highlighting to a company the strengths of a potential employee. This not only helps them but also makes the company feel comfortable that the applicant will make an effective employee.
For letters like the ones above and more, you should use the Hey INK tool. It helps users write different types of content with a simple prompt. The templates above were generated with the tool. You should also try it out now.
Explore All
Write A Good Reference Articles