An executive summary is a vital part of every business plan. It introduces and summarizes essential aspects of your business plan to the reader. An effective executive summary grabs the reader's attention, keeps them interested, and gets them to look at the rest of the business plan. The cafe executive summary sample in this guide should get you on the right track.
A coffee shop is an important business with a lot of competition, so it can only be approached with a business plan. An executive summary is typically written after the entire business plan has been drafted. This enables for proper capturing of all key information. This guide will teach you how to write the most captivating executive summary.
What Is an Executive Summary?
An executive summary is a brief overview of a business plan. It typically includes information about the business concept, target market, target location, competitive advantage, financial projections, and management team. The executive summary prepares the mind of readers and hints at what is to come.
Typically, investors don't have the time to read the entire business plan. Therefore, catching their attention with an exciting summary will compel them to read the rest of the plan.
What Should a Cafe Executive Summary Contain?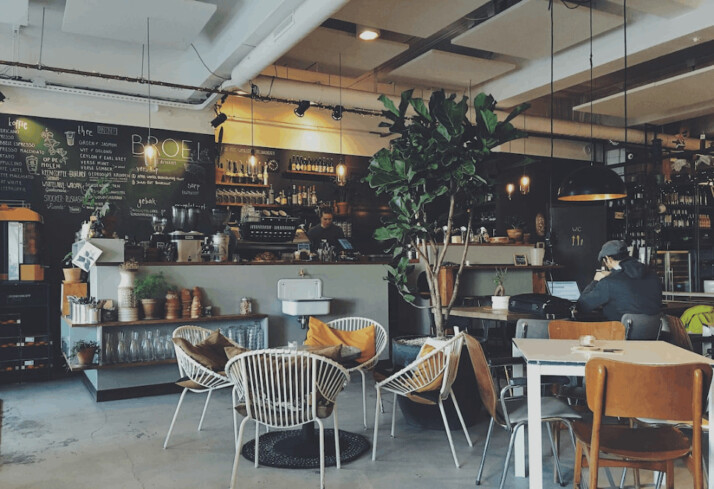 A cafe executive summary is a brief overview of a business plan that highlights key points and objectives. It should be direct and convincing and provide readers with a clear understanding of the cafe's modus operandum. It should also give readers a sense of the business success and profitability.
The following are important details the executive summary should contain:
The cafe's name and location.
Your target market, including the demographic and geographic area the cafe will serve.
Your cafe's uniqueness or what sets it apart from competitors.
A description of your cafe's menu and any unique or special serving.
Your cafe's operational plan, including your opening and closing time, hours of operation, staffing, and equipment.
The financial plan, including projected sales, costs, and profits.
Goals and objectives of your cafe, such as increasing customer traffic or expanding to multiple locations.
The management structure of your cafe, including the names of your partners or investors.
Cafe Executive Summary Sample
Example 1: Cup of Joe Cafe
Cup of Joe is a new coffee shop located in the heart of downtown. We offer high-quality coffee, espresso drinks, a selection of fresh pastries, and light breakfast and lunch items. Our target market is young professionals and students in the area. And individuals looking for a convenient and comfortable place to meet, work and socialize.
At Cup of Joe, we are committed to providing exceptional customer service and a welcoming atmosphere. Our unique selling proposition is that our coffee beans are sustainably sourced and roasted locally, ensuring the highest quality and taste. Our menu features a variety of classic and specialty drinks and a selection of sandwiches, salads, and pastries.
We will operate seven days a week, from 7 am to 7 pm. And will have a staff of six trained baristas to ensure timely and efficient service. Our cafe will be equipped with a state-of-the-art espresso machine. And a variety of seating options, including comfortable chairs and tables and a cozy lounge area with sofas and a fireplace.
Our financial plan projects annual sales of $500,000, with a net profit of $150,000 sum. We seek an investment of $100,000 to cover start-up costs, including equipment, renovations, and working capital. The ownership of Cup of Joe will be split equally between its three founders. These individuals have 15 years of experience in the coffee and hospitality industry.
We aim to establish Cup of Joe as a popular and thriving coffee shop downtown. Our passion for coffee, commitment to quality, and focus on customer service will set us apart from competitors.
Example 2: Joe's Coffee
Joe's coffee is a new coffee shop in the heart of New Orleans. We serve specialty coffees, pastries, and light breakfast and lunch items. The cafe is open from Monday through Friday from 8 am to 4 pm.
Location: Joe's Coffee is on Carondelet Street in New Orleans' Central Business District at 823 Carondelet Street, Suite 101.
Menu. The menu includes espresso drinks like lattes and cappuccinos, cold brew coffee, tea selections, and pastries like croissants and scones. Plus, breakfast sandwiches and soups for lunchtime diners.
Executive Members:
Owner/Operator: Joe Benson
Manager – James Hilary
Head of operations: Anita Baker
Chefs: Monroe Peter, Jasper Rock, Leslie Jones
Financial report. In its first month of operation, Joe's Coffee had net sales of $2,000 and incurred expenses totaling $1,600 sum. This leaves the business with an operating profit of $400 in its first month.
Final Words
First impressions are long-lasting; they impact the readers and help them build an interest in your business plan. Your cafe executive summary is the first impression on your readers, so it's essential to give it your best shot.
Be as original as possible and communicate everything your cafe entails. You can generate a compelling executive summary in a few seconds using Hey INK. Just like the cafe executive summary sample in this guide.
Explore All
Write A Project Summary Articles