It's easier than ever to find qualified and high-growth prospects seeking what you have to offer. Unfortunately, it's more complicated than ever to figure out how to leverage these opportunities. In this post, you'll learn how to write an account executive sales job description to help your sales team succeed.
Creating a job description for your sales team is critical, given their roles in business success. But how do you curate the perfect job description for your team? We will answer this question shortly.
However, let's start with the fundamental question:
Who Is A Sales Account Executive?
An account executive oversees customer accounts in the retail, finance, manufacturing, or marketing industry. They work with existing clients to optimize their experience with the company's services and learn about new clients.
Furthermore, they are responsible for managing and growing a sales team to generate more revenue for the company.
Account executives work as salespeople, assisting with maintaining existing accounts (customers) and developing new ones. Most times, they work with account managers and sales representatives.
What Are The Roles of A Sales Account Executive?
Manage Key Accounts
Their primary duty is to manage client satisfaction. To achieve this, account executives oversee key client accounts and optimize them for maximum customer service.
Relate To Customer Needs
It is often said that companies cannot sell by themselves. They need account executives to provide adequate product information and care for customers' needs. Hence, sales account executives handle customer needs and meet customer service expectations.
Manage Complaints and Resolution of problems.
They ensure that all customer issues are addressed appropriately. So, they respond to customer sales inquiries and offer excellent customer service.
Identify Prospects
A sales account executive is responsible for identifying leads and executing effective conversion strategies. Additionally, they facilitate the sales process for better conversion.
Managing Time And Budget Requirements
The saying "time is money" is a watchword for sales account executives. They make strict organization guidelines that are time and cost-effective. Consequently, time management skill is a major requirement for hiring a candidate for this role.
Keep Abreast With the Latest Features And Product Launches
No one stays abreast with the latest company trends as much as a sales account executive worth their salt. They need to be up to date with product launches and recent product features.
Account Executive Sales Job Description Template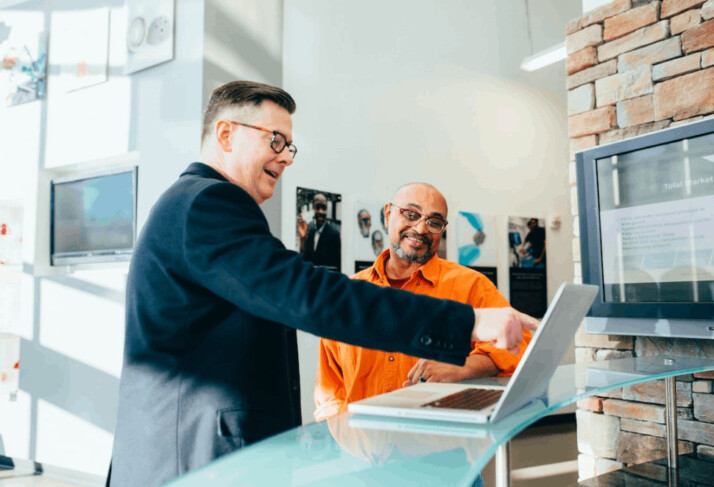 A skilled Account Executive Sales professional is needed to join our team and help accelerate our business growth!
As an Account Executive in Sales, you will be the face of our company and responsible for driving sales success. To develop relationships with customers, you must demonstrate a passion for building relationships that provide clients with exceptional service.
Utilizing your experience, you will design personalized solutions that meet customer needs, then follow up by closing sales and providing ongoing support. Moreover, your focus on understanding customer objectives will prove essential to meeting business goals.
You'll be expected to create powerful pitches using colloquial language. And showcase persuasive communication skills as you identify new leads, make presentations and negotiate contracts.
Furthermore, utilizing your comprehensive industry insight, you will facilitate strategic partnerships with clients and monitor competitive activities. Creativity and initiative are essential traits required to succeed in this role.
Lastly, a keen eye for detail and the ability to innovate when needed will also be paramount. With dedication, resourcefulness, and commitment to excellence, you can ensure great success for both yourself and the organization.
You'll need the following qualifications:
5 years of experience as a Sales Account Executive or similar role.
A strong speaking and writing skill set.
Confidence, tact, and persuasiveness.
The ability to present and negotiate strongly.
Having the willingness to work long hours and often under pressure.
The ability to manage time and organize well.
Knowledge of MS Office and CRM software.
Pro Tip For Drafting a Sales Account Executive Job Description
You need to consider some factors before writing an account executive sales job description.
For instance, what is your work culture? Company sales goals? Is your company considerably small, or is it a highly competitive corporation? What are your brand values?
Your job posting should reflect these specifications. Crafting the best-personalized job posting could be difficult. But with the INK writing AI tool, you can draft a job description infused with your brand voice with minimal effort! Ready? Give it a try!
Explore All
Write Job Descriptions Articles