As the complexity of projects and teams increases, so does the importance of a well-defined agile product owner job description. From defining objectives and goals to overseeing stakeholder management, an agile product owner plays an integral role in the success of any project.
This article takes an evocative look at an agile product owner's job description, from required skill sets and qualifications to essential duties and responsibilities.
Responsibilities of an Agile Product Owner
Below are some of the primary responsibilities of an agile product owner:
Maintain a Clear Vision
The product owner needs to understand customer experiences, market trends, and business objectives to create a clear vision for the product. This helps guide the development team when completing the backlog and deciding which tasks should be prioritized first.
Prioritize Work Backlogs
The product owner is responsible for building and maintaining the product's work backlog. They need to be able to weigh options quickly and effectively, so that tasks are completed in the correct order.
Collaborate With Scrum Team
Within the scrum team, the product owner must work closely with the development team throughout all stages of product creation. They must provide guidance on features and functionality based on user feedback and market research.
Define User Stories
The product owner is expected to define user stories. These are brief descriptions of what a user wants from the software that the development team can then implement. These should clearly explain why each feature is essential and how it fits into the bigger picture of the project.
Test & Accept Deliverables
After the development team has finished working on a feature, the product owner needs to test it thoroughly before accepting it as complete. This ensures that any bugs or issues are fixed before releasing it to users.
Manage Risk Mitigation Strategies
One of the key responsibilities of the product owner is managing risk mitigation strategies. This involves identifying potential risks that could disrupt the workflow or delay delivery, then taking proactive steps to reduce or eliminate them.
Demonstrate Technical Skills
To be successful, the product owner needs to have strong technical skills related to software development, design, and UX/UI principles. They should also possess excellent communication and problem-solving abilities.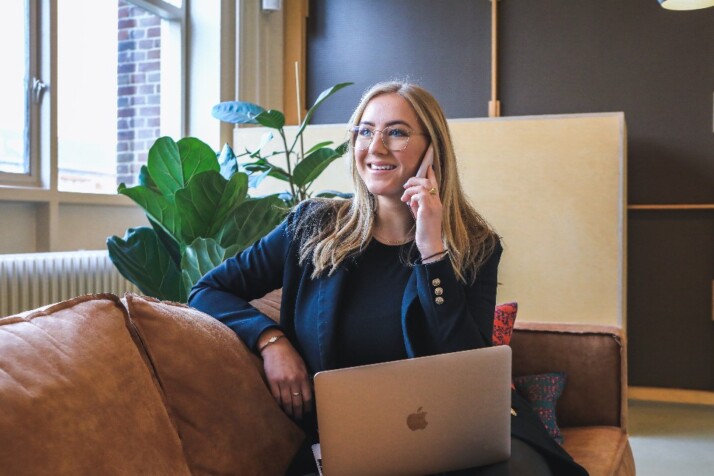 Key Qualifications of an Agile Product Owner
We have outlined below some of the key skills and qualifications of an agile product owner:
Ability to distill complex product goals and strategies into tangible user stories
Solid understanding of the agile development process
Experience with Agile Release Planning, Sprint Backlogs, Continuous Integration, User Stories, and Acceptance Criteria
Adept at juggling multiple projects while still meeting strict deadlines
Possess excellent communication and people skills
Highly skilled in gathering customer feedback and translating it into actionable tasks for development teams
Empathetic to users' needs and requirements, yet able to maintain focus on long-term objectives
Excellent organizational and problem-solving capabilities
Versed in emerging technologies and trends that could benefit the product or team
Agile Product Owner Job Description Example
Here's an excellent example of an agile product owner job description that clearly outlines the essential skills and duties of the position:
Job Description Example:
We're looking for a creative and agile Product Owner to join our innovative team. You must have the excellent ability to work collaboratively in a fast-paced environment, as well as juggle multiple projects with exceptional accuracy.
Responsibilities:
Develop a sound product strategy and roadmap; manage the product lifecycle from conception to delivery
Lead user story creation and grooming process
Work closely with developers to ensure the efficient execution of projects
Proactively identify any risks or issues associated with product development
Identify areas of improvement and monitor KPIs against defined targets
Actively engage stakeholders and customers to understand their needs
Skills/Qualities:
Extensive experience working within an Agile framework
Strong technical understanding of software development processes
Ability to effectively prioritize tasks and meet deadlines
Excellent communication skills and a detail-oriented mindset
Proficiency in project management tools like Confluence, JIRA, etc.
Culture/Benefits:
At XYZ Company, we offer a relaxed yet professional atmosphere that encourages creativity and innovation. We provide competitive salaries, ample vacation days, and employee benefits. Most importantly, you will be part of a diverse team that is committed to making a lasting impact on our products and services. If this sounds like the perfect opportunity for you, apply now!
Wrapping Up
An agile product owner plays a critical role in the successful implementation of Agile projects. It requires a blend of technical skills, business acumen, and leadership capabilities to manage product backlogs and prioritize tasks for effective delivery.
An ideal candidate should have knowledge of Agile frameworks and principles, be able to collaborate with stakeholders, and possess problem-solving skills. With the right qualifications and aptitude, an agile product owner can successfully meet the challenges associated with this dynamic position.
Explore All
Write Job Descriptions Articles