Having a clear and comprehensive template for your auto mechanic job description can assist you in recruiting and retaining dependable technicians.
The job duties for an auto mechanic will vary depending on their location, the type of work, and the company for which they work. Learn more about the qualifications and responsibilities in the job description for this position.
Who Is an Auto Mechanic?
An auto mechanic is someone who performs maintenance and repairs on motor vehicles. They provide service for various cars, vans, trucks, and other vehicles.
To become an auto mechanic, one typically needs education in automotive mechanics and experience with the tools and components. Auto mechanics provide customers with clear and detailed information about their vehicle's problems and what needs to be done to address them.
What Makes a Good Auto Mechanic?
A good auto mechanic should possess various skills and abilities to ensure safe, reliable, and complete repairs.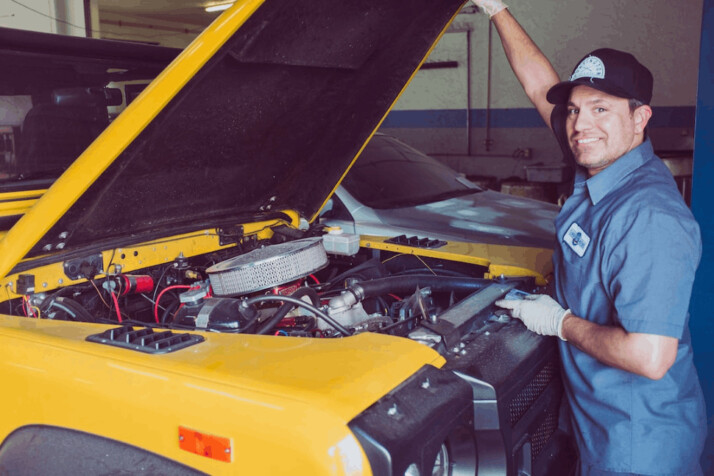 1. Ability to Maintain and Inspect All Components
It is essential that they can maintain and inspect all components according to the standard template provided by their management.
2. Knowledgeable in Advanced Body Repair
They should also be knowledgeable in advanced body repair and be able to determine when preventive maintenance may avert future problems.
3. Clear Communication
An auto mechanic needs to have clear communication abilities with customers and managers alike.
4. Tools and Supplies
An auto mechanic must have the right tools and supplies to do their job properly. Forgetting something could lead to delays or complications during the repair process.
5. Detail-Oriented
They must also be detail-oriented, ensuring that all duties are completed as required and no component is forgotten or overlooked.
A good auto mechanic should also have a certification or certificate equivalent to the state standards. This is necessary for employers to hire, keep, and reach better-qualified mechanics in an ever-growing free market of opportunities.
Ultimately, an experienced and knowledgeable auto mechanic can provide peace of mind for customers knowing that their cars are in good hands.
Essential Skills and Qualifications of an Auto Mechanic?
A qualified auto mechanic must possess various essential skills and qualifications to succeed. According to industry standards, mechanics must demonstrate proficiency in mechanical systems and excellent problem-solving abilities. Here is a list of some basic skills that an auto mechanic should possess:
Knowledge of automotive components, such as engines, suspension systems, brake systems, electrical systems, transmission systems, and exhaust systems
Able to identify problems quickly and accurately using diagnostic tools and testing equipment
Excellent troubleshooting and problem-solving skills
Ability to provide preventive maintenance services according to standard procedures
Understanding of essential automotive tools and components
Able to read, comprehend and follow detailed instructions from manufacturers' service manuals and technical bulletins
Maintain a clean work area and adhere to safety protocols
Possess a valid driver's license and be able to drive vehicles according to state laws
Possess an Automotive Service Excellence (ASE) certificate or equivalent certification
Ability to inspect, maintain and repair all body parts on the vehicle
Able to use reliable tools to ensure safe and efficient repairs.
In addition, some employers may require additional certifications or qualifications, such as advanced diagnostic abilities or knowledge of electrical and computer systems.
A qualified auto mechanic job description should also state any employer-specific requirements and employee benefits and promotion chances.
To provide the best service, and reduce risk, hire a leader in automotive management and provide them the tools to teach their workforce.
Template: Auto Mechanic Job Description
Company XYZ seeks a reliable and experienced Auto Mechanic to join their growing team. The ideal candidate will possess the necessary technical knowledge and experience to diagnose, repair, and maintain vehicles of all types. They must have an eye for detail, excellent problem-solving skills, and superior customer service aptitude.
A successful Auto Mechanic with Company XYZ should be able to explain complex vehicle maintenance processes in clear language to customers and staff alike. As such, he or she must display strong communication and interpersonal competency. Knowledge of modern technological advances of vehicle mechanics will be invaluable when troubleshooting issues.
Duties include but are not limited to inspecting vehicles for malfunctions; performing routine maintenance tasks like oil changes, fluid levels checks, tire rotations, etc.; replacing defective parts with new or reconditioned ones; diagnosing complicated mechanical problems using computerized diagnostic equipment; keeping accurate records of repairs made; providing estimates for future work; and maintaining shop tools and equipment. Additionally, this position requires candidates to comply with safety regulations and laws governing automotive repair.
The ideal individual should bring a high level of expertise and enthusiasm to learn about the latest developments in the auto industry. If you fit these requirements, please apply now!
To Wrap Up
An auto mechanic job description can help determine the ideal potential for the position. In addition, include the reward for continued success and 401k benefits, as well as other opportunities and positions offered by the company.
Explore All
Write Job Descriptions Articles