Welcome to the world of building maintenance technicians! They are the unsung heroes of the building industry. Not only do they keep building structures in tiptop condition, but they also have a knack for troubleshooting and solving problems.
If you have an eye for detail and like working with your hands then this building maintenance technician job description is for you!
Who Is a Building Maintenance Technician?
A building maintenance technician inspects, maintains, and repairs building structures. This includes everything from the building's exterior to its interior.
They may also be required to install or replace parts such as light fixtures, plumbing systems, doors, windows and more. In addition, they are in charge of ensuring all building equipment is running smoothly and scheduling regular preventative maintenance checks.
Tasks & Responsibilities
The building maintenance technician job description starts with identifying potential problems before they arise. This means
spotting wear and tear on building fixtures
checking safety features like smoke detectors and fire alarms
performing tests on HVAC units
replacing filters in air conditioning units
tightening loose screws or nuts
and even repairing window screens or door frames.
To do this job properly, building maintenance technicians must be;
organized
detail-oriented
have experience with essential building tools like drills, levels, and tape measures.
They should also be familiar with building codes and regulations for their area to make sure the building is up to standard.
Finally, building maintenance technicians must be able to communicate effectively with building owners and managers. This is to ensure a smooth transition when repairs or replacements are needed. This means having good customer service skills and keeping detailed records of tasks performed for future reference.
Skills and Qualifications for a Building Maintenance Technician Job Description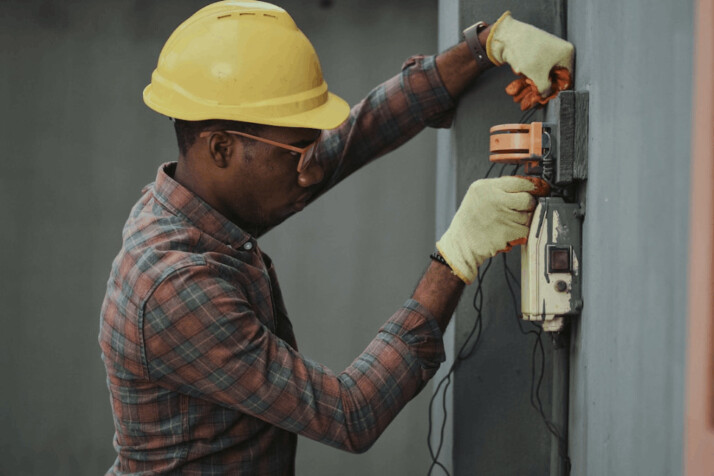 The building maintenance technician job requires a high school diploma or equivalent and experience in building maintenance. Those looking to become building maintenance technicians should have good customer service skills.
They should be organized and detailed, and possess basic knowledge of building tools knowledge. They should also be able to read blueprints and understand construction materials and building codes.
Finally, building maintenance technicians must be able to work independently and as part of a team when needed.
Salary Expectations
The building maintenance technician job usually pays around $15 to $20 an hour depending on the size of the building and its location. In addition to hourly pay, building maintenance technicians may also receive overtime pay or benefits such as health insurance, vacation days, and more.
FAQs
Q: What Kind of Building Maintenance Technician Jobs Are Available?
A: Building maintenance technicians can work in various settings, ranging from residential complexes to large office buildings. They may also specialize in specific building systems such as plumbing or HVAC.
Q: Is Building Maintenance Technician Job a Full-Time Position?
A: It depends on the building and the needs of its owners or managers. Some building maintenance technician jobs may require various shifts, while others will be on call only when needed.
Q: What Do Maintenance Technicians Do?
A: Maintenance technicians generally perform routine maintenance tasks. They also assist with troubleshooting and repairing mechanical and electrical problems within their departments. Then, they support outdoor equipment.
Q: What Are the Duties and Responsibilities of a Maintenance Technician?
A: A Maintenance Technician inspects buildings, equipment, and systems for any issues. Components that need repair are faulty equipment or damaged structures.
Additionally, the facility and grounds are maintained by maintenance crews. In addition, these facilities perform periodic quality checks on all equipment and systems to ensure they meet the standards.
Q: What Makes a Good Maintenance Technician?
A: Maintenance technicians will have excellent time management and problem-solving skills, great attention to detail, and be proactive. A good Maintenance Technician must also be comfortable in a team environment and possess excellent verbal and written communication skills.
Q: What Kind of People Do Maintenance Technicians Work With?
A: Maintenance Technicians can work independently and report to Building Supervisors, Facilities Coordinators, or other Maintenance Technician colleagues. This depends on the size of the building or company.
Conclusion
If you have the right skills, being a building maintenance technician might be the perfect job for you! It's a great way to combine physical labor and responsibility.
Plus, it's a rewarding role that can bring satisfaction with every building repair or project completed. So if you think the building maintenance is something you want to do, start building your skills today!
Explore All
Write Job Descriptions Articles