Carpenter job description for resume can either be a catalyst for your career or a barrier.
When written correctly, it lands you a job. On the flip side, a lackluster resume can lead to a series of failed attempts.
What do you need to include in your resume to make it stand out from the pool of candidates?
This article answers this question and establishes a Carpenter's role. It also contains samples of job descriptions for resumes to help secure your next job.
Let's dive in.
Who Is A Carpenter?
Carpenters are, in general, tradesmen engaged in the construction of buildings. These individuals play a vital role in building structures on a stone or brick foundation.
They provide their client with an aesthetically attractive design and structurally sound building. In addition, Carpenters are responsible for ensuring that the construction gets completed on schedule and serves the client's purpose.
They often handle the initial inspection of building construction. Moreover, these experts manage all the materials before construction begins. And they secure the materials throughout the construction period to prevent structural damage. Carpenters inspect the structural integrity of a building at different stages of construction. This ensures that all wood and building materials are sturdy, authentic, and safe.
Tips To Writing A Carpenter Job Description For Resume And Winning Bids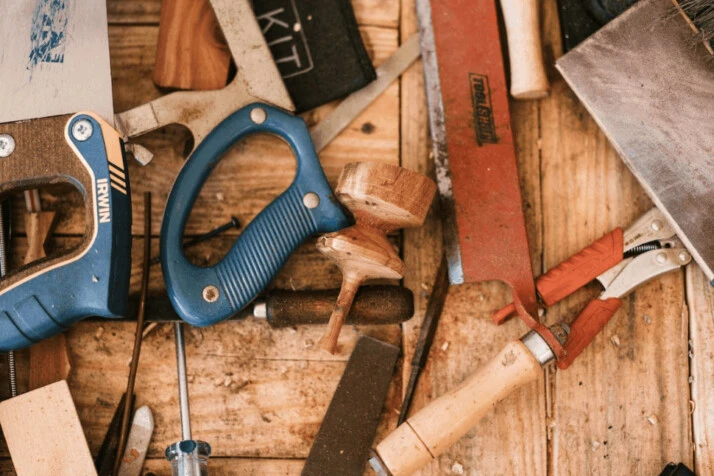 Compose a succinct and persuasive job description highlighting your skills as a carpenter and the benefits of hiring you.
Mention years of experience in carpentry, woodworking, related jobs, and any certifications or specialized training.
Display any areas of expertise such as furniture making, cabinetry, home renovation, etc.
Cite success stories that demonstrate how you completed projects within timeline and budget constraints.
Explain why employers should hire you by emphasizing the value of your work and stressing attention to detail and precision.
Provide accurate measurements for tasks such as cutting and joining materials.
Describe necessary tools and equipment you are proficient with and note familiarity with safety procedures.
Detail potential difficulties during installation or repairs and offer solutions for them.
Template of Carpenter Job Description For Resume
Sample 1
I am a skilled carpenter with more than a decade of experience in the field. Over the years, I have built furniture, cabinets, and other wood products for commercial and residential settings. My work is always completed on time, within budget, and to the highest quality standards. Moreover, my attention to detail is unparalleled.
I have worked on projects ranging from small-scale repairs to complex builds throughout my career. No matter the job's scope or complexity, I can deliver reliable results. What's more, I'm adept at problem-solving and creative solutions.
Past Job Titles & Projects:
Carpenter (2010-Present)
Built custom furniture, cabinets, stairs, decks, and hardwood floors.
Lead Carpenter (2015-2018):
Oversaw multiple crews constructing houses from the ground up.
Mason (2008-2010)
Constructed brick walls and chimneys for residential clients.
Journeyman Carpenter (2012-2014)
Repaired old homes
Installed additions such as garages and sunrooms.
Skills
Strong organizational skills
Highly proficient in carpentry techniques
Efficient time management skills
Capable of working independently or as part of a team
Adept at using standard carpentry tools
Sample 2
I have been a professional carpenter for the past ten years, and it has been my passion since day one. I take pride in each piece I construct, from custom cabinets to intricate wood sculptures.
My eye for detail ensures that every item is perfectly crafted according to the highest standards. My knowledge of carpentry ranges from building sturdy foundations to detailed joinery work.
Job titles & Projects
Carpenter – Foxy Designs (2020 – Present)
Constructed custom furniture pieces and built-in shelving systems.
Furniture Maker – HomeTects Inc (2017 – 2020)
Designed and constructed high-end dining tables, kitchen counters, armories, and bookcases.
Lead Carpenter – Landmark Builders (2015 – 2017)
Oversaw carpentry teams on residential construction projects like framing, interior trim installation, decking, flooring, and exterior siding.
Conclusion
Carpentry is art. Similarly, writing your Carpenter job description for resume is like skillfully carving ornate furniture from a tree. It requires patience. And the crafty touch of creativity.
If you honed your skill at Carpentry, excellent Carpenter job descriptions are a few trials away! So, get to work.
Remember, your resume job description should be brief and concise without failing to prove your dexterity. We hope this article answers all your questions!
Explore All
Write Job Descriptions Articles