The recruitment process for a Chief Executive Officer (CEO) could be overwhelming. Hence, if you are struggling with writing a job description for the role, CEO job description examples would come in handy!
One of the significant factors that affect your recruitment is your job description. That's why you need concise and detailed examples to guide you.
Prospects for a position like the CEO require thorough evaluation. Here's why.
The Chief Executive Officer oversees a company's operational, financial, and strategic leadership. Whether you are hiring for a start-up or a Fortune 500 company, writing an impressive description to attract the right talents is imperative.
This post contains a standard CEO job description to set you on the right path. With our samples, you will hit the ground running!
Who Is A CEO?
CEOs of a company wear many hats, but they are primarily the senior executive manager. Although their responsibilities vary depending on the industry, they make general crucial decisions affecting the company's future. The Chief Executive Officer is a leader that works with others to ensure the company operates as efficiently and effectively as possible.
They are also responsible for managing any problem the company encounters and proffering solutions. Hence, versatility is a key requirement for becoming a Chief Executive Officer. The success of any company is hinged on hiring the best talent as the CEO.
What Are The Roles Of The CEO?
The CEO's basic tasks are as follows:
Setting Strategic Goals
They develop short-term and long-term strategies for the company and ensures it aligns with short- and long-term objectives. CEOs also sets high standards to drive company growth and healthy work culture.
Takes Major Decisions
Their primary duty is to manage the company's operations and resources while making critical corporate decisions. Operational aspects of the company are also managed by the CEO.
Liaising With The Stakeholders
CEOs act as the middleman between the company, stakeholders, and the public. So, they are responsible for providing information, on behalf of the company, to shareholders, government entities, and the public.
Staying Up To Date With Market Trends
No one keeps up with the competitive market landscape, expansion opportunities, change in operating model and industry developments like a CEO! The Chief executive Officer offers more value when they have knowledge of budding market trends.
Report Analysis
The CEO Observes financial (cash flow management) and non-financial reports to identify possible solutions. Moreover, they analyze reports from other senior and executive employees in the company (like the CFO).
Creates An Enabling Environment
Another key role of a CEO is that they help create a value-driven environment that spurs overall company growth.
CEO Job Description Examples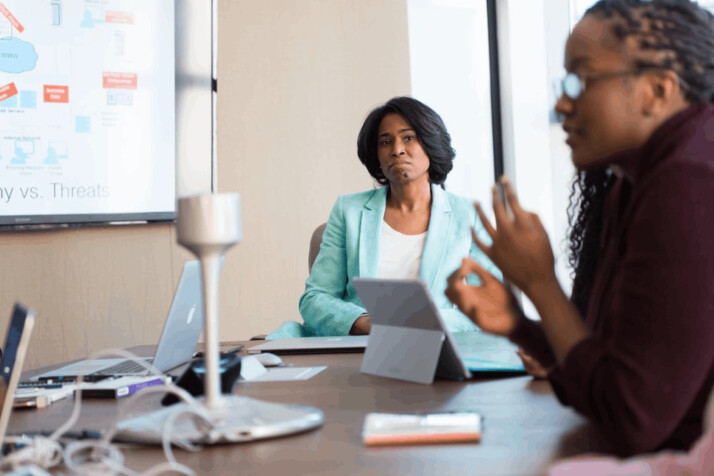 Check out our stellar CEO job description examples below:
Sample 1
We are looking for applicants with a degree in business administration, economics, or any related field. The applicant must have demonstrated the ability to think and make decisions proactively. They should be able to foster productive relationships across all departments within our organization while maintaining excellent communication with outside partners.
Prospects need to be seasoned with about 10 years of management experience and the ability to utilize human resources.
The ideal candidate will possess strong leadership skills, enthusiasm, and dedication to create innovative solutions to any challenges. Additionally, they must have an in-depth understanding of finance, budgeting, and legal aspects of business operations. In short, we need someone with the vision to drive our company forward and implement a policy relevant to the changing industry landscape! Does this describe you? Apply now!
Sample 2:
We are looking for an experienced and dynamic CEO to take the helm of our thriving business. The ideal candidate must have communication, decision-making, leadership, and problem-solving skills. You should also have a proven track record of developing and executing successful strategies.
This role involves giving the company strategic direction, managing time judiciously, and performing as the leading staff member of the team.
You will report directly to the Board of Directors, lead the company's vision and mission, lead profitable growth initiatives, and monitor competitors' activities. Your duties include working with employees at all organizational levels, managing work processes, and establishing relationships with partners and other stakeholders. The ideal candidate must be able to foster innovation, evaluate performance, and adhere to corporate governance procedures. Succeeding in this role requires experience in leading teams and an impressive portfolio of past successes in executive positions. We also need proficient negotiators to advance new, favorable deals that maximize profits while optimizing resources.
Do you have what it takes to build our team? Please submit your CV and cover letter explaining why you are qualified. We look forward to hearing from you!
Conclusion
The Chief Executive Officer's decisions has a large impact on the company's success. That's why writing a concise job description that clearly states your preferred qualifications is essential.
This ensures that you attract an applicant that meets your needs. Feel free to use our CEO job description examples as a template. Your company deserves a qualified CEO– you can make it happen.
Explore All
Write Job Descriptions Articles