Are you looking for a professional to clean and maintain spaces of all shapes and sizes? If so, a cleaning service job description might be what you need to get the perfect fit!
Hiring professionals will ensure quality work at all times. This article covers a cleaner's duties, talents, and an example job description to assist you in hiring the proper individual.
Who Is a Cleaner?
A Cleaner is a professional dedicated to ensuring quality and maintaining cleanliness. Cleaners are responsible for inspecting, vacuuming, and generally cleaning various areas to keep them free of dirt and other contaminants.
They can reach certain levels of cleanliness that most people cannot get to on their own. With the ability to use appropriate tools and supplies to achieve optimal results, they provide exceptional care to maintain the highest level of hygiene.
Cleaners can be employed full-time or part-time with extra benefits such as free time off and flexible work hours available. More companies need reliable cleaners to help them reach new heights.
Primary Duties of a Cleaner
A cleaner is an independent, dedicated, and professional service provider responsible for a certain space's maintenance and cleanliness. A cleaner's primary duties include;
Cleaning floors, furniture, windows, walls, restrooms, and other surfaces;
Disposing of waste products;
Replenishing supplies;
Vacuuming carpets;
Scrubbing toilets
Washing dishes
Mopping surfaces.
In addition to these basic tasks, they must use appropriate materials and equipment while performing assigned duties. They will observe safety precautions when handling hazardous materials and maintain a safe working environment.
Essential Skills for a Cleaning Service Job
A Cleaner is a responsible and dedicated professional who is employed to maintain the cleanliness of an establishment or facility.
Cleaners must possess specific abilities and qualities to reach the expected quality standards. A successful cleaner must be able to work independently and with a team. This includes managing their time efficiently and being willing to learn new skills to keep up with growing industry trends. Moreover, they need excellent customer service skills to build relationships with clients and managers easily.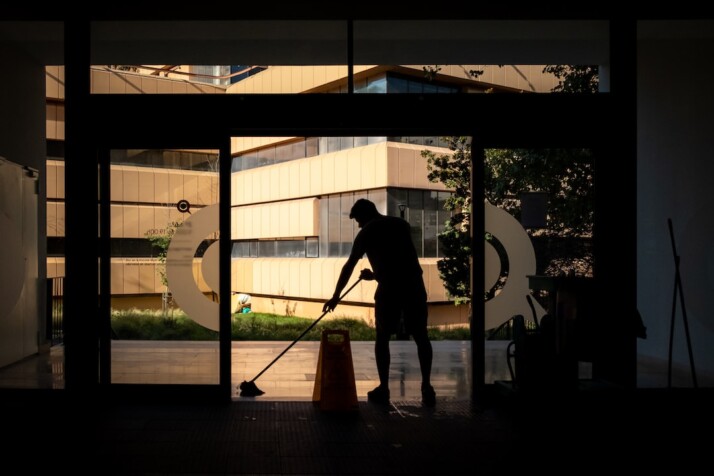 Cleaning Service Job Description Sample
Are you looking for an experienced and reliable professional to care for your cleaning needs? Look no further than Company XYZ. As a highly experienced provider of top-notch cleaning services, we have the expertise and knowledge necessary to meet all your cleaning requirements. Our staff are thoroughly trained and use the latest tools and techniques to ensure outstanding results.
We know how important it is that you feel safe and secure when entrusting us with your property. This is why we guarantee satisfaction on every job. Our fast turnaround times, attention to detail, and competitive costs make us a popular choice for cleaning.
Product features:
– Professional-grade equipment and materials
– Thoroughly trained staff
– Fast response times
– Unmatched attention to detail
– Competitive pricing
Final Words
An excellent cleaning service job description helps ensure that the right people with the required skills get the job. Hiring a cleaner benefits many businesses as they can help maintain an efficient and professional work environment.
Explore All
Write Job Descriptions Articles