A professional laborer role is a complex position that requires an experienced individual who has the versatility and dexterity to handle myriad tasks.
Their job description necessitates having superior physical stamina, knowledge of workplace safety protocols, and good problem-solving skills. It's paramount for them to have an intimate understanding of their particular trade, so they can execute all the duties that come with it.
With this in mind, writing a comprehensive job description template is crucial to finding the right person who can fill these requirements. In this article, you will find a construction general laborer job description to make your job easier.
Importance of Job Descriptions for Laborers
Anyone seeking a career as a construction laborer understands that it entails different types of qualities and abilities. The responsibilities of the work require individuals to have the power to perform general and more specific tasks like digging trenches.
In addition, laborers may have to use certain tools or operate certain machines on the job. Ultimately, the job requirement will vary. Therefore, it is important to provide enough information in your job description when hiring for the post.
You want to make sure the individual you're hiring has the skill set to handle the specific and general responsibilities of your construction work. These responsibilities include loading and unloading materials and using certain tools.
Construction General Laborer Job Description Samples
Here are some construction general laborer job description samples you should consider using when hiring for the role.
Sample 1
We are looking for a motivated general construction laborer to complete our team! You will be primarily responsible for providing support to the construction site by handling logistics, materials, and equipment. Additionally, you will need to maintain a clean working environment onsite.
The ideal applicant should have worked in the construction industry for at least two years. They must be able to work in fast-paced environments with tight deadlines. You should possess excellent physical strength and endurance, as well as the manual dexterity to operate tools and machinery. Moreover, you should demonstrate superior organizational capabilities and have the capability to adhere to safety regulations at all times.
If you're up for this challenge, we'd love to hear from you!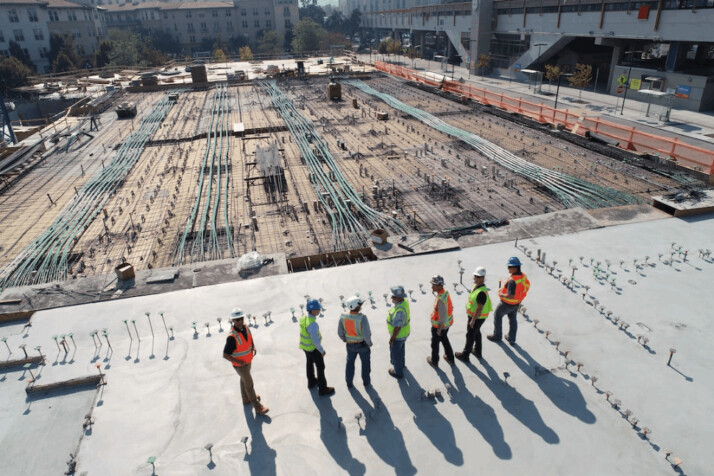 Sample 2
We are looking for a seasoned construction laborer who can bring his expertise and knowledge to the construction site. The successful applicant must be able to coordinate logistics, handle materials and equipment, work with minimal supervision, and ensure the cleanliness of all areas.
Duties include, but are not limited to:
Delivering supplies and materials from vendors,
Assisting in construction operations such as excavation and demolition
Moving tools and heavy machinery around the site
Adhering to timeframes for project completion
As a laborer, you will also have responsibility for light maintenance jobs like cleaning up debris or keeping up landscaping.
The ideal applicant should have previously worked on a variety of projects in different conditions while maintaining excellent attention to detail. If this sounds like you, we'd love to hear from you!
Note that applicants may have to undergo a short training exercise.
Sample 3
We are looking for a construction laborer to help in the building and maintenance of hospitals. The ideal candidate should have graduated from high school, possess strong stamina and be able to perform strenuous manual labor.
The successful applicant will unload materials, mix cement and dig trenches when necessary. Other duties may include helping carpenters by providing them with materials or carrying out simple tasks on their behalf.
A willingness to sit for long periods, lift heavy objects and climb up and down ladders is essential. You must also adhere to safety regulations and wear protective equipment at all times. If you've worked on construction sites handling temporary structures and can work independently, we would love to hear from you.
Sample 4
We are seeking a motivated construction worker to join our team and work onsite. The successful candidate should be capable of doing labor-intensive tasks. They should follow instructions in preparing the construction site. The successful applicant will also occasionally load and unload materials.
The ideal applicant must have at least a high school diploma and possess manual dexterity and hand-eye coordination skills. Experience with masonry, dry walling, concrete or other forms of carpentry is preferred but not required.
We need someone who is reliable and eager to learn new tasks. This position requires the worker to be diligent and efficient under pressure in order to meet tight deadlines. If you believe that you possess these qualifications, we would love to hear from you!
Sample 5
We are seeking a motivated construction laborer to join our company and contribute their expertise in completing projects. As a highly motivated individual, you will be responsible for operating heavy machinery, clearing construction sites, and following instructions from the supervisor. Your ability to work diligently and independently will ensure the successful completion of all assignments.
Your work as a construction Laborer will involve the following:
Performing manual labor tasks such as mixing concrete
Digging trenches
Erecting scaffolding
Hammering steel bars into place
Disposing of waste materials
Assisting craftworkers with various duties
You must have good physical stamina and strength, as most of these tasks require prolonged standing, lifting, bending, and kneeling. Additionally, your exceptional attention to detail is essential in ensuring accuracy throughout the duration of the job.
The ideal candidate for this position must demonstrate experience in construction-related activities, along with excellent problem-solving skills. If you possess strong communication capabilities and a basic understanding of hand tools, then we would like to meet you!
Conclusion
A good job description is the first step to getting a good person for a role. The samples above can help you get the perfect fit for the job. You can edit any of the templates to fit your specific needs.
Explore All
Write Job Descriptions Articles