You want to start a childcare organization. And your plans are all set.
Now, what next? Ah, yes, hiring a daycare worker.
Undoubtedly, you need to be thorough with your recruitment process. Since childcare organizations are common, it's no surprise that several childcare workers are on the job market.
But there's a catch. Having various options doesn't automatically translate to easy recruitment of great talents.
However, with the best daycare worker job description, you will attract the best caregivers for your organization.
To help you understand a daycare worker's role better, we highlighted their core duties in this article. We've also curated perfect job description templates to attract top-quality caregivers.
Let's get started.
Who Is A Daycare Worker?
A daycare worker is an individual who cares for and nurtures children in a safe and loving environment.
They have a vast knowledge of child development and psychology. And they possess excellent communication skills to ensure that each child receives the best possible care.
Daycare workers must create warm relationships with parents and children. They often rely on their creativity and flexibility to engage youngsters in playing and learning activities.
Moreover, they supervise meals, naps, and other daily routines. It's no small task, and it sure needs some dedication!
A Day In The Life Of A DayCare Worker: Duties & Responsibilities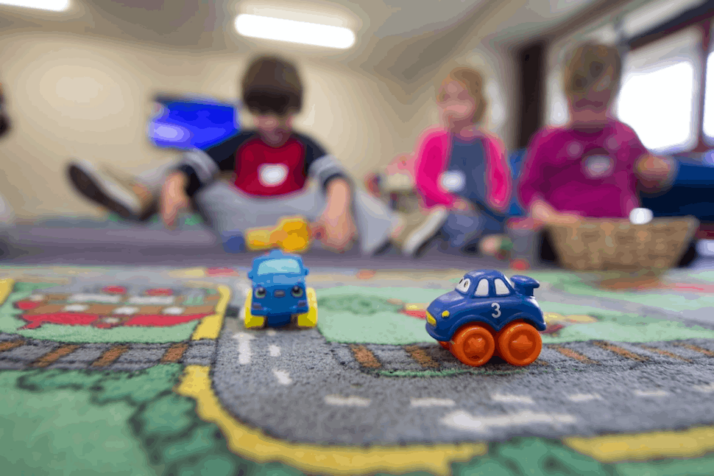 Every day, a daycare worker has to do a lot of jobs. They have to play with the children and get them to have fun. They must also be attentive around the clock.
A Daycare Worker's duties and responsibilities include:
Supervising children of various ages in a safe, nurturing environment.
Ensuring each child's physical and emotional well-being is maintained.
Developing age-appropriate activities to engage the children and foster social interaction.
Monitoring playtime to ensure that all rules are followed, and proper safety procedures are observed.
Administering basic first aid when needed and notifying parents of any serious medical issues.
Assisting in feeding and changing diapers for infants as necessary.
Maintaining records such as attendance logs and immunization forms.
Establishing rapport with children and fostering positive relationships between them.
Are There Any Required Skills For A Child Care Worker?
Yes, there are. Here are a few skills to look out for in a great daycare worker's resume:
Empathy
A Child Care Worker must possess a deep empathy and understanding of children's needs, feelings, behaviors, and development.
Communication.
They should have excellent communication skills to communicate effectively with children and parents.
Patience
A Child Care Worker must be patient with their young charges, exhibiting forbearance when faced with difficult or frustrating situations.
Creativity
It's also essential to demonstrate creativity when planning activities for the children. They should also provide imaginative solutions to potential problems.
Vigilance
A Child Care Worker should display vigilance by constantly monitoring the environment to ensure it is safe and secure.
Daycare Worker Job Description Template
Are you an experienced and passionate Daycare Worker? We would love to have you join our team at (Company)!
Job Brief:
Your responsibilities will include supervising children, engaging in activities with them, and ensuring their safety at all times.
If you'd like to positively impact young lives by joining our team, read on!
Responsibilities
Supervise children while they play and engage in activities.
Create safe learning environments by developing age-appropriate policies and procedures.
Design interactive lessons and activities that facilitate emotional, physical, cognitive, and social development.
Establish positive relationships with parents/guardians.
Develop behavior management strategies for dealing with disruptive or challenging behaviors.
Monitor each child's progress and document developments appropriately.
Requirements
High school diploma or equivalent
Previous experience in childcare (e.g., babysitting) preferred.
An experience in administering first aid to children is desirable.
Excellent interpersonal and problem-solving skills.
Ability to follow instructions quickly and accurately.
Knowledge of relevant regulations governing childcare facilities.
Salary & Benefits: This position offers a competitive salary based on experience plus benefits such as health insurance and paid time off.
If this opportunity sounds interesting to you, please apply today! Send in your resume; we look forward to receiving your application.
Wrapping Up
Depending on the size of the daycare center, childcare workers are responsible for various jobs.
As a result, an ideal daycare worker job description will include details of the position, required skills, and responsibilities for the job.
If you are looking to hire a daycare worker, let our sample job description guide you.
Explore All
Write Job Descriptions Articles