Every home, office and building requires electrical power, making it necessary to install electrical appliances. Electrical site engineers are the technical masterminds coordinating the electrical aspects of a site.
They are responsible for designing, testing, installing, and maintaining electrical equipment. An electrical site engineer job description includes the responsibilities, skills, and experience requirements for this role.
Qualified individuals must carry out electrical processes effectively to ensure electrical appliances' safety and smooth functioning. This guide discusses the duties, responsibilities, skills, and experience required by an electrical site engineer.
Who is an Electrical Site Engineer?
An electrical site engineer is a professional responsible for overseeing and coordinating the electrical aspects of construction projects. This includes the installation, maintenance, and repair of electrical systems. They also design and implement new electrical systems.
Electrical site engineers work on different types of sites, including residential, commercial, and industrial sites. They may also work on new construction projects, renovations, or upgrades on existing buildings. They ensure that safety guidelines and regulations are met during the installation and maintenance of the electrical systems.
Duties of an Electrical Site Engineer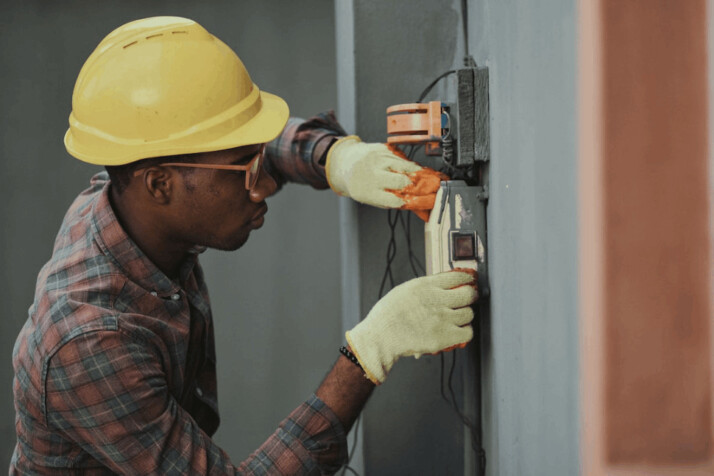 Some of the critical duties of an electrical site engineer include the following:
Designing and planning electrical systems
Electrical site engineers are responsible for designing and planning electrical systems to meet the specific needs of a construction project. They use computer-aided design (CAD) software to create detailed plans and schematics of the electrical systems.
Overseeing construction
Electrical site engineers oversee the electrical systems' construction to ensure that they are built according to the plans and specifications. They also inspect the work to ensure that it meets quality standards.
Coordinating other engineers and construction professionals
Electrical site engineers coordinate with other engineers, such as onsite mechanical and structural engineers. They give directives and guide other workers to carry out their duties. They also coordinate with architects and construction managers to ensure that the electrical systems are adequately integrated into the project's overall design.
Managing budgets and schedules
Before a project commences on the site, electrical site engineers estimate the project's entire cost. They are responsible for managing the budgets and schedules for the electrical systems of the construction site. This includes ensuring that the work is completed on time and within budget.
Detecting and solving problems
Electrical site engineers are responsible for detecting and solving problems that arise during the construction process on the site. They identify the root cause of a problem and come up with a solution.
Maintaining safety standards
Electrical site engineers ensure that all electrical systems are installed in compliance with safety standards and regulations. They also ensure that all workers on the site follow safety procedures.
Managing the project's documentation
Electrical site engineers are responsible for maintaining the project's documentation and records. This may include built drawings and ensuring that all materials used comply with the contract's technical requirements.
Commissioning and testing electrical systems
Electrical site engineers conduct a series of tests on the project. They are responsible for testing the system to ensure they function correctly. They also ensure that the systems are properly connected and adhere to all electrical codes.
Skills of an Electrical Site Engineer
Employers most often hire electrical site engineers with skills and experience. For an electrical site engineer to be hired, the following skills are important:
Background knowledge of electrical design.
Knowledge of calculation tools.
Ability to guide other contractors and engineers on site.
Ability to carry out and deliver large-scale projects.
Knowledge of electrical products.
Critical thinking skills.
Problem-solving abilities.
Attention to detail
Organization skills
Ability to create an accurate budget
Effective communication skills
Knowledge of electrical safety standards
Basic knowledge of computer software.
Education and Training Requirement for Electrical Site Engineers
Employers prefer site engineers with a bachelor's degree in electrical engineering. This degree must be accredited by the Accreditation Board for Engineering and Technology. Other employers prefer candidates with a master's degree in electrical engineering.
Electrical site engineers may need a Project Management Professional (PMP) certification.
Experience Needed for Electrical Site Engineers
Electrical site engineers must have relevant experience in the field. The experience may be from large-scale or small-scale projects.
Electrical Site Engineer Salary
The yearly salary of electrical site engineers ranges from $59,000 to $150,000. This depends on factors such as:
Type of site
Location of the site
Skills and qualifications of the engineer
Experience of the engineer
Employer.
Examples of Electrical Site Engineer Job Description
Example 1
This is a fantastic opportunity for a highly-skilled electrical site engineer to join our growing team. We are looking for someone with at least three years of experience in the field. The individual must be able to tackle challenging projects with enthusiasm, creative problem-solving, and technical know-how.
The successful candidate will be responsible for setting up, commissioning, operating, and maintaining all electrical equipment used onsite. They should be comfortable liaising between contractors, clients, and other engineers to ensure deadlines are met efficiently. Our ideal candidate has excellent communication skills, outstanding attention to detail, and a positive attitude.
Responsibilities
Setting up, commissioning, and operating electrical systems.
Overseeing installation work according to plans and specifications.
Troubleshooting problems and providing solutions.
Ensuring safety protocols are followed correctly during operations.
Developing new testing procedures.
Keeping accurate records of maintenance and repair activities.
To succeed in this position, you must possess the following:
A degree or diploma in Electrical Engineering.
Expertise with power tools and electronic components.
Knowledge of circuit diagrams and wiring standards.
Ability to troubleshoot issues quickly and effectively.
Strong customer service skills.
This is a full-time position that offers a competitive salary range and benefits. If you have what it takes to excel in this role, we would love to hear from you!
Example 2
We're looking for an experienced electrical site engineer to join our team and oversee wiring, fixtures, and installation of other equipment. The ideal candidate should be technically competent and highly organized, with a knack for problem-solving and strong interpersonal skills.
Responsibilities
Conducting detailed inspections and assessments of electrical systems to identify problems and potential improvements.
Evaluating project requirements and developing specifications accordingly.
Providing support in creating layouts or plans based on approved schematics or blueprints.
Maintaining relationships with suppliers and vendors as needed.
Liaising with stakeholders to ensure the timely completion of projects.
Troubleshooting complex electrical issues to determine appropriate solutions.
Testing and inspecting completed installations before final approval.
Writing reports outlining project progress, testing results, and recommendations.
Ensuring compliance with relevant regulations and safety protocols.
Requirements
Bachelor's degree in Electrical Engineering or a related field.
2+ years of experience working on electrical sites.
Familiarity with design software and various control systems.
Excellent organizational, communication, and troubleshooting abilities.
Able to work independently and prioritize tasks efficiently.
Aptitude for decision-making under pressure.
Site Demands
Willingness to travel to job sites frequently.
Able to lift to 50. lbs when necessary.
Overtime may be required during peak periods.
Pay Range
$50K – $75K Annually.
Wrapping Up
Electrical site engineers are vital in every construction site. They install electric appliances and ensure their smooth functioning. A compelling job description is crucial to attracting the most qualified candidates.
The job description must detail all the requirements and experience you need in the electrical site engineer.
Explore All
Write Job Descriptions Articles