Are you in search of a starting job in the fast-food industry? Being a crew member at a fast food restaurant is an excellent way to learn about customer service. You can gain valuable skills that will serve you well long after your employment ends.
This job description outlines the responsibilities for a fast food crew member job description, from interacting with customers to preparing meals. Read on to see if this job is right for you!
Who Is a Fast Food Crew Member?
A fast food crew member is a restaurant's front line, responsible for providing customers with quality service.
The job requires them to perform various tasks, including greeting customers, taking orders, preparing meals, cleaning up after customers, and handling cash transactions. They must also be able to follow instructions from managers and co-workers.
Responsibilities of a Food Crew Member
Greet Customers
A fast food crew member is the first person customers interact with, so making a good impression by being friendly and welcoming is essential.
Take Orders
Crew members must accurately take customer orders in person or over the phone. They should also be familiar with menu items and specials to answer customer questions.
Prepare Meals
This includes assembling burgers, fries, and other menu items according to the restaurant's standards while ensuring they are adequately cooked.
Clean up After Customers
Fast food crew members must clean the restaurant during their shifts. This is done by wiping down tables and counters, mopping floors, taking out the trash, and washing dishes.
Handle Cash Transactions
Crew members must accurately handle cash transactions, including making changes and processing credit card payments.
Follow Instructions
Fast food crew members are expected to follow instructions from their managers and co-workers. Instructions like restocking items or taking a break at the appropriate times.
Maintain Safety Standards
This includes following safety protocols when handling hot equipment, sharp knives, and other items in the kitchen. You will be maintaining sanitary conditions in the restaurant.
Skills Needed for the Job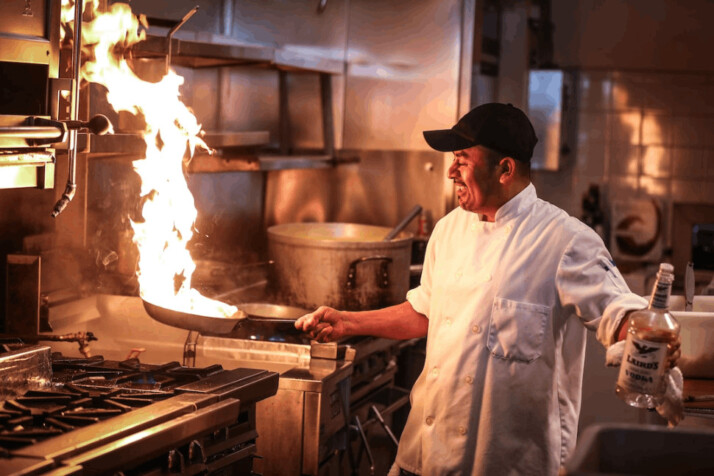 Interpersonal Skills
Fast food crew members must have strong interpersonal skills to interact with customers, co-workers, and managers in a polite and friendly manner.
Communication Skills
Fast food crew members should be able to communicate effectively both verbally and in writing. They should also be comfortable speaking on the phone when taking customer orders.
Attention to Detail
Crew members must pay close attention to detail when handling cash transactions or preparing meals so that customers receive their orders correctly.
Flexibility
Fast food crew members must be flexible and willing to adjust their schedules as management needs. They may also need to take on additional tasks if their supervisors request.
Time Management
Crew members must manage their time effectively to complete all tasks within the allotted shift.
Physical Strength
This job requires some physical strength, as crew members may need to lift and carry heavy items.
Teamwork
As part of a team, fast food crew members should be able to work cooperatively with their co-workers. This is to ensure that customers receive quality service.
Qualifications Required for Fast Food Crew Member Job Description
To become a fast food crew member, you will need the following:
High school diploma or equivalent
Previous experience in customer service
Flexible work rate (including weekends and holidays)
Good communication skills and attention to detail
Ability to stand for long periods
Physical strength to lift heavy items
Basic math skills for handling cash transactions.
Depending on the employer's policy, a criminal background check may also be required. Additionally, some restaurants need their employees to have valid food safety certifications. Completing an educational program or internship can also help prepare you for this position.
Benefits
Fast food crew members can benefit from a flexible work schedule, competitive wages, and opportunities to learn valuable skills. Working in the fast food industry is an excellent way to gain experience in customer service, cash handling, and working with diverse teams. This job can also be a great entry point into the restaurant industry.
FAQs
What Is a Crew Member's Role?
Crew members perform various daily tasks to ensure that customers and guests are satisfied with their purchases or experience.
Can You Tell Me What Duties and Responsibilities a Crew Member Has?
Many responsibilities are associated with working as a crew member, such as taking orders, answering questions, and completing daily tasks.
What Makes a Good Crew Member?
To be a good Crew Member, they must have excellent communication skills. Crew members must work with others and guests throughout their shift.
How Does a Crew Member Work?
General managers are among the many workers responsible for maintaining customer satisfaction. They set shift schedules.
Conclusion
We hope this article has provided directions into what it takes to be a successful fast-food crew member. With hard work and dedication, you could join a great team and deliver excellent customer service in no time! Best of luck with your job search!
Explore All
Write Job Descriptions Articles